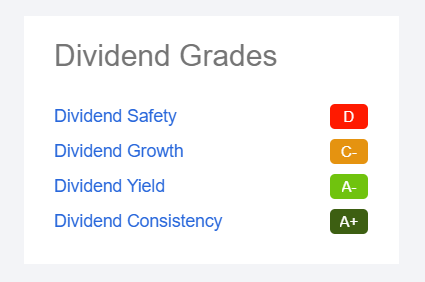 If you are a dividend investor, how do you ensure you own stocks with strong and safe dividends, and which will grow their dividends in future? How do you avoid stocks which cut or fail to grow their dividends? The answer: Use Seeking Alpha's new Dividend Grades, which appear on ticker pages of stocks which pay dividends:
The grades are simple and fast to use, but are tremendously sophisticated under the hood. They were created by an expert in using data to predict stock performance – Steve Cress, Seeking Alpha's Head of Quant Strategies.
Here's how they work:
The Dividend Safety Grade tells you how safe the stock's dividend is. We believe our Dividend Safety Grade is a better indicator of the risk a company will be forced to cut its dividend than anything else available. Our Dividend Safety grade is based on 13 underlying financial metrics, which include estimates of future cash flow and earnings. These metrics are compared to those of other stocks, and then correctly weighted to provide the most accurate gauge of a company's dividend safety. Our Dividend Safety Grade is a game-changer for people reliant on dividend income.
The Dividend Growth Grade tells you the company's potential to grow its dividend in future. Many investors mistakenly assess a company's dividend growth potential using only backward-looking data, namely the company's past track record of dividend increases. But the company's past track record is only half the story. So our Dividend Growth Grade also takes into account the company's projected future growth in revenue, profits and free cash flow. This leads to far better predictive performance, allowing investors to find the stocks most likely to grow their dividends strongly in future. We feel our Dividend Growth Grade is the best tool for dividend growth investors that has ever been developed.
The Dividend Yield Grade tells you how attractive the stock's dividend yield is compared to others in its sector. This is better than comparing the stock's yield to all other stocks, because investors want to know which are the highest yielding stocks in each sector. The Dividend Yield Grade takes into account not only the current dividend yield, but the yield based on analysts' projections of the dividend one and two years from now. This is far more powerful and valuable than using only the current yield.
The Dividend Consistency Grade measures how consistently the company has paid a dividend, and how consistently the company has raised its dividend, in a single grade.
In combination, the Dividend Grades help dividend investors ensure their dividend income is safe, and that their dividends and income will increase over time.
Dividend Grades are one of the many money-making features in Seeking Alpha Premium. (If you are not a subscriber, and would like to experience how the grades make you a more successful dividend investor, you can start a free trial to Premium here.)
Frequently Asked Questions
Where do I find the Dividend Grades?
Quant Dividend Grades are displayed on symbol pages for Premium and PRO subscribers and are available on the desktop website, mobile web, and our mobile apps. To see them, (i) ensure you are logged in to the desktop website or mobile app as a Premium or PRO subscriber, (ii) enter the stock symbol in the search box at the top of the page, (iii) hit Enter, (iv) when you land on the symbol page on desktop, you'll see the Dividend Grades in the right hand column (where ads are for free users) below the Factor Grades and Quant Ranking boxes.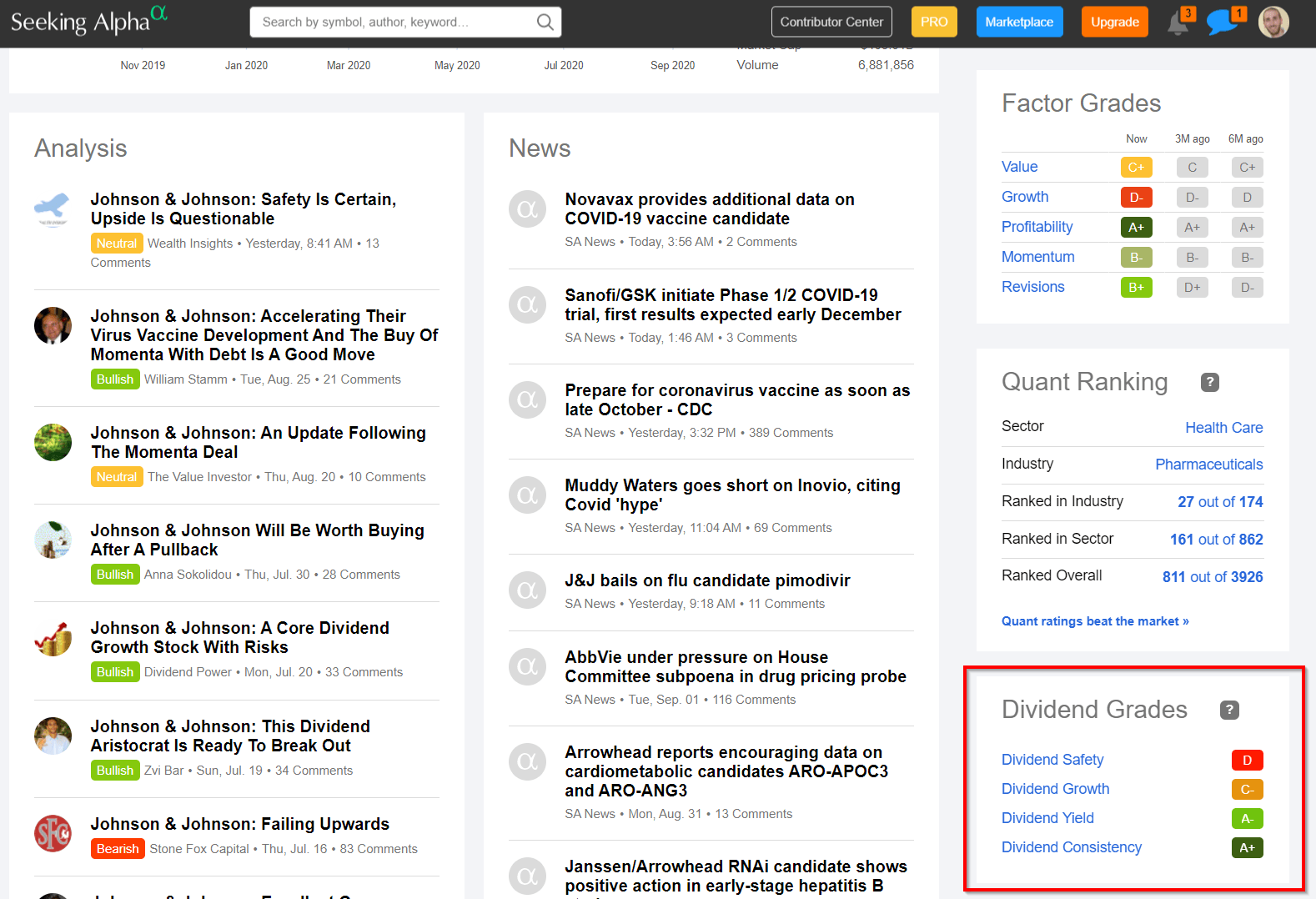 On mobile web or in the Seeking Alpha iOS or Android app, you'll see the Dividend Grades directly below the news unit on symbol pages.
How frequently are Seeking Alpha's Dividend Grades updated?
Every day, before the U.S. market opens.
How do Seeking Alpha's Dividend Grades differ from Seeking Alpha's Factor Grades?
The Dividend Grades are built for investors looking for income and income growth, rather than stock price performance. They therefore don't take into account momentum and earnings revisions, both of which are strongly predictive of a stock's future direction, and are included in our Factor Grades and overall Quant Rating. Dividend Grades also cover only stocks which pay dividends, whereas Factor Grades and the overall Quant Rating also cover thousands of stocks which don't pay dividends.
Who is responsible for Seeking Alpha's Dividend Grades, and what credibility do they have?
Seeking Alpha's Quant Ratings, Factor Grades, and Dividend Grades are designed and managed by Steve Cress. Steve has 30 years of experience in equity research, quant strategies and risk management, and founded quant hedge fund Cress Capital Management. Steve is now Seeking Alpha's Head of Quant Strategy.