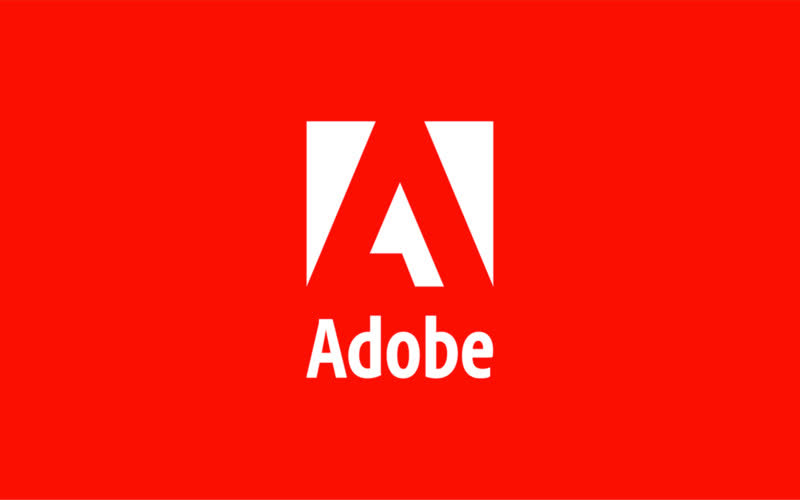 Investment Thesis
Adobe (ADBE) continues to steadily grow and report resounding results. Even though the stock has vastly outperformed the S&P500 (SPX) in 2020, investors are only being asked to pay 16x its 2021 revenues.
Given Adobe's very high-profit margins and its well-diversified portfolio, I believe that long-term investors have a lot to be content about owning this investment. Here's why:
Adobe is Well Positioned, With Strong Prospects Ahead
Source: author's calculations
In the graphic above, I've not included small revenue sources outside of its two core segments, such as Publishing.
We can nevertheless get a clear indication of Adobe's biggest revenue driver — its Digital Media segment.
Adobe's Digital Media segment holds its Creative Cloud, a unit is responsible for designing and creating content. Within its Digital Media segment, Adobe holds its Acrobat family of products and strong suites such as Adobe Sign, and Photoshop.
Meanwhile, its smaller segment, Digital Experience which reaches close to 26% of total revenue, is focused on data, insights, and commerce. Adobe is divesting of Advertising Cloud.
Incidentally, as a reminder, it was not long ago that Adobe made two large acquisitions, $5 billion for Marketo and $1.6 billion for Magento. Both of these businesses are integrated within Adobe's Experience segment.
Hence, one could make the case that these acquisitions were not particularly strong uses of capital.
Having said that, this has certainly helped to diversify Adobe's revenues away from being overly contingent on its Digital Media opportunities.
Digging further into Adobe's Q3 2020 results, during the earnings call, Adobe's CEO Shantanu Narayen put a spotlight on Adobe's Creative Cloud and Document Cloud units as benefiting from the current environment and being strong revenue drivers for Adobe — both included within Adobe's Digital Media segment.
Narayen proclaimed that whole ranges of users from students to social media influencers to business communicators are turning to Adobe to create and amplify their stories and that during this "new era" of digital storytelling, Adobe is well-positioned.
Continuing the theme we heard last quarter, Narayen declared that customers are turning to Adobe to assist them in customer acquisition all the way through renewals, through digital.
However, when all is said and done, investors are still having to contend that this household name is now reporting slowing growth rates.
Revenue Growth Rates Are Losing Slowing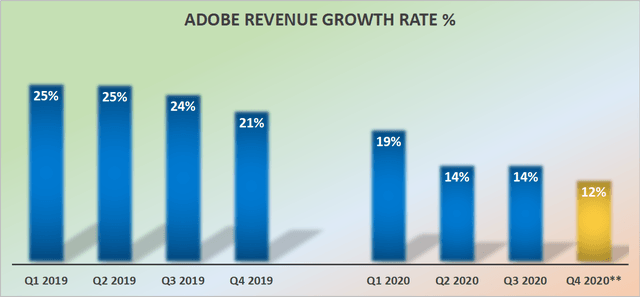 Source: author's calculations, *company guidance
Adobe, like any public company, typically low balls its guidance to allow for ample room to beat estimates.
However, even if we base our assumption that Adobe can beat its Q4 2020 guidance by as much as 1% to 2%, its growth rates would still be a shadow of the growth rates it reported in the same period a year ago, which saw growth rates top 20% y/y.
On the other hand, it appears that analysts are expecting even less than 12% growth rates from Adobe.

Source: SA Premium Tools
Put simply, as long as Adobe is able to report at close to mid-teen growth rates, this should allow Adobe to easily beat analysts' low expectations for the company.
Valuation — No Way Exuberantly Priced
Superficially, the stock appears richly valued.
While Adobe trades for 19x forward sales, readers should keep in mind that Adobe is right now within its Q4 2020 quarter, thus meaning that investors should be thinking of its forward sales as 16x its 2021 revenues.
Accordingly, paying 16x forward sales is not particularly cheaply valued. But it's not exuberantly priced either.
Investors in Adobe are investing alongside a highly profitable free cash flow machine.
Consider this, in other stock, investors are paying 20x forward sales for companies where they have no idea of their ability to generate strong free cash flows.
While Adobe for its part is reporting solid teen growth, with its Remaining Performance Obligation ("RPO") are up 18% y/y and bookings during the quarter over 15% y/y.
What's more, during Q3 2020, disciplined management of working capital and onetime savings around travel and facilities and in-person events, altogether played a role in Adobe's cash flows from operations reaching a record $1.4 billion during the quarter, compared with $923 million in the same period a year ago — more than $500 million increase y/y.
As a way of comparison, ServiceNow (NOW) is another company that is benefiting from the world's digital transformation, and despite having non-GAAP profit margins of just 28% compared with Adobe's non-GAAP profit margins of 43%, it trades at approximately to 20x its forward sales.
In sum, this reinforces the thesis that Adobe is not exuberantly priced relative to intrinsic value.
The Bottom Line
Adobe continues to tick along and is the kind of stock that investors should consider if they are not looking for much excitement.
Moreover, despite being unexciting, the stock is up more than 50% in its year-to-date performance, vastly outperforming the S&P500 which is only up 6% over the same period.
Strong Investment Potential
My Marketplace highlights a portfolio of undervalued investment opportunities. Stocks with rapid growth potential, driven by top quality management, while these stocks are cheaply valued.
I follow countless companies and select for you the most attractive investments. I do all the work of picking the most attractive and profitable businesses.
Investing Made EASY
As an experienced professional, I highlight the best stocks to grow your savings: stocks that deliver strong gains.
Honest and reliable service.
Hand-holding service provided.
Very simply explained stock picks. Helping you get the most out of investing.
Helpful advice together with videos.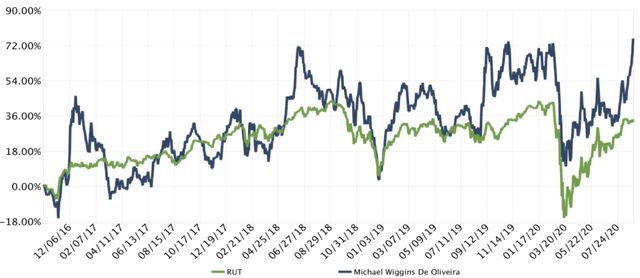 Disclosure: I/we have no positions in any stocks mentioned, and no plans to initiate any positions within the next 72 hours. I wrote this article myself, and it expresses my own opinions. I am not receiving compensation for it (other than from Seeking Alpha). I have no business relationship with any company whose stock is mentioned in this article.