Editor's note: Seeking Alpha is proud to welcome Captain Alpha as a new contributor. It's easy to become a Seeking Alpha contributor and earn money for your best investment ideas. Active contributors also get free access to SA Premium. Click here to find out more »
Shares of Allot (ALLT) have steadily appreciated over the last 2-3 years as the company shifted away from being a deep packet inspection (DPI) pure-play business, and instead focused on creating a new subscription-based cybersecurity product line to serve the CSP market. This cybersecurity business has seen dramatic growth, going from zero to nearly $27MM in revenues over a period of four years – or a roughly 225% CAGR. Although the traditional perpetual license revenue model tied to the legacy DPI business still makes up ~75% of Allot's revenues, according to the Q4 2019 conference call, it is this subscription-based revenue growth that is driving much of my bullish conviction on the stock.
There are several benefits of a subscription vs perpetual license model: (a) increased customer stickiness, (b) revenue visibility, and (c) increased customer lifetime value. Thus, businesses with a subscription based model usually trade at a significant premium to businesses that utilize a perpetual based revenue model as seen below. As Allot grows the subscription component of the cybersecurity business as a % of the revenue mix, it will have an outsized positive impact on the EV multiple of the consolidated company.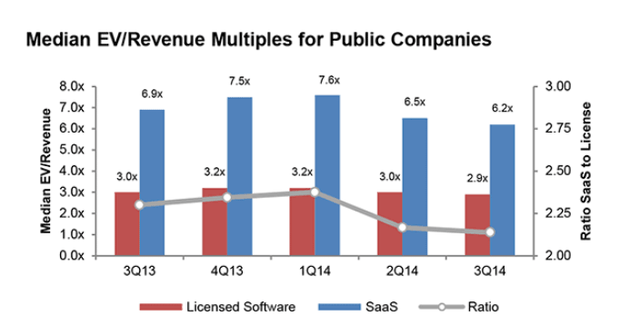 Source: Firepower Capital – SaaS vs. Perpetual valuation
What Does Allot Do?
To give a little background to Allot and as detailed in the company's annual filings, the company goes to market with two core product portfolios (Deep Packet Inspection – DPI) and (Security). The Deep Packet Inspection business makes up ~3/4 of the Company's revenues today and is used by CSPs to monitor network traffic. With this information, CSPs can make real-time network changes to maintain QoE and make higher accuracy resource plans. This product is sold predominately on a perpetual license + maintenance model. The Security portfolio consists of DDOS protection and an assortment of network security solutions that leverage the company's DPI expertise. This product has historically been sold as a perpetual license as well, but the company is transitioning this segment into a subscription-based revenue share model with CSP partners.
The company sells to both CSPs (80% of revenue mix) and large enterprises (20% of revenue mix) with the focus being on CSPs moving forward.
Financial Analysis
Looking at the company's most recent quarterly earnings, revenues have accelerated nearly ~24% YoY due largely to a strong backlog and increased demand as the 5G supercycle nears and as overall digital communication traffic increases. Similarly, although losses accelerated this quarter as the company continues to invest in its security platform, management is guiding to the company exiting the year with break-even on EBITDA. With liquidity of just over $109MM, the company has sufficient run-way with a substantial cushion to reach that break-even level. I expect revenue growth to continue to accelerate particularly as adoption of the company's cybersecurity offering increases. Coupling this with the near-term visibility to break-even, a revenue multiple re-rate in the next several months is in the cards.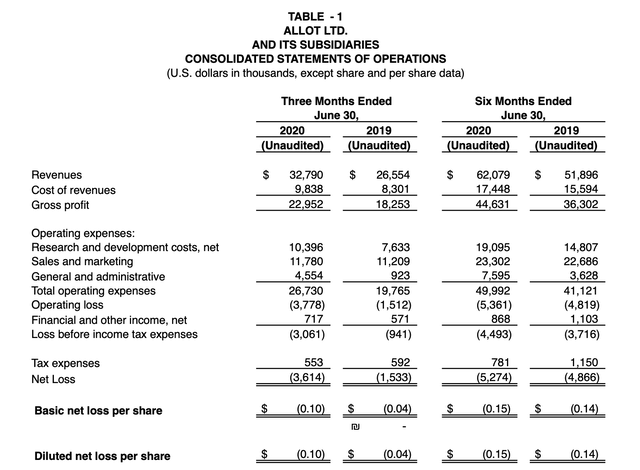 Source: Allot – Q2 Press Release
Investment Highlights
As the only pure-play DPI solution focused on the CSP market, the Company has been successfully implemented in many of the leading Tier 1 CSPs including Vodafone. As a CSP focused platform, once implemented, churn is essentially de minimus, which gives the Company a highly sticky customer base with a product that is levered to both the complexity of 5G deployments and general internet traffic growth. Although the CSP end-market is inherently lumpy and difficult to predict, it's hard to see this business shrinking given the imminent mass deployment of 5G that will accelerate many of the key use cases for DPI. This business line alone is likely worth ~$249MM or nearly ~104% of the Company's current EV of ~$239MM, which implies zero credit for the company's fast growing cybersecurity segment.
This $249MM assumption is based on a 3x multiple of the $83MM in 2019 DPI revenues, which is the same multiple that Francisco Partners paid for a very similar DPI pure-play, Sandvine.
On the product front, the company's security platform provides CSP partners a leading DDOS and network security solution (anti-phishing/anti-malware/IoT protection etc.) that they can resell to their SMB and enterprise clients. Initial uptake has been strong with numerous major provider signing up to the platform e.g. Rakuten, Telefonica, Movistar, Vodafone. This interest has been driven by Allot's product leadership as well as the dismal growth profile of many CSPs. By partnering with ALLT, CSPs gain a new revenue stream (e.g., ~$160MM in incremental sales at Vodafone) with no upfront cost as ALLT is compensated on a revenue share basis.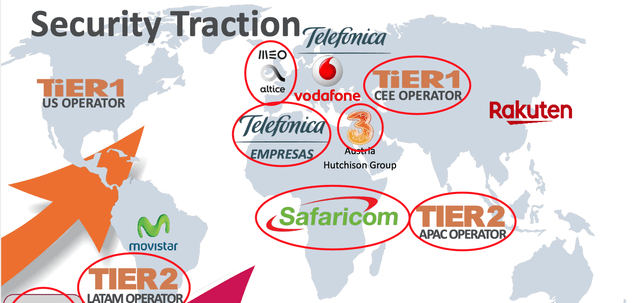 The relative revenue scale of this security business was around ~$27MM in 2019 and the company has consistently guided to ~$140MM of MAR (maximum annual revenue potential for concluded contracts) for 2020. In more mature deployments (e.g., Telefonica/Vodafone), penetration has hit >50% as referenced in a 2018 press release. Thus, it is not difficult to see this business potentially doubling in the next 2 years. And given the subscription-based framework of this revenue, the multiple assigned to this revenue will be higher than the core business which is on a perpetual license model.
As mentioned earlier, the company recently reported Q2 results which demonstrated strong YoY growth despite pandemic related headwinds on the new bookings front. Revenues of $32.8MM was up 23% YoY and the company expects to hit profitability in Q4 with a strong liquidity cushion of ~$109MM in Q2 cash. More importantly, the company reiterated 2020 revenue guidance of $135-$140MM in revenues vs 2019 revenues of $110MM representing accelerating growth of 23-27% vs the 15% growth seen in 2019. With accelerating YoY growth and visibility to breakeven in Q4, I expect the company to have ample room to re-rate from the current 1.8x run-rate revenue multiple.
The 12 month PT of $14/share is based off an assumed EV of $486MM or ~3.5x the higher end of 2020 guidance. I am not using forward revenues in our valuation in an attempt to be conservative. With accelerating growth into the 20% range, visibility to break-even, shift toward recurring SaaS-based revenues with the security portfolio, there are enough drivers here to warrant a near-term re-rate of the stock.
Competitive Landscape
On the competitive landscape front, the company's core DPI product for the CSP market operates as a duopoly alongside Sandvine. Market share between each is stable, but there are long-term risks to Sandvine as CSPs take a rather dim view to private equity owned vendors. This is often due to questions on their ability to provide long-term support as short-term owners of businesses. Given this dynamic, there is upside potential here for Allot to take share at the expense of Sandvine.
On the cybersecurity front, there are very few integrated security offerings focused solely on the CSP market. Although there are risks that high-profile point solutions e.g. Carbon Black/Palo Alto Networks that already use CSPs as channel partners can take share away from Allot, I view this risk as relatively muted given the CSP specific solution that Allot has created and the substantial penetration (>50%) in several of the company's ramped customers.
Investment Risks
Given the core revenue base is still focused on DPI solutions for CSPs, the biggest risk here is a slowdown in new bookings from this customer group. We are already seeing some signs of that with elongating sales cycles due to COVID. This is on-top of the inherent reliance on CSP capex cycles and the lumpiness that comes with selling perpetual licenses.
Furthermore, the company is still not profitable. Although burn has come down, the lumpiness of the revenue model may lead to spikes in cash burn. This in turn may necessitate a dilutive equity raise.
The growth in SD-WAN and hybrid cloud may also have a negative impact on the enterprise segment of Allot's business. This is because virtualization and the offloading of workloads onto the public cloud reduces the data volume flowing through a company's internal network. However, Allot customer base is still overwhelmingly CSP focused and DPI solutions will remain relevant there for the foreseeable future.
Competition is a lesser concern, but is something that I will be monitoring closely over the next several quarters.
Conclusion
Despite the risks, there is still a lot to like here with a mix shift towards a subscription-based cybersecurity, strong top-line performance, near-term visibility to break-even, and an unchallenging valuation. I'll be a buyer at these levels; my 12-month price target of $14 presents a 52% upside opportunity.
Disclosure: I/we have no positions in any stocks mentioned, and no plans to initiate any positions within the next 72 hours. I wrote this article myself, and it expresses my own opinions. I am not receiving compensation for it (other than from Seeking Alpha). I have no business relationship with any company whose stock is mentioned in this article.