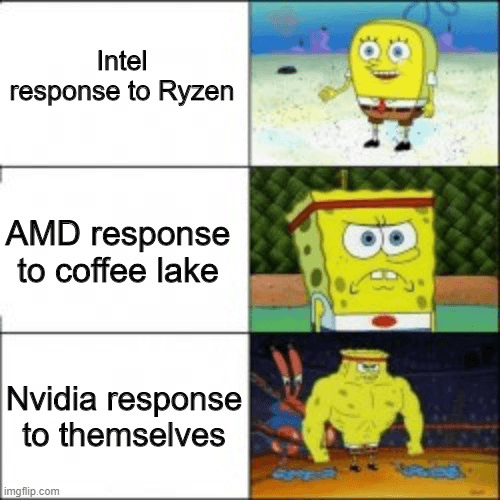 Nvidia (NASDAQ:NVDA), with its market capitalization of more than $300 billion, is one of the largest publicly traded U.S. chip companies. In the post COVID-19 run-up, it overtook Intel (NASDAQ:INTC), which had traditionally held the mantle. Now, it's wowed investors and game enthusiasts again with its recent graphics card launch.
Nowhere is gamers' opinions on the new graphics launch more obvious than in the meme below. With that announcement, it begs the question, is AMD's (NASDAQ:AMD) Big Navi still relevant?
Nvidia Response Meme – Reddit PC Master Race
Graphic Cards Competition
Graphics cards have traditionally been competitive. The desire for gamers to play more and more intensive games led to the start of Nvidia and its success. That's slowly expanded to the use of GPU and their highly parallelized capabilities in artificial intelligence and other major computing fields. Throughout this time, graphics cards have grown.
Sometime, going into the early 2010s, AMD lost its competition with Nvidia. It lost to competition on the high end for graphics cards, and since then, it has consistently been behind. However, as AMD has become competitive with Intel from a CPU standpoint (you can read about that in our article here), the company is seeking to become more competitive in graphics cards.

Currently, AMD's next competitive graphics card is supposed to its Big Navi card. This card will come with its new RDNA2 architecture. Big Navi is expected to be built on Taiwan Semiconductor (NYSE:TSM) 7 nm process. Being competitive on the high end with Nvidia could not only result in high margin profits but could also open up significant revenue.
Nvidia Graphics Card Launch
Let's discuss Nvidia's graphics card launch yesterday.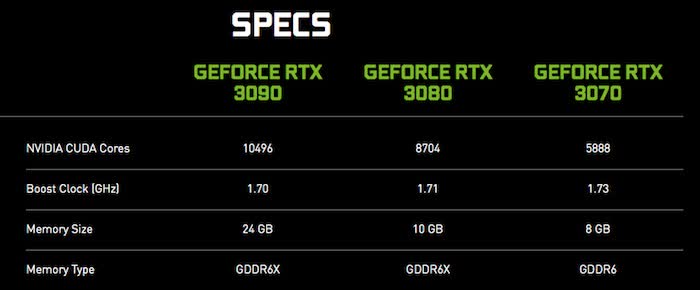 Nvidia launched 3 graphics cards yesterday, the 3070, 3080, and 3090. The 3070 is expected to be equivalent to the 2080 TI, at a $499 price point. That's the first two generational jump in Nvidia graphics cards generation over generation since 2004. That enormous jump is caused by switching from 12 nm to Samsung's (OTC:SSNLF) 8 nm process.
The key benefit here is that Samsung's 8 nm 56 million transistors/mm is better than AMD's Navi 7 nm process of 41 million transistors/mm. With GDDR6X and a more than doubling of Nvidia's CUDA cores, the improvement across the board for Ampere is significant. Yours truly owns AMD stock but plans to buy the 3080 GPU on its September 17th release.
It's also worth highlighting here that that Nvidia has greatly improved the price point on the lower end basis at $499 for a 3070 and $699 for a 3080. That's the same price as the company's 2xxx launch, but with a dramatic improvement.
Big Navi Response
AMD's response was always going to be Big Navi. However, few were expecting a two-generational equivalent jump from Nvidia. Unfortunately, Big Navi hasn't been revealed here, so we're operating on leaks.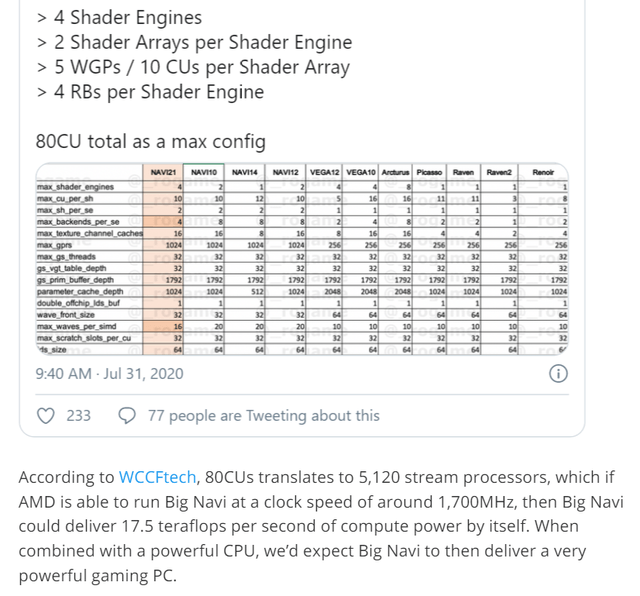 AMD Big Navi Speaks – Toms Guide
The above leaked Big Navi specs are highlighted above. The CPU is seen as having 80 CUs with 5,120 stream processors and, at a 1700 MHz clock speed, 17.5 teraflops per second of compute power. That suggests Big Navi could be 30-50% faster than the 2080 TI. Unfortunately, the strength of Nvidia's launch is where Big Navi hits an issue.
Nvidia's 3070 has 5,888 compute cores at a $499 price. Adding this all up, Nvidia's 3070, with its 1.73 GHz clock speed, is expected to come in at 20.40 teraflops. That's roughly 15% faster than the AMD Big Navi forecast, at a $499 price point. Again, we're operating off of leaked specs here. However, it presents a big concern.
It's also worth noting here that Nvidia has held off on releasing the 3080 TI. We expect that the company is holding off to announce pricing for the GPU as it waits to see what AMD launches. If AMD has a top-tier launch, it will price the 3080 TI likely closer to $799 or $899 versus the $999 2080 TI launch price.
Our Forecast
That's tough news in a large market. The GPU market is currently more than $18 billion, and that's expected to grow to $35 billion by 2025. That represents an enormous market, and AMD currently has a 20% stake in it. Being able to expand its market share would be enormous for AMD and its ability to generate long-term revenue.
Our forecast is that what happens comes down to pricing. For AMD to make a significant splash with Big Navi, it needs to price the GPU at $399 likely. With forecasts showing Big Navi launching at $600-800, that would mean the company has to look at a near 50% price drop. That would eat up the majority of the company's margins, but it might be worth it for revenue to be competitive.
Otherwise, unfortunately, the numbers indicate that Nvidia blows AMD out of the water. There is one other factor worth paying attention to. With no Nvidia pre-orders, some are expecting Nvidia will have large supply shortages. That could push impatient people towards AMD regardless of the pricing decision. A less efficient GPU is better than none.
However, we're expecting Nvidia to do incredibly well, and if the tech sell-off continues, recommend investors continue selling their AMD stock for Nvidia stock.
Conclusion
Nvidia recently announced its Ampere GPU, blowing expectations out of the water, as PC Master Race "memes" highlight. It represents a two-generational jump where the 3070 is equivalent to the 2080 TI at half the price. That's a significant price improvement and one that means that the 3xxx GPUs will likely sell out.
At that point are Big Navi GPUs still relevant. So far, they seem roughly equivalent to the 3070, meaning they need a $400 (approximately) price point to truly be incredibly exciting. That's much lower than current forecast prices, and there could be improvements, but it remains to be seen. However, Big Navi and AMD are clearly in trouble.
The Energy Forum can help you generate high-yield income from a portfolio of quality energy companies. Worldwide energy demand is growing and you can be a part of this exciting trend. 
Also read about our newly launched "Income Portfolio", a non sector specific income portfolio.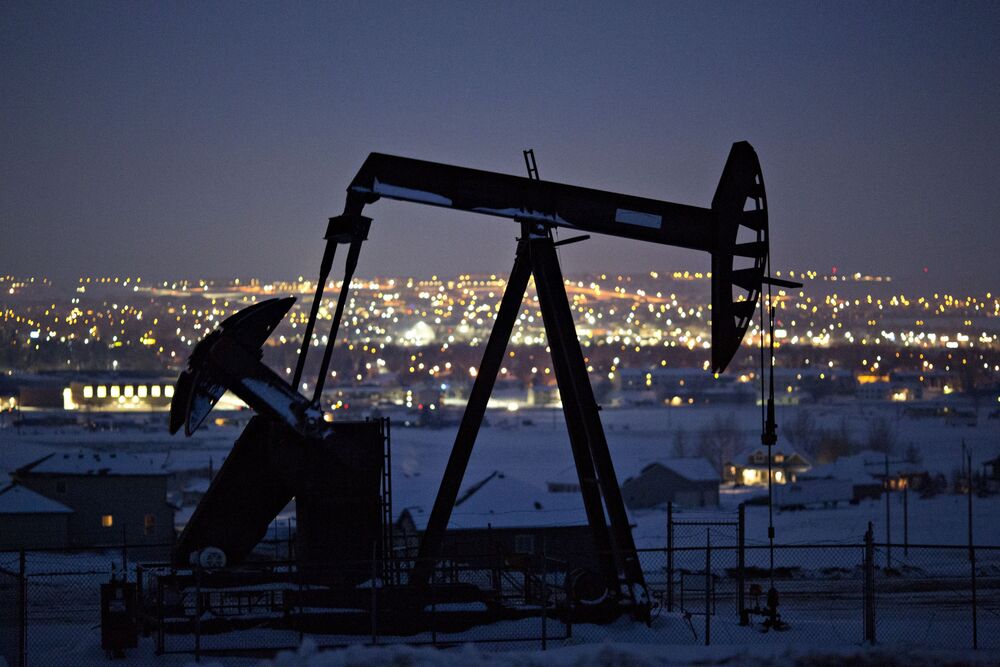 The Energy Forum provides:
Managed model portfolios to generate high-yield returns.
Deep-dive research reports about quality investment opportunities.
Macroeconomic market overviews. 
Click for a 2-week free trial, with an unconditional money back guarantee and 47% off of our popular annual plan! There's nothing to lose and everything to gain!
Disclosure: I am/we are long NVDA, AMD. I wrote this article myself, and it expresses my own opinions. I am not receiving compensation for it (other than from Seeking Alpha). I have no business relationship with any company whose stock is mentioned in this article.