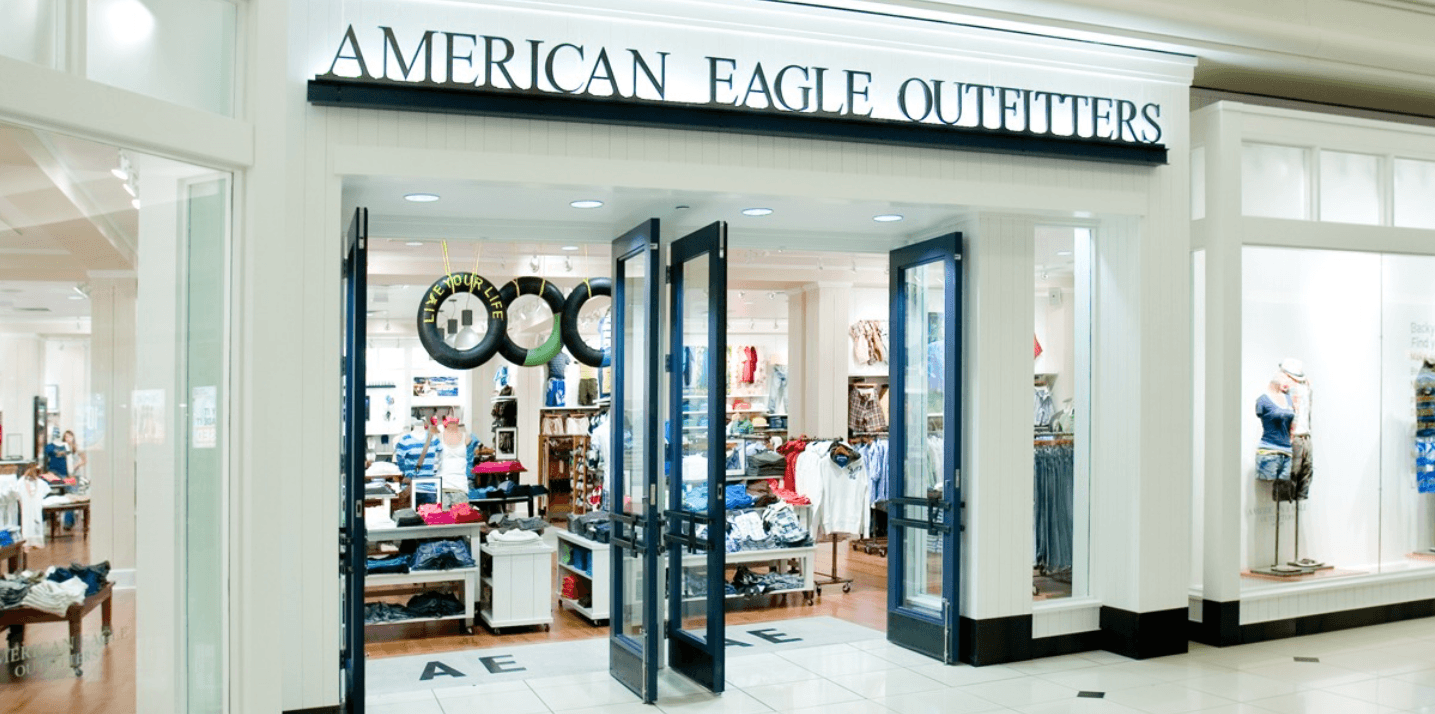 It's been a rough first half of 2020 for the Retail Sector (XRT), but a few names have emerged from the rubble relatively unscathed, with American Eagle (AEO) of them. The company released its Q2 results last week and reported sales down only 15% year-over-year, which is impressive given the circumstances and continued strength in Aerie, which saw revenue grow 32% from Q2 2019. Based on this, the company plans to open 25 new Aerie stores this year and also plans to make a push into the active-wear market with its OFFLINE brand. Given the improving technical picture from the accumulation we've seen recently and the attractive valuation, I would expect sharp pullbacks to provide low-risk buying opportunities.
(Source: TheSomersetCollection.com)
American Eagle released its Q2 results last week and reported quarterly revenues of $884 million, down 15% year-over-year. While these are certainly not pretty headline numbers, it's important to put the weakness in context with the company busy wading through a global pandemic and operating out of one of the worst-hit areas: malls. It's also worth noting that the company was up against unusually tough comps as it was lapping $40 million of Japanese license royalties. After adjusting for this figure, revenue was down just 12% year-over-year, which is offset by the fact that more than 10% of the company's store base remained offline in the quarter, and suffered from lower productivity (85%). Let's take a closer look at the quarter below: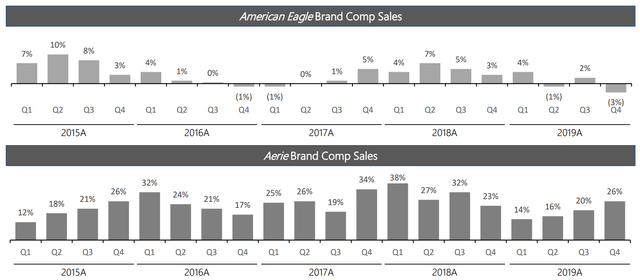 (Source: Company Presentation)
As anyone following the American Eagle story knows, the company's AE brand has been more or less treading water the past few years, while Aerie has picked up the slack and continues to grow at break-neck speed. This is evidenced by the divergent comp sales shown in the chart above, with Aerie continuing to grow at double-digit comps and 19% in FY2019, while the AE brand grew at just 0.5% last year. Fortunately, this outperformance continued in Q2 for Aerie with revenues up 32% year-over-year, and the brand enjoying record margins. It's important to note that this lapped 22% growth year-over-year, so Aerie's two-year stacked revenue growth rate is a remarkable 54%. Meanwhile, the AE brand's revenue fell 26%, lapping a 1% decrease in the year prior. The weakness was mostly tied to store closures and mall traffic, but as noted, 90% of stores are now open as of last week's Earnings Call.

(Source: Company Presentation)
On the digital front, the company continues to gain traction, with 70% of Aerie revenues coming from online, up from 46% in Q4 2019. In total, Aerie digital sales were up 113% year-over-year, while company-wide digital sales were up 48%. This was a 1500 basis point acceleration from the 33% total digital sales in Q1 2020, and the company noted that they saw a 45% increase in App downloads and 39 million sessions during Q2. While some investors might think that this spike in digital is just temporary and is not all that meaningful, the fact that the company is building a large database of digital users is a big deal for driving recurring sales. In fact, mobile app customers have the highest spending levels and are more than double that of non-app customers. It's also worth noting that while we could see some churn in those using the App when things are back to normal, the digital footprint has allowed American Eagle to survive, while some of its weaker peers like JCPenney and Lord & Taylor haven't been so lucky.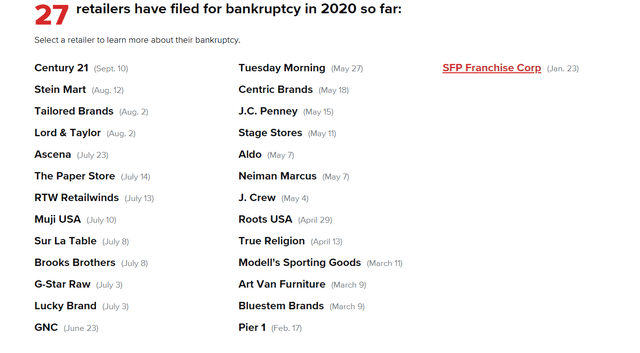 (Source: RetailDive.com)
Finally, I'd be remiss not to note that American Eagle is making a foray into a new market, active-wear, with the hopes to claw some market share away from Lululemon (LULU) and Nike (NKE). The company's newest OFFLINE brand has seen encouraging results to date, prompting the company to plan to open two new stores in the second half of this year. Generally, I would be very skeptical of a brand pulling much market share at all away from two apparel juggernauts like Nike and Lululemon. However, Chief Creative Officer [CCO] Jen Foyle has done an incredible job with Aerie, making it one of the fastest-growing retail brands. Therefore, I expect that she will be able to make a bit of a splash in the active-wear category, which has a current addressable market of $16 billion, more than three times American Eagle's FY2019 revenue.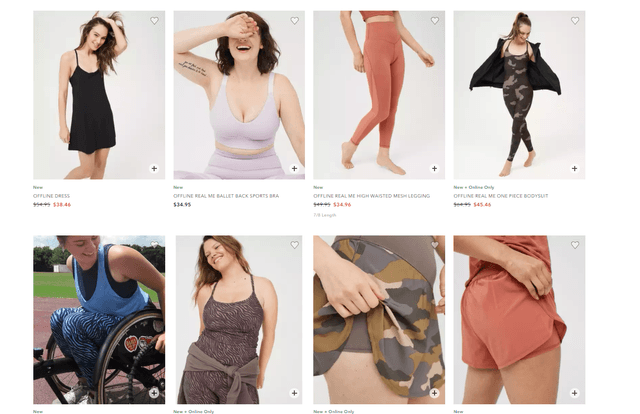 (Source: Company Website)
Some investors might be upbeat on the results but spooked by the fact that annual earnings per share [EPS] is expected to fall off a cliff in FY2020. While this is true as estimates are currently projecting a net loss per share of $0.24 vs. $1.47 last year, FY2021 and FY2022 earnings estimates continue to stabilize. Currently, FY2021 and FY2022 estimates are sitting at $1.12 and $1.38, respectively, and this suggests that the nasty drop in FY2020 is merely an aberration and should not spill over to latter years. It's also worth noting that while some names hit with store closures were forced to massively dilute their share count and will have an annual EPS growth headwind going forward like Dave & Buster's (PLAY), American Eagle is sitting with a strong balance sheet of over $880 million and won't have this issue. In fact, American Eagle's share count is actually down from last year.

(Source: YCharts.com, Author's Chart)
If we move over to quarterly revenue, Q1 was horrid for American Eagle, with sales hitting a multi-year low at $551.7 million. However, we've seen a significant recovery since, driven by continued strength in digital and Aerie, and some stores opening back up. It's worth noting that uncertainty about the school year restart in some states due to COVID-19 was a further headwind for American Eagle, so the $884~ million in sales was up against two headwinds year-over-year: tough comps from Japanese license revenue and weaker back-to-school sales. Despite this, revenues were only down low double-digits year-over-year. If we look ahead to Q3, revenues are expected to be roughly in line with last year, with estimates sitting at $1.03~ billion vs. $1.04~ billion in Q3 last year.

(Source: YCharts.com, Author's Chart)
So, why consider a retailer with flat to down revenue growth rates and annual EPS set to fall off a cliff? The reason is quite simple, and it's the fact that I believe the market has already priced much of this is based on the current valuation. Generally, the market is looking forward by six to nine months, and if American Eagle is going to survive, Aerie is thriving, and a new market opportunity is opening up with OFFLINE, we are likely to see revenue grow at double-digit levels next year and bounce back considerably. Therefore, it makes little sense that American Eagle is trading at barely 0.6x sales.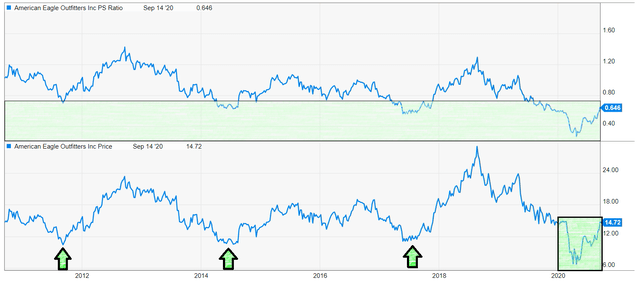 (Source: YCharts.com, Author's Drawing)
As the chart above shows, American Eagle has generally been a buy when it's dipped below 0.70x sales over the past decade, as shown by the lower pane's green arrows. While bottoms have not always come right away, this has been a low-risk area for investing. We are currently just about to exit the 0.70x sales area and are near the upper border. Therefore, while I wouldn't be rushing to buy the stock near $14.80, I believe that any pullbacks are likely to provide buying opportunities. The below Value rating of B- for American Eagle agrees with this view, as the stock has is tied for the 4th best value rating among the top 9 rated stocks from a Quant rating standpoint in the Seeking Alpha premium database. Given the B- score, I see American as a Hold, but a buy on dips below $13.80, where I would expect it to move back onto a 'B' reading.

(Source: Seeking Alpha Premium)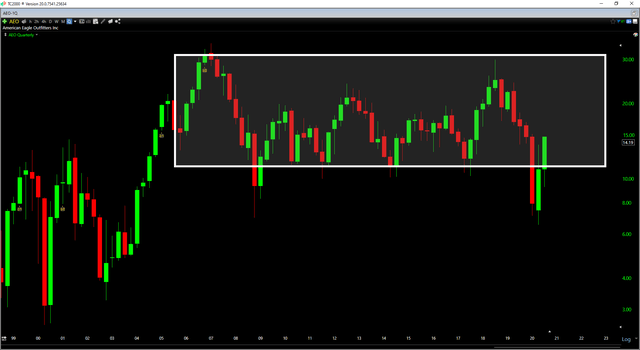 (Source: TC2000.com)
Fortunately for investors, the technical picture corroborates this view across the major time-frames. If we look at a quarterly price chart, we can see a false breakdown at the $12.00 level and a sharp reversal back into the base. This is generally a bullish development as it shows that weak hands were shaken out while institutions scooped up the shares, driving the price higher. On the weekly chart below, American Eagle is breaking out of a multi-year downtrend line and is now back above its key weekly moving average. Besides, the stock has been up on above-average volume for the past three weeks, showing subtle signs of accumulation. While this doesn't preclude pullbacks from here, I would expect any pullbacks to the weekly moving average near $13.50 to find strong support.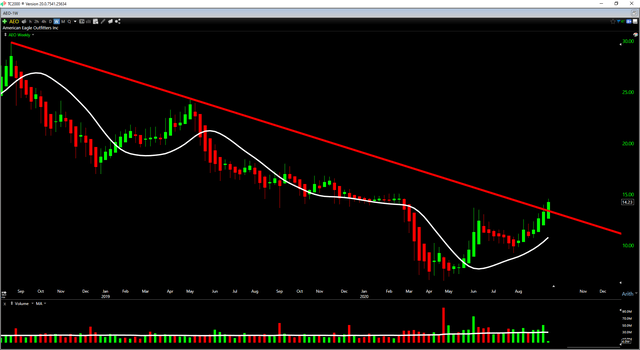 (Source: TC2000.com)
American Eagle doesn't fit the typical growth stock metrics I look for, but the stock is trading at an attractive valuation while the technical picture improves considerably. Given that the stock is trading at one of its lowest revenue multiples in history despite a high probability that sales can accelerate from here with CCO Jen Foyle heading up OFFLINE and entering a new segment (active-wear), I see no reason to rush to take profits just yet. Therefore, if we were to see American Eagle pull back over the coming weeks and take a rest, I would view any corrections below $13.80 as low-risk buying opportunities.
Disclosure: I/we have no positions in any stocks mentioned, and no plans to initiate any positions within the next 72 hours. I wrote this article myself, and it expresses my own opinions. I am not receiving compensation for it (other than from Seeking Alpha). I have no business relationship with any company whose stock is mentioned in this article.
Additional disclosure: Disclaimer: Taylor Dart is not a Registered Investment Advisor or Financial Planner. This writing is for informational purposes only. It does not constitute an offer to sell, a solicitation to buy, or a recommendation regarding any securities transaction. The information contained in this writing should not be construed as financial or investment advice on any subject matter. Taylor Dart expressly disclaims all liability in respect to actions taken based on any or all of the information on this writing.