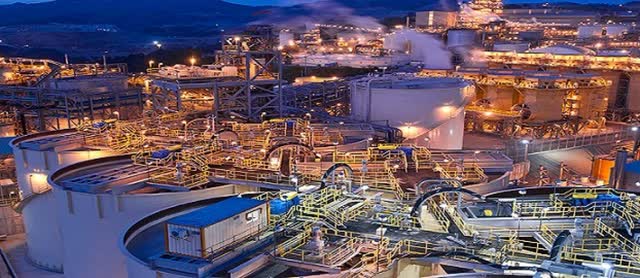 Thesis
B2Gold's (BTG) Q2 2020 had been another stellar quarter in terms of gold production, revenues, earnings, liquidity, and price performance. While the geopolitical risk in Mali is becoming more pronounced following the recent military coup, there's no immediate threat to the operations at the company's flagship property (the Fekola Mine, or 'FM') in the country. In my view, BTG is safe from a significant drop in price that could possibly be triggered by the Malian risk factor. Nevertheless, considering the recent gold price performance, and the company's valuation from an earnings perspective (as well as on the basis of the underlying resource) I see the current prices are not attractive enough to merit fresh investment in the company. Let's get into the details.
Figure-0 (Source: WordPress)
Q2 2020 review
Financials: BTG's Q2 revenues clocked in at $442 MM (up $175 MM or 65% YoY), helped by higher gold prices. The company also managed to boost its Q2 EPS (both basic and diluted) from $0.04 to $0.12 despite the mild increase in share count from 1.008 MM to 1.041 MM. Strong revenue generation has also helped the company's balance sheet that grossed ~$3.246 BB (as at June 30, 2020) compared with ~$2.683 BB (as at December 31, 2019).
A closer look at the balance sheet reveals that BTG has maintained a strong cash position at Q2 end; with cash and equivalents worth $627 MM [up from $140.5 MM, due to the increased cash inflows from higher YoY gold production as well as prices, and also due to the $250 MM drawdown from BTG's existing RCF (read: Revolving Credit Facility) to cater to liquidity risk in the then-COVID environment].
I'd note that in the past, BTG has essentially maintained a debt-free balance sheet. However, very recently, the company stained its balance sheet with LTD (read: long-term debt) that increased from $262 MM to $471 MM over the past six months. While rising debt should be a point of concern, I believe it's not the case for BTG given its strong cash position that exceeds the outstanding debt (at $627 MM, already mentioned) together with the significant OCF (read: Operating Cash Flows) generation. On that note, the Q2 OCF witnessed a large jump YoY, from $92.8 MM to $238 MM. Moreover, BTG anticipates repayment of the entire $425 MM current RCF drawdown balance during Q3, enabling it to end FY 2020 on a positive net cash position. The company's strong liquidity position is also reflected by the rising trend observed in its FCFs (Figure-1).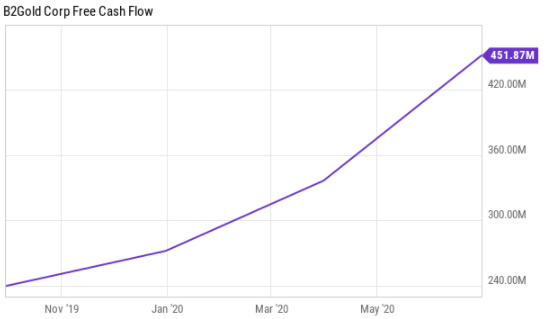 Figure-1 (Source: YCharts)
Operations: From an operational standpoint, the company produced ~239.6 Koz of gold during Q2, recording a whopping ~30.7 Koz (or 15%) YoY increase in quarterly gold production. Before we delve into details, I'd like to mention that despite the 15% upside in YoY production, the Q2 2020 production costs (of ~$96.98 MM) were largely flat with last year (Q2 2019: $95.31 MM), demonstrating BTG's ability to take maximum advantage of the higher gold price environment. Of course, this statement would do well if backed up by the AISC (read: All In Sustaining Costs) data. On that note, Q2 AISC of $714/oz remained below budget by $93/oz (or 12%) and also outperformed the prior-year quarter by exactly the same margin.
To put that into context, compare the average Q2 gold price of $1,719/oz (Q2 2019: $1,312/oz) against the quarterly AISC. We see that on average, BTG generated ~$1,005/oz of gold production, in operating margins. This signifies the importance of BTG as a low-cost, high-margin (mid-tier) gold producer that's capable of creating superior investor returns in terms of both price performance and dividends (Figure-2).

Figure-2 (Source: Seeking Alpha Premium)
Fortunately for BTG, gold prices have continued to perform well during the ongoing Q3, as evidenced by the spot gold prices at ~$1,940/oz (at the time of writing). At this point of the discussion, and keeping in view the facts mentioned so far, I see BTG fit to generate stronger cash flows and deliver healthy operating margins during Q3 2020. The next section will consider a SWOT-based (read: Strengths, Weaknesses, Opportunities, and Threats) analysis on BTG that will help evaluate an investment case in the company in more detail.
SWOT Analysis
Strengths
Fekola Mine (in Mali): As seen in Figure-3, BTG's Fekola Mine accounts for more than half of its expected FY 2020 production and has a significant role to play in bringing down the average AISC. Interestingly, the average AISC has gradually declined over the past 9 years from ~$1,100/oz to ~$800/oz.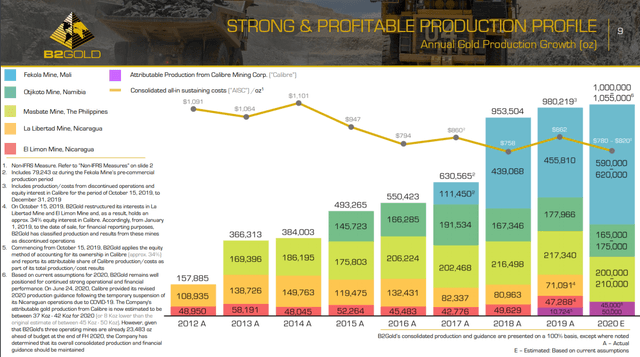 Figure-3 (Source: August 2020 Presentation-pg.9)
Mine-wise, the AISC for Fekola, Masbate, and Otjikoto came at ~$562/oz, $1,060/oz, and $757/oz, respectively. Apart from the Masbate mine, both Fekola and Otjikoto mines have their Q2 AISC posted lower than FY 2020 guidance, and I see FM's AISC to be a significant catalyst for steering BTG forward on strong operating margins (Figure-4).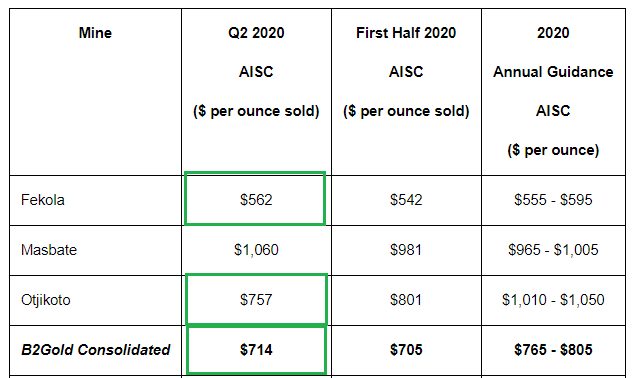 Figure-4 (Source: Q2 2020 results)
Gold price environment: The second major catalyst is the persistent uptrend in gold prices witnessed since the mid-March lows. It helps derive substantial operating margins for an already low-cost producer. In the recent rally, gold reached its historical highs of ~$2,100/oz but then returned to varying within the range of $1,900-2,000/oz. I see current gold prices consolidating within the range of ~$1,850/oz-1,950/oz in the near term (Figure-5).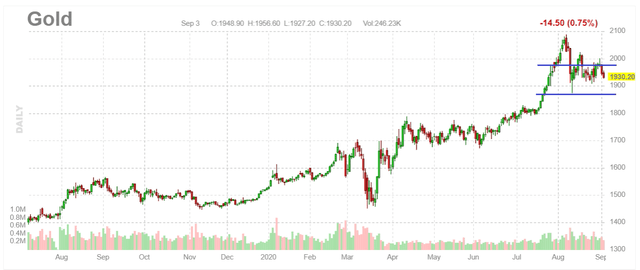 Figure-5 (Source: Finviz)
Weaknesses
Masbate Mine (in the Philippines): Perhaps the current weak spot in BTG's operating environment is its Masbate mine that's not only the highest cost operation compared with the other two mines, but also operates in a country that has recent history of posing challenges for miners (highlights the geopolitical risk, in my view). To put that into context, I'd like to quote the risk highlighted by data research company Fitch Solutions in their report issued last year titled "Outlook for Asia's Mining Sector,"
In the case of the Philippines, despite the replacement of anti-mining Environmental Minister Gina Lopez with the more accommodating Roy Cimatu in 2017, government regulations on the basis of environmental protection and general policy uncertainty will continue to plague the mining industry in the coming years.
Although BTG's Masbate operations have luckily remained unharmed by such measures from the Government agencies, the risk of operational disruption is present. The other issue with Masbate mine is its tendency to deliver the highest-cost production among all three operations particularly due to its relatively low-grade ore. Note that Masbate's Q2 AISC fared higher than FY 2020 cost guidance (refer to Figure-3). Keeping in view the fact that Masbate accounts for the second-highest gold production in BTG's portfolio of producing assets, I believe this reflects negatively on the company's average AISC.
Nevertheless, the overall impact on BTG's operational profile is less pronounced thanks to solid operational performance witnessed at the FM, together with the higher gold price environment.
Correlation with gold prices: As discussed earlier, a higher gold price environment boosts the stock price (due to tentative higher operating margins). In my view, the strong correlation with gold prices implies that a spell of gold price correction is equally devastating for BTG's share price performance. This is evident from the chart comparing BTG's 10-year price performance versus gold (Figure-6). The bottom line is; BTG is not the choicest stock to own when gold markets are in correction. If we consider this statement in tandem with the current gold consolidation window (refer to Figure-4), I believe we should expect reasonable downside in share prices from the current levels.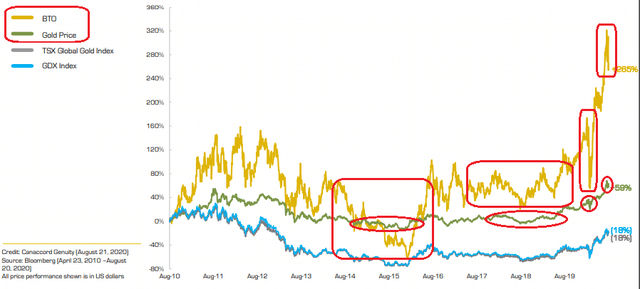 Figure-6 (Source: August 2020 Presentation-pg.14)
Opportunities
E&D projects: BTG has a couple of E&D (read: Exploration and Development) projects in its portfolio, including the under-developed Gramalote project (~50% owned) in Columbia, and the under-exploration Kiaka project (81% owned) in Burkina Faso. These projects are expected to have an underlying 'Indicated' mineral resource of ~1.03 Moz (read: a million ounces) and ~3.44 Moz of gold, respectively. Similarly, the underlying 'Inferred' mineral resource is estimated at ~1.37 Moz and ~1.65 Moz, respectively.
BTG is fast ramping up the development of the Gramalote JV. The PEA (read: Preliminary Economic Assessment) of the project, completed in January 2020 disclosed the following key takeaways:
LoM (read: Life of Mine) of 13.6 years,
Annual gold production of ~284 koz (read: a thousand ounces) throughout the LoM,
Average AISC of $648/oz of gold production throughout the LoM,
Pre-production CAPEX of ~$900 MM,
After-tax NPV of $671 MM assuming a 5% discount rate and average gold prices of $1,350/oz of gold, and
IRR of 18.1%, with a payback period of 3.6 years.
I believe there's both a positive and a negative side to the above numbers. On the positive side, the long-term average gold prices used (at $1,350/oz) in making NPV estimates are significantly lower than the current gold prices ranging above $1,900/oz. While I do expect some correction in gold prices after the recent tremendous bullish run, I don't think gold is going anywhere near $1,700/oz (or lower) during the near term (say, next 12 months or so). This implies that once Gramalote goes into production, favorable gold prices would continue to boost the project's operating margins. On the negative side, I believe the AISC could be higher than that forecasted by BTG. For reference, consider the fact that expected average gold grades for 'Indicated' resources from both Masbate mine and Gramalote project are almost same (Figure-7). In fact, expected grade for Gramalote project (0.68 g/t) is much worse than Masbate (0.91 g/t) when it comes to the 'Inferred' resource category. Given that both mines are open-pit operations, I expect Gramalote's AISC to be higher than projected. Nevertheless, the project is advancing well and the next milestone is the feasibility study that BTG expects to release in Q1 2021. Plus, the current higher gold prices together with BTG's strong liquidity position (discussed earlier) would make it easy for the company to fund the project's development once a final construction decision is taken (expected early 2021).

Figure-7 (Source: Investor Highlights)
Apart from the Gramalote project, Kiaka is another promising prospect that's currently under exploration phase. The 'Resources and Reserves' page on BTG's website indicates that Kiaka's expected 'Indicated' resource is 3.44 Moz (compared with Gramalote's 1.03 Moz) and the 'Inferred' resource is 1.65 Moz (compared with Gramalote's 1.37 Moz). During Q2 2020, BTG incurred $0.86 MM (H1 2020: $1.355 MM) on Kiaka exploration that roughly amounts to 7% (H1 2020: 6.3%) of the total exploration expense for the comparable period. This denotes that presently Kiaka is not a priority for the company, as BTG is actively allocating a significant proportion of its exploration budget to other projects like Fekola, Masbate, and the Anaconda region. Nevertheless, given the resource potential of Kiaka (that's scalable based on ongoing exploration studies), I believe this project can bring significant cash inflows in a favorable gold price environment, and can further provide BTG with an opportunity to geographically diversify its operating base (in future) to cater to regional geopolitical risks (more on this later).
Threats
Geopolitical risk: In my view, the most prominent risk factor for BTG is the countries it operates in. Headquartered in Canada, the company's asset-base is scattered across Mali, the Philippines, Namibia, Columbia, Burkina Faso, etc. Not a single one of these locations could be termed as Tier-1 mining jurisdictions.
[Author's Note: The risk profile varies from country to country. However, mining in politically-risky locations makes sense when the risk is offset by low-cost production; which is exactly the case for BTG that's a relatively low-cost (and high margin) mid-tier gold producer compared with a selected group of peer gold miners (Figure-8). The companies selected are based on author's discretion and have geographically-diversified presence.]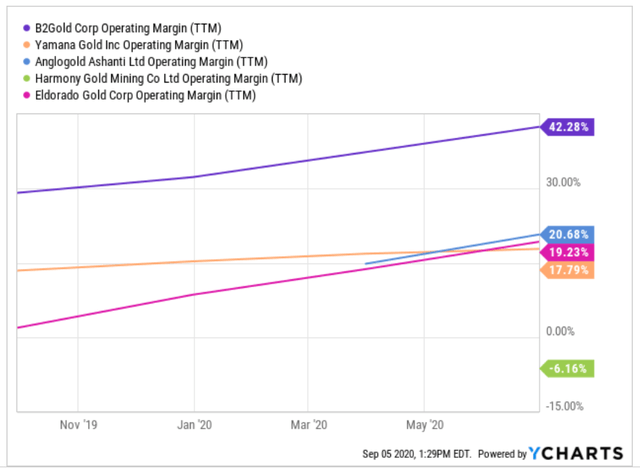 Figure-8 (Source: YCharts)
The major risk I see is in the company's most significant operating location: Mali. The country saw its fourth "coup d'état" during the past 100 years, when a faction of the Malian military overthrew the then-President on August 18, 2020, and took control of the government. BTG was quick to inform that the military coup has had no notable impact on its Mali operations. I'm no expert in politics, nor is a detailed political discussion included in the scope of this analysis. However, the point I'm trying to make here is that the Malian Government which has supported the Fekola project since inception has been overthrown twice during the past 10 years (the last coup was in 2012), and is undergoing stability challenges on the political front. Currently, Mali is in a civil war since 2012 and there are security threats in the Northern and Southern parts of the country. However, the Fekola mine presently appears to be safe from both; the military threat, as well as the terrorist threat in Mali. The essence of this discussion is that the Malian geopolitical risk (in the context of BTG's Fekola mine in Mali), if materializes, could significantly derail BTG's operating profile keeping in view the contribution of the Fekola mine in delivering low-cost, high-end gold production.
Valuation
Enterprise Value per ounce of gold: In a recent article on Alamos Gold (AGI), I discussed the relative valuation of companies in a peer group of mid-to-senior gold producers based on their EV/oz (read: Enterprise Value per ounce) of underlying gold 'reserves and resources.' I applied a 20% discount variable to account for the element of uncertainty in converting the resources into reserves. The numbers reveal that BTG currently has the highest multiple among the selected group, which does not reflect positively on BTG's relative valuation. Have a look at Figure-9.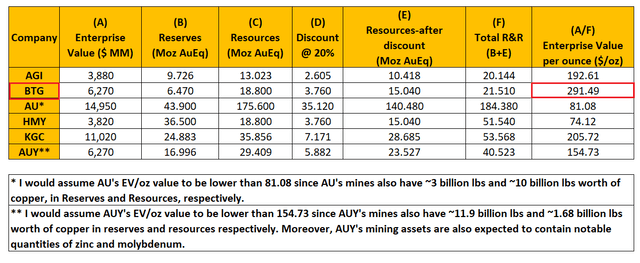 Figure-9 (Source: Previous Article on Seeking Alpha)
EV/EBITDA: However, since all these companies are producing gold miners, I think it'd be appropriate to take a look at their respective EV/EBITDA ratios, to assess their valuation from an earnings perspective. As seen in the chart below (Figure-10), BTG's EV/EBITDA multiple lies on the lower end of the peer group's average. If we factor in BTG's intention to get rid of its long-term debt before the end of FY 2020 (that's also backed by the company's strong liquidity position, as well as operating cash flows), we can expect those valuations to likely see further improvement, going forward.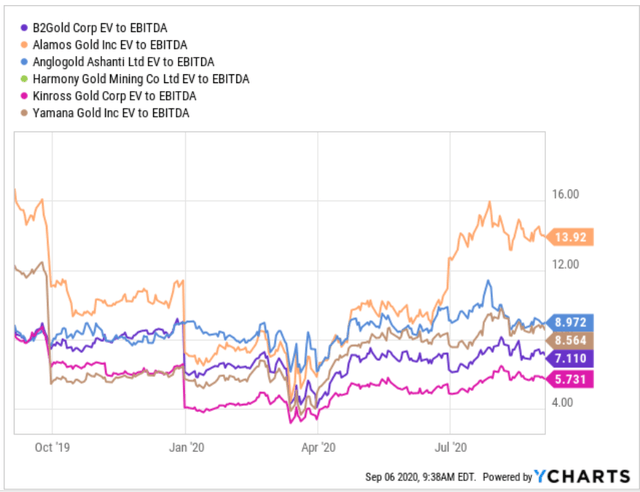 Figure-10 (Source: YCharts)
Forward P/E: The company's forward P/E should be seen in two directions:
BTG's forward P/E multiple compared with peers (Figure-11) to check the industry's average multiple.
BTG's forward P/E versus its TTM P/E multiple (Figure-12) to analyze the strength of forward earnings.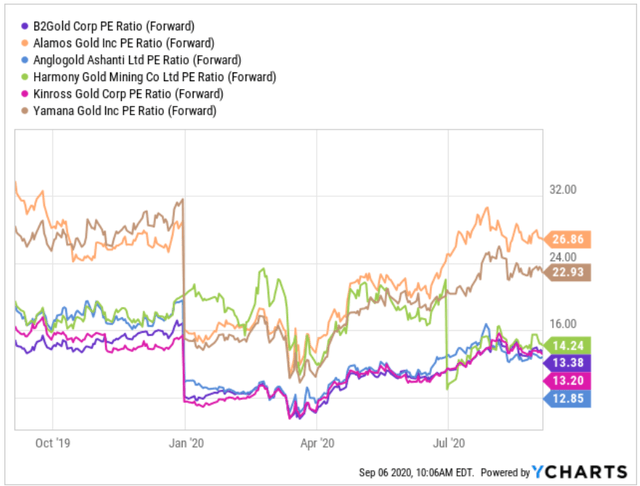 Figure-11 (Source: YCharts)
The above chart reflects that BTG's forward P/E is well below the peer group's average multiple of ~17.24x. I think the lower multiple is also due to the company's operational presence in politically-risky locations. Nevertheless, the valuation looks suitable from this perspective.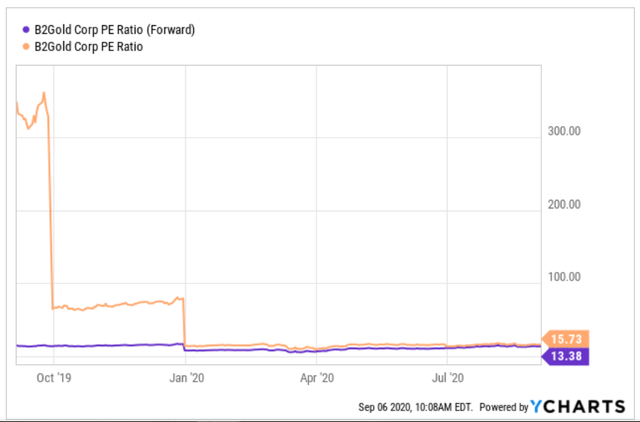 Figure-12 (Source: YCharts)
Moreover, the above chart also confirms that transitioning from TTM to forward, the P/E multiple comes down smoothly, indicating improvement in earnings, going forward (fuelled by a higher gold price environment, strong production, and rising margins).
Investor Takeaway
In the preceding discussion, we have seen that BTG has delivered a strong Q2 2020, both financially and operationally. The company has demonstrated its ability to take full advantage of the recent gold rally, and seems fit to be able to generate strong cash flows and operating margins during the remainder of the year.
Moreover, a SWOT analysis on the company indicates its operational strength (particularly in Mali) that helps BTG maintain its reputation as a low-cost producer. While the Fekola Mine is the flagship asset of the company, BTG has growth opportunities via promising near-to-long term projects such as Gramalote and Kiaka. This provides an added layer of safety to its long-term operational outlook, should the Malian geopolitical risk factor take a toll on the company's operations in future. The chances of such disruption are less likely in my view; nevertheless, they do weigh on an investment thesis in the company, considering the significance of Malian operations for the company.
Keeping these facts in mind, and the company's relative valuation based on the EV/oz of underlying gold resource, I see that BTG is not a value pick at current prices despite the company having a suitable valuation in terms of EV/EBITDA and forward P/E ratios. In my view, BTG is a promising 'long' investment that generates suitable returns for the shareholders. However, since gold prices are on a slow path to correction, I believe investors would do well to time their investment. Perhaps a price tag at or under $6/share would provide more suitable entry points, considering the company's technical price chart (Figure-13).
Figure-13 (Source: Finviz)
Disclosure: I/we have no positions in any stocks mentioned, and no plans to initiate any positions within the next 72 hours. I wrote this article myself, and it expresses my own opinions. I am not receiving compensation for it (other than from Seeking Alpha). I have no business relationship with any company whose stock is mentioned in this article.