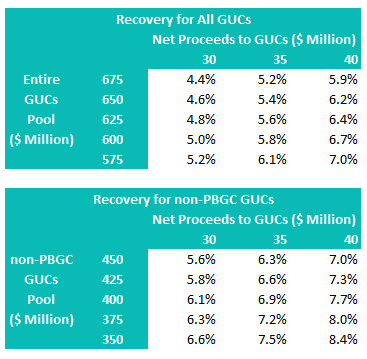 Global Settlement
By way of background, Briggs & Stratton (OTCPK:BGGSQ) filed for Chapter 11 on July 20, 2020 with KPS Capital Partners as the stalking horse bidder for substantially all of the company's assets, free and clear of any liens and liabilities, for $550 million via a 363 assets sale. The $550 million price tag covers the secured creditors of Briggs (DIP ABL and DIP FILO Term Loan), leaving very little (if any) value to the general unsecured creditors (GUCs) as initially planned.
Generally, in similar situations, the unsecured creditors will heavily litigate every aspect of the proposed sale transaction to hold up the process to exact value. However, the night before the much anticipated sale hearing, which was expected to be highly contested, Briggs & Stratton announced that a global settlement was reached making the sale transaction essentially fully consensual.
Since Briggs isn't operationally cash flow positive, any further delay will increase Briggs' overall debt level as the ABL needs to be drawn down to fund the operation. If the overall debt level climbs to, say $550 million, by the time any resolution is reached, there will be nothing left for the GUCs. However, if the sale transaction can be closed quickly, the difference between the purchase price of $550 million and the overall debt at close will be paid out to the GUCs in cash, net of bankruptcy administrative expenses and working capital adjustments. This amount is forecast to be $40 million. The unsecured creditors' committee (UCC), on behalf of the entire general unsecured class, essentially agrees to stay out of the way to maximize this value.
Source: Docket 876
In addition, Pension Benefit Guaranty Corporation (PBGC) sweetened the deal for other GUCs (PBGC itself is an unsecured creditor), likely in order to bring other members of the UCC on board, by agreeing to shift $5 million recovery to other GUCs and capping its claim to $225 million. In exchange, PBGC got KPS to assume one of two pension plans that were originally contemplated to be terminated (and PBGC would have to take on responsibility of making pension payments).
Rationale for Cooperating Instead of Litigating
First, it's about risk and reward. As shown below, the net proceeds to the GUCs quickly drops to zero if the process is dragged on to even just November. Also, while we know the value of $40 million cash, it's difficult to assign a dollar figure to the litigation option value. Plus, even if the fight turns out to be successful, the recovery is likely to be in the form of illiquid shares or warrants in a private company, which are not attractive to trade creditors and retirees who make up a large portion of the unsecured creditor class.

Source: Docket 876
Most importantly, derailing the sale transaction alone doesn't solve the liquidity problem as Briggs is still not generating enough cash flow to fund its operation. After successfully convincing the judge to throw out the sale transaction, Briggs still needs an interim liquidity provider, but nobody stepped up including the Ad Hoc Group of Senior Noteholders. Of course, it's difficult to step in given that the existing DIP facilities were granted administrative expense status, so whoever wants to sponsor a Plan of Reorganization by providing an alternative DIP facility will have to pay off the existing DIP facilities first, and ~$500 million is a very big check to write.
Potential Recovery
The notes for "Other Admin and Secured Claims" of $39 million states that it "includes estimates for: (i) costs to wind-down the Debtors' estates, (ii) accrued payroll and deferred taxes and (iii) other administrative and secured claims". The Schedule of Assets and Liabilities lists a priority unsecured claim of ~$6.5 million (plus some undetermined amounts) and is related to payroll and taxes, so I'm going to assume the $39 million costs includes this priority unsecured claims. In other words, the $40 million cash recovery is a net amount to the non-priority unsecured claim.
Without PBGC's contribution, all GUCs are entitled to their pro rata share of the $40 million recovery. Assuming non-PBGC GUCs have $400 million of claim, the entire GUCs pool will be $625 million (PBGC has a capped claim of $225 million) and the non-PBGC GUCs are entitled to 64% of the recovery ($400/$625), or $25.6 million ($40 x 64%). However, because PBGC agrees to shift $5 million recovery to the non-PBGC GUCs, the recovery improves to $30.6 million. This translates to a recovery rate of 7.65% ($30.6 recovery on $400 million claim). I've created a sensitivity table below.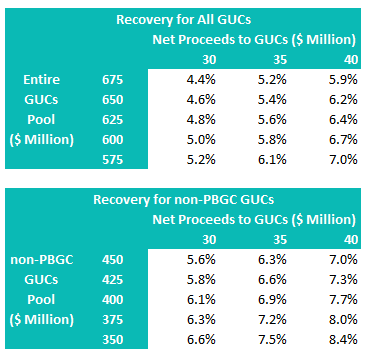 Source: Author's Estimates
Conclusion
While the entire process derailed from a conventional reorganization from the start, I think this is the best scenario all things considered. The PBGC made important concession here to get every member of the UCC on board to maximize recovery, and even agreed to shift some value to other GUCs. Noteholders should vote in favor of the upcoming Plan of Liquidation.
Disclosure: I/we have no positions in any stocks mentioned, and no plans to initiate any positions within the next 72 hours. I wrote this article myself, and it expresses my own opinions. I am not receiving compensation for it (other than from Seeking Alpha). I have no business relationship with any company whose stock is mentioned in this article.
Additional disclosure: I own the senior unsecured notes.