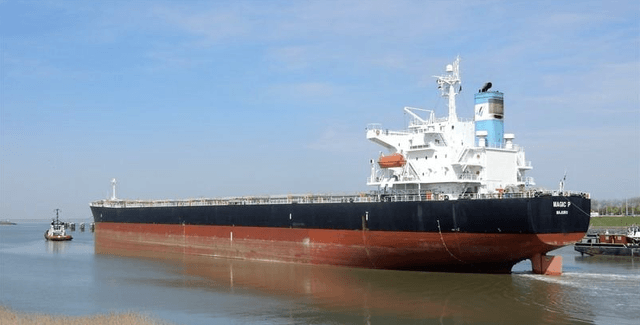 Eighteen months ago, I discussed a major momentum rally in shares of Greek nano-cap dry bulk shipper Castor Maritime (CTRM).
At that time, the company was approved to list its common shares on the Nasdaq Capital Market which previously had been trading at the Norwegian OTC.
Since then, the stock is down 97% as the dry bulk market has experienced a couple of tough quarters. In addition, investors apparently realized the lack of fundamental value in the common shares given the $14.4 million in liquidation value of the company's 9.75% Series A Cumulative Perpetual Redeemable Preferred Stock ahead of them.
Photo: Panamax Bulk Carrrier "Magic P" leaving the port of Terneuzen, Netherlands under tow in April 2018 – Source: MarineTraffic.com
Despite these issues, Castor Maritime has managed to grow its fleet from a single dry bulk carrier to five Panamax vessels by employing a highly abusive capital raising scheme similar to peers Top Ships (TOPS) and Seanergy Maritime (SHIP).
In recent months, the company has raised approximately $35.6 million in net proceeds or more than 150% of its current market capitalization by issuing almost 117 million new common shares and an identical number of warrant sweeteners at prices substantially below prevailing share prices as shown in the recent F-3 filing with the SEC:
On June 23, 2020, we entered into an agreement with Maxim Group, LLC, or Maxim, acting as underwriter pursuant to which we offered 59,110,000 units, each unit consisting of (i) one common share, par value $0.001 per share (a "Common Share") or a pre-funded warrant to purchase one Common Share at an exercise price equal to $0.01 per Common Share (a "Pre-Funded Warrant"), and (ii) one Class A Warrant to purchase one Common Share (a "Class A Warrant"), for $0.35 per unit (or $0.34 per unit including a pre-funded warrant). In connection with this offering, we have received gross proceeds amounting to $20.7 million.

On July 12, 2020, we entered into the Securities Purchase Agreement, with certain unaffiliated institutional investors for the issuance of an aggregate of 57,750,000 of our common shares in a registered direct offering of, or the Registered Offering. Concurrently with the Registered Offering and pursuant to the Securities Purchase Agreement, we also concluded a private placement whereby we issued and sold Warrants to purchase up to 57,750,000 of our common shares.
Even worse, the warrant terms are not set in stone as evidenced by Seanergy Maritime's announcement in late June (emphasis added by author):
As previously disclosed, on April 14, 2020, April 22, 2020, May 4, 2020 and May 7, 2020, Seanergy Maritime Holdings Corp. (the "Company") issued, to certain institutional investors in transactions exempt from registration under the Securities Act of 1933, as amended, certain warrants to purchase its common shares, par value $0.0001 per share (the "Warrants"), at an exercise price of $0.135 per common share for the Warrants issued on April 14, 2020 and $0.12 per common share for all other Warrants. The common shares issuable upon exercise of the Warrants were subsequently registered for resale by the holders of the Warrants on a registration statement on Form F-3 (File No. 333-238136) which became effective on May 18, 2020.

On the date hereof, the Company entered into a warrant exercise agreement with each holder of the Warrants, pursuant to which such holders agreed to exercise the Warrants, effective on the date hereof, to purchase 79,261,000 common shares, and the Company agreed to reduce the exercise price of the Warrants to $0.08 per common share solely with respect to the exercise of the Warrants pursuant to such agreements. Except with respect to the exercise of the Warrants on the date hereof pursuant to such agreements, the exercise price and all other terms of the Warrants remain unchanged. The Company expects to receive aggregate gross proceeds of $6,340,880 as a result of the exercise of Warrants pursuant to such agreements.
Since the first equity offering in late June, the stock has lost another 75% in value which isn't exactly a surprise given the almost 90% dilution suffered by existing common shareholders.
A number of Greek-based shippers have a long history of abusing common shareholders with the most famous case likely being DryShips and its colorful CEO and chairman George Economou. Three years ago, Economou managed to recapitalize the ailing company by relentlessly selling new shares into the market thus wiping out several sets of new shareholders in a seemingly never-ending scheme of stock sales and reverse splits.
Peers like Top Ships and Diana Containerships (PSHG) quickly followed suit at that time albeit not as successful as DryShips. Nevertheless, the result for common shareholders was the same as most of them were wiped out, too. While Diana Containerships has since reversed course with management taking a large equity stake and subsequently renaming the company "Performance Shipping", Top Ships has continued to abuse common shareholders with no less than 13 (!!!) common equity offerings so far this year. That said, the company recently promised to do better and even announced a share repurchase program while estimated net asset value per share was stated at $3.55 on a fully diluted basis.
As Castor Maritime has now joined the shareholder dilution party, the stock's performance is basically a reflection of the issues discussed above with market participants now constantly suspecting the next equity offering to be just around the corner.
Statements like the one made by the company's controlling shareholder, CEO and CFO, Petros Panagiotidis when announcing the purchase of another Panamax vessel six weeks ago must appear like utter mockery to equity holders (emphasis added by author):
"We are very pleased that we have been able to utilize further our recently raised capital by agreeing the acquisition of our fifth vessel, in a very short time since the acquisition of our fourth. We are making swift progress on our expansion and renewal plan that we set in place last year and are actively continuing to assess the various opportunities presented to us. Our key goal continues to be the further expansion of our fleet and the deployment of our readily available liquidity in the most prudent and favorable way for our shareholders."
After adjusting for recent capital raises and vessel acquisitions, I would estimate cash on hand after the upcoming delivery of its latest Panamax purchase to be around $28.5 million. Adding $40 million in fleet value and deducting long-term debt of approximately $19 million as well as the $14.4 million liquidation value of the Series A Preferred Stock results in a net asset value of roughly $35 million or $0.27 per share.
The discount of almost 40% is not surprising given the company's approach to shareholder value.
At current charter rates, the company is operating around cash break-even levels which isn't too bad particularly when considering the average vessel age of almost 15 years but on the flip side adds nothing to shareholder value.
Bottom Line
Since its Nasdaq listing in early 2019, Castor Maritime's common shares have lost approximately 97% due to a mostly weak dry bulk market and the company's recent decision to aggressively grow its fleet at the expense of common equity holders by raising large amounts of fresh capital at substantial discounts to prevailing trading prices and issuing a ton of warrant sweeteners on top. After the massive sell-off, the shares now trade at an almost 40% discount to net asset value which doesn't really come as a surprise given management's stated goal of further fleet expansion.
In addition, the company will likely be required to conduct a reverse stock split by December 28 at the latest date as this marks the end of the Nasdaq's current grace period for the company's failure to comply with the $1 minimum bid price requirement.
Suffice to say, investors shouldn't touch Greek-based nano-cap shippers like Castor Maritime, Top Ships and Seanergy Maritime with a ten foot pole given the abusive capital raising schemes employed by these companies on a more or less regular basis.
Disclosure: I/we have no positions in any stocks mentioned, and no plans to initiate any positions within the next 72 hours. I wrote this article myself, and it expresses my own opinions. I am not receiving compensation for it (other than from Seeking Alpha). I have no business relationship with any company whose stock is mentioned in this article.