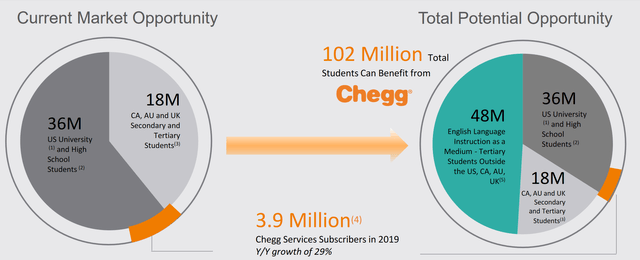 As the school year is wrapping its first month of school in some places, Chegg (CHGG) should continue to find strength in both online and in-person formats. Chegg has already set itself a high bar, offering strong guidance on top of a strong quarter reported in early August. And with shares down over 20% since that earnings report, now could be a good time to buy and capture future growth.
Chegg is geared towards online education and pioneering the online learning space, and the education system has taken online formats in stride due to the pandemic. There's no certainty with schools remaining in-person or remaining online or hybrid, but whatever the case is, Chegg will have a spot due to its online solutions and study packs and rent/buy book features.
Chegg believes that "the door is permanently open to the promise of online learning: affordable, scalable, on-demand, and designed to support whatever the students primary goals are" and its ability to capture an ever-growing market. Right now, Chegg estimates that it has up to 102 million students in its total potential market, after international expansion, but only has 3.9 million services subscribers – leaving a huge part of the market still available.
Source: Investor Presentation
Nearly half of the total market stems from opportunities in international markets, something that Chegg is only just starting to reach into. One of the key initiatives that Chegg has set is "increasing [its] investment in international growth and development" in order to start firing growth overseas.
Yet Chegg is also seeing strong continual growth in subscribers and revenues without that international driver yet. YoY growth for subscribers was 29%, and revenues have grown at a 39% CAGR since FY '15. Revenues for 1H are up 49% already YoY, but a strong 2H could see revenues up 60% YoY.

Source: Investor Presentation
Organic growth for Q2 increased 23 points compared to Q1, and Chegg "expect[s] this momentum to continue into the fall semester" as schools go back for the '20-'21 academic year. As such, Chegg's Q3 guidance came in above consensus, and the underlying momentum of subscriber growth allowed Chegg to post full-year guidance above previous expectations.
Chegg services comprises about 80% of Chegg's total revenue, so subscriber growth is key to pushing revenue growth – while growth did slow for FY '19, the transition to online/hybrid models of learning for the most part could see another sharp acceleration in the back half of the year. Attraction of potential subscribers comes from Chegg's extensive base of solutions and content.
Chegg's services are split into five categories, with the first three making up the Chegg Study Pack: study, writing, math solver, tutors, and thinkful.
Study is one of the largest areas for Chegg and one of the reasons it is so well-known in academics. There's over 43 million different pieces of content (a majority are expert answers) and textbook solutions. Writing helps correct grammar errors and sort/create bibliographies. Math Solver is now aided by the addition of Mathway, and should see beneficial growth from that, showing step by step solutions.
Students are drawn to Chegg for these reasons, with 87% of college students in the US having heard of Chegg or one of its services. This widespread range of influence also helps drive engagement – 92% of students say that Chegg has helped them get better grades and 90% say it helps them understand homework/assignments better.
Most students don't like to skimp when it comes to understanding concepts and scoring higher in exams, hence where Chegg users find such a large benefit in using its services. Chegg might have to face potential churn due to its pricing of its services, but for those who have found increasingly better scores and understanding, going away from that service while still studying might not happen. Churn then would only happen after education ends – Chegg has the potential 3 to 5 year range of use for college and post-grad students, and even 8 if it can capture those students as early as high school, and/or into higher degrees.
There's really only a few main risks to Chegg for its paying subscribers – for textbook services, Amazon (AMZN) is a large competitor, and for study services, there's Quizlet, Khan Academy, and just plain and simple Google (GOOGL) (GOOG). But Chegg has it all under one umbrella, and a solid positive reputation, so it can fend off some of that competition.
Chegg might be able to reach 5 million subscribers by the start of the next academic year, and could be at $1 billion in revenues by 2022; international expansion and growth will only accelerate those two numbers, although the cost could cut into earnings a bit in the beginning. With the pandemic still in play, online and hybrid schooling might push more work on to students in shorter time frames. Online schoolwork, quizzes and exams open up the door for students to find alternatives to doing work – psychologically taking classes at home takes away the social aspect of being in school, and motivation to get work done could be less, so using Chegg helps make the homework and exam process quicker and easier. These are some of the advantages that have been pointed out above – 90% find Chegg helps them understand material better, and get better grades. Chegg also has that long-term advantage of hooking kids to the platform – if using Chegg is easy and successful, kids will want to continue to use it even if it is not completely necessary. As so, Chegg's model of growth remains strong and it is on track to continue growing no matter what schools do in the future.
With shares pulling back alongside the broader market, it looks to present an attractive buying opportunity during the back-to-school Q3. Chegg is poised for growth both domestically and internationally as it begins to scale expansion there, and will grow subscribers in hybrid, online or in-person formats due to its range of services and subscriber engagement and satisfaction. With Chegg now seeing potential momentum gains from the new education dynamic, and just starting a new growth phase internationally, shares could easily see triple-digits by the end of this academic year.
Disclosure: I/we have no positions in any stocks mentioned, and no plans to initiate any positions within the next 72 hours. I wrote this article myself, and it expresses my own opinions. I am not receiving compensation for it (other than from Seeking Alpha). I have no business relationship with any company whose stock is mentioned in this article.