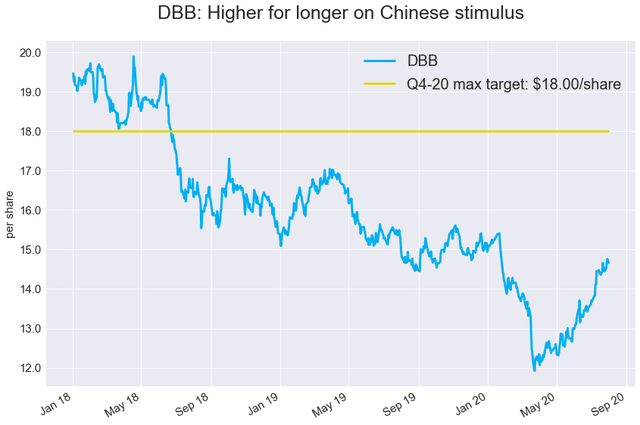 In this regular note, we provide a discussion on fundamental dynamics across the industrial metals, with a special focus on copper, zinc, and aluminium, in order to formulate a clear view on the Invesco DB Base Metals Fund (DBB).
By tracking many real-time micro indicators across the base metals space, we help readers to better assess the real-time changes in refined market balances.
Thesis
DBB has continued its uptrend since our last update published on August 1, corroborating our bullish view toward the base metals space.
Although the seasonality of base metals prices is negative in August, DBB had a good run (+6%), principally driven by the strength in zinc (+9%), owing to its severely disrupted mine supply dynamics.
The reflationary environment, caused by global policymakers in response to the COVID-19 deflationary macro shock, should continue to be supportive of base metals in the months ahead.
Demand should continue to be driven by China, since the country has played a similar playbook as in 2009, with a metals-intensive fiscal stimulus.
The recovery in demand, combined with constrained output growth due to supply disruptions, should push DBB higher for longer.
We set a Q4 target at $18/share.
Source: Trading View, Orchid Research
About Invesco DB Base Metals Fund
Invesco DB Base Metals Fund allows investors to assert exposure to some of the LME base metals.
The composition of the Fund is as follows: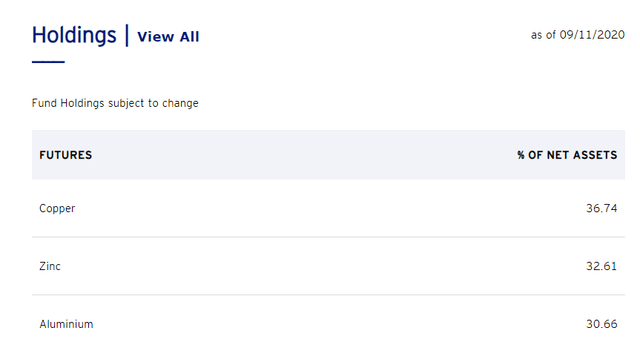 Source: DBB, Orchid Research
DBB's assets under management total $142 million, with an average daily volume of $1.74 million and an average spread (over the past 60 days) of 0.22%.
Its expense ratio is 0.80%, which makes it a relatively cheap ETF to get an exposure to the industrial metals complex.
Price trends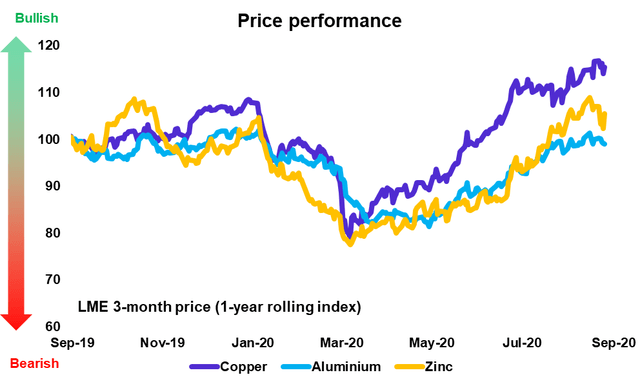 Source: Bloomberg, Orchid Research
Although copper, aluminium, and zinc are in a slight consolidation mode so far in September, they performed well in August:
Copper: +5% on the month, +9% YTD.
Aluminium: +5% on the month, -2% YTD.
Zinc: +9% on the month, +9% YTD.
The outperformance of zinc prices is primarily driven by fears of mine supply disruptions, especially in Latin America (where zinc mines are concentrated) due to a surge in COVID-19 cases in the region. Fears of tightness in the concentrate market are evident in the slump in treatment charges (TCs) for spot zinc concentrates.
However, we think it is still profitable for smelters to increase production despite the decreased TCs, and as such, we expect refined output to grow this year and next, which should leave the refined zinc market in a surplus.
Against this, we think that the outperformance of zinc prices is unlikely to sustainable.
On balance, the market action is bullish for DBB.
Open interest trends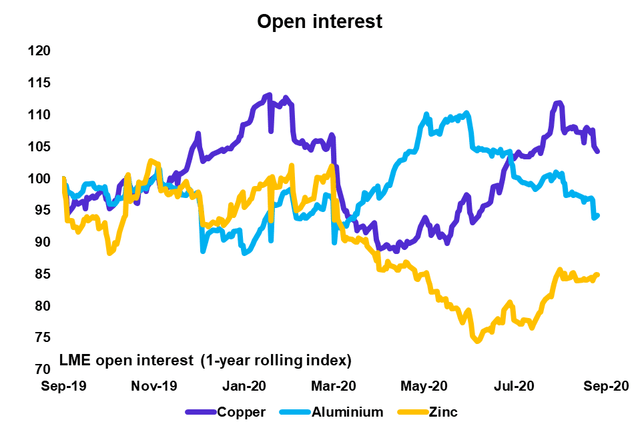 Source: Bloomberg, Orchid Research
Open interest in LME copper and LME zinc increased in August (+3% for copper, +8% for zinc), meaning that the driving force behind their price strength was fresh buying. This points to increased bullish conviction, especially in the zinc market.
In contrast, open interest in LME aluminium declined by 1% last month, suggesting that the rebound in prices was predominantly driven by short-covering. This points to reduced bearish sentiment in the market.
We think that investors are not inclined to turn more meaningfully bullish on aluminium because the recent rally in prices is more driven by bullish macro-dynamics rather than positive fundamental factors. Most consultancies expect the aluminium market to post a surplus of roughly 4 million tonnes this year.
On balance, changes in open interest are bullish for DBB.
Exchange inventory trends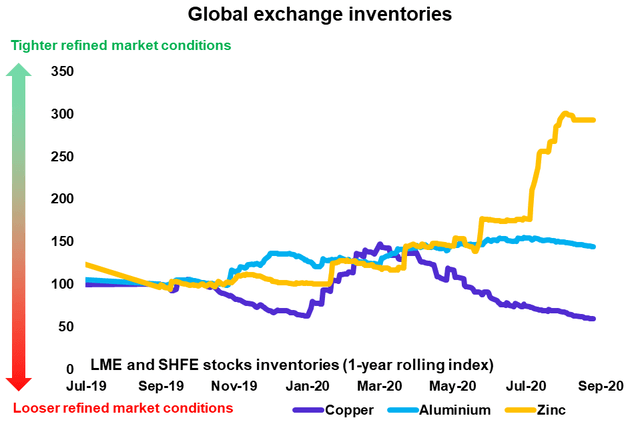 Source: Bloomberg, Orchid Research
The steady decline in global copper exchange inventories since Q2 suggests that the market has rebalanced strongly. Constrained output growth and recovery in demand (especially in China) have tightened the refined market, pushing visible inventories lower.
However, the steep increase in global zinc exchange inventories confirms our view that the refined zinc market is not rebalancing. In fact, we think that the growth in refined output is outpacing that in refined demand, thereby loosening the refined market and pushing visible inventories higher.
In aluminium, global exchange inventories have barely moved in recent months, suggesting that the market is essentially balanced, after being in a significant surplus in Q1.
On balance, exchange inventory flows are neutral for DBB.
Spec positioning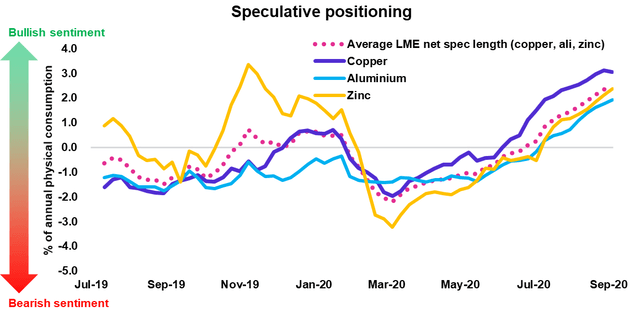 Source: Bloomberg, Orchid Research
Investment funds have become increasingly bullish since Q2, which we attribute to the emergence of a reflationary environment, itself caused by the response from policymakers to the COVID-19 shock. Most importantly, in China, which accounts for 50% of global base metal consumption, the government implemented similar fiscal measures as 2009, which are principally metals intensive.
The positive swing in speculative sentiment toward base metals was mainly the result of positive Chinese developments, namely 1) expectations for strong demand from infrastructure in China, 2) strategic stockpiling for some base metals (e.g. copper), and 3) a V-shaped economic recovery as the Chinese economy was FIFO, the first into the COVID-19 and the first out.
We think that there is more room for additional investment buying interest in the months ahead, because 1) spec positioning is not stretched yet, 2) reflationary macro-dynamics prevail, and 3) forward fundamentals may continue to improve.
On balance, spec positioning is bullish for DBB.
Seasonality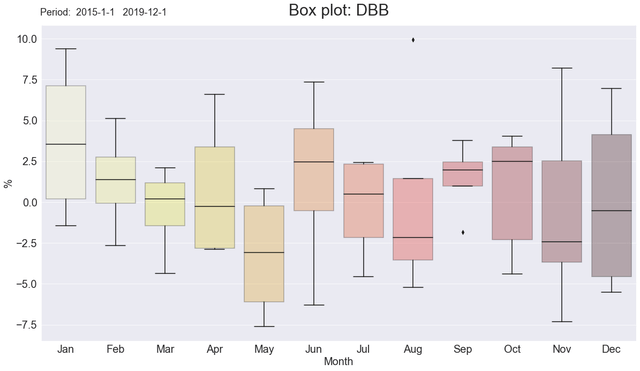 Source: Bloomberg, Orchid Research
The seasonality of DBB turns positive in September after being negative in August. September tends to coincide with a stronger rate of consumption after the traditionally weak summer months.
The seasonality is bullish for DBB.
Closing thoughts
DBB has moved further higher since our last update, corroborating our bullish view toward the base metals space.
In addition to the reflationary environment elicited by global policymakers, we attribute the strong run-up in base metals prices to China-centric developments since China consumes over half of the global base metal supply.
The Chinese government has unleashed an infrastructure-led fiscal stimulus like 2009, which should be supportive of base metals prices in the coming quarters.
Even though the economic recovery is still fragile in the world ex-China, it is sufficiently powerful in China to lift global base metal demand and push prices higher for longer. This is especially true considering the disrupted mine supply dynamics, which should continue to boost sentiment.
While we contend that zinc prices have rallied too hard of late, we think that most base metals will close the year at a higher price than they currently trade at, making us bullish on DBB.
We expect DBB to hit $18/share at some point in the final quarter of the year.
Did you like this?
Please click the "Follow" button at the top of the article to receive notifications.
Disclosure: I/we have no positions in any stocks mentioned, and no plans to initiate any positions within the next 72 hours. I wrote this article myself, and it expresses my own opinions. I am not receiving compensation for it (other than from Seeking Alpha). I have no business relationship with any company whose stock is mentioned in this article.
Additional disclosure: Our research has not been prepared in accordance with the legal requirements designed to promote the independence of investment research. Therefore, this material cannot be considered as investment research, a research recommendation, nor a personal recommendation or advice, for regulatory purposes.