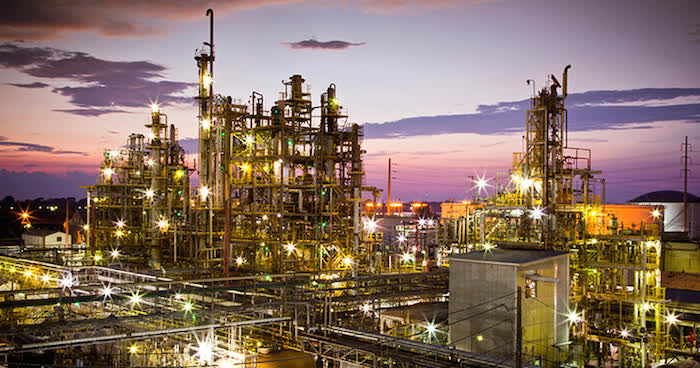 Delek US Holdings (NYSE: DK) is a more than $1 billion company, one that we've written about several times in the past. The company, which now has equity holdings equivalent to its market capitalization, has significant long-term potential to generate strong shareholder rewards. As we'll see throughout this article, the company is a unique long-term investment opportunity.
Delek US Holdings – Business Facility Magazine
Delek US Holdings Investment Overview
Delek US Holdings operates a portfolio of investment assets in the oil and natural gas space ranging from midstream assets, +80% holding in Delek Logistics Partners (NYSE: DKL), renewable and refining assets, and other assets.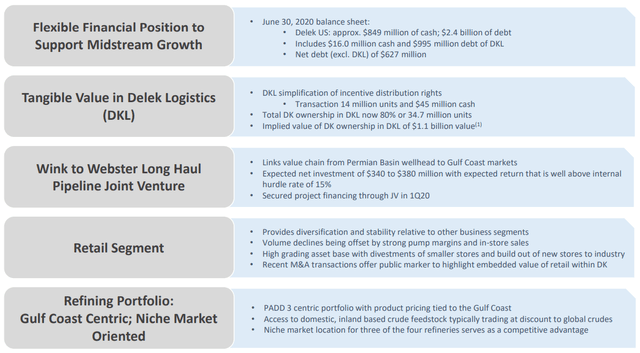 Delek US Holdings – Delek US Holdings Investor Presentation
Delek US Holdings has one of the strongest balance sheets available in the oil industry relative to its size. The $1.1 billion company has $849 million in cash and $2.4 billion in debt. However, $995 million of that debt is attributable to its equity stake in DKL (which is worth $1.16 billion currently and pays out $120 million in annual dividends).
The company's net debt excluding DKL of $627 million has grown over the past several years, as the company got caught up in the low interest rate excitement of investing pre-COVID-19. However, for the company's size, it's still incredibly manageable. More importantly, the company has continued to focus on increasing shareholder value.
For example, the company recently simplified its IDR rights in DKL in exchange for 14 million units (~$400 million) + $45 million in cash. The company now owns $80% of DKL, nearly equivalent to its own market capitalization, and has a greatly improved dividend outlook. More importantly, DKL continues to be one of the strongest midstream companies with its share price up 10% YoY.
Given the beating that midstream companies have faced due to COVID-19, that puts DKL in the upper echelon of midstream company performance. Past that, the company is working on continued midstream investments and retail investments. Its operations on the Gulf Coast have already seen COVID-19 effects start to decline.
Looking into the next year, its refining portfolio is well positioned with its operations as a refiner in niche markets and cash flow can be expected to continue to remain strong. Not counting one time charges, it was nearly cash flow neutral in 2Q 2020, by far expected to be the worst quarter of the COVID-19 collapse. As a result, we can expect the company to improve from here.
Delek US Holdings Overall Asset Portfolio
Taking a look at the company's overall asset portfolio, it's quickly and easily identifiable how the company has built itself a niche of well integrated crude oil assets.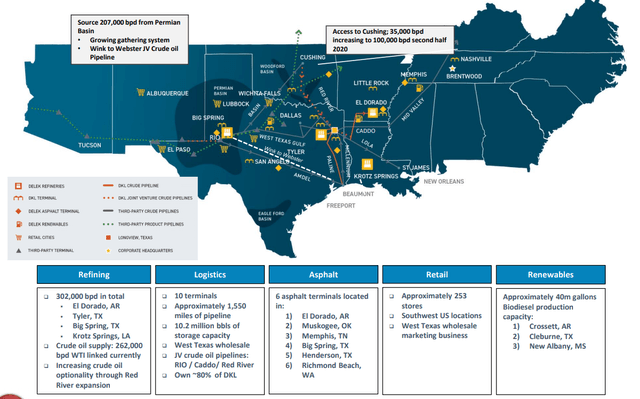 Delek US Holdings Assets – Delek US Holdings Investor Presentation
The company has an excited portfolio of assets with major sources from the Permian Basin, one of the lowest cost major basins in the United States. The company has several major pipelines its developing here and is working to increase its access to the Cushings terminal and the major oil traded there. The company's refining enables it to maximize value.
Lastly, to develop direct to customer, the company has direct asphalt terminals and retail terminals. These things support gathering value at every step of the asset chain for the company. Lastly, the company has 40 million gallons of biodiesel capacity. This capacity supports diversifying the company's business and additional rewards.
Delek US Holdings Midstream Assets
Delek US Holdings midstream assets are some of the company's most intensive.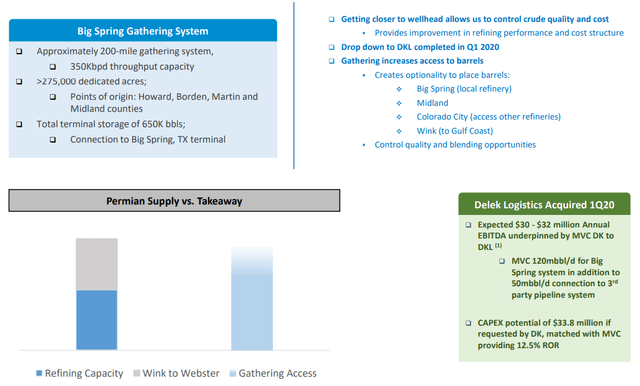 Delek US Holdings Midstream Gathering – Delek US Holdings Investor Presentation
Delek US Holdings recently completed the drop down of the big spring gathering system to DKL where it still has a significant stake. The company has a 200-mile gathering system with 350 thousand barrels / day of throughput capacity and >275 thousand dedicated acres of gathering assets. These assets match up with the company's refining capacity.
The company has significant terminal storage of 650 thousand barrels, which has gone up in value due to increased demand for storing oil due to COVID-19 shortages. The company will continue to generate strong EBITDA and cash flow from these assets which will continue to support the company's FCF and potential shareholder rewards.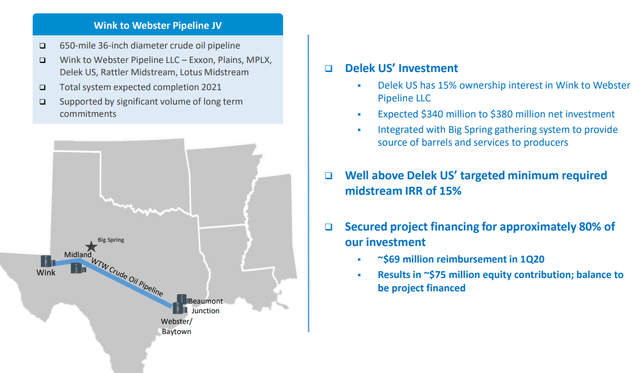 Delek US Holdings Midstream Assets – Delek US Holdings Investor Presentation
Among Delek US Holdings largest pipeline assets is the company's 15% stake in the 36″ 650-mile Wink to Webster pipeline. This pipeline is designed to deliver oil from the Permian Basin to Gulf Coast refinery and shipping assets with significant volume and long-term commitments and a 2021 completion date.
The company's 15% ownership comes with a $360 million net investment and integration with the company's Big Spring gathering system. The project has project financing for 80% of the company's investment and has handled most of the financing so far. Its integration with the company's existing assets points to the potential for significant shareholder rewards.
The company is quickly growing to become a significant midstream operator with pipelines like this and the Red River crude pipeline. This progress will help dramatically support the company's long-term FCF.
Delek US Holdings Retail Assets
It's also worth noting Delek US Holdings has substantial retail assets that are worth paying attention to.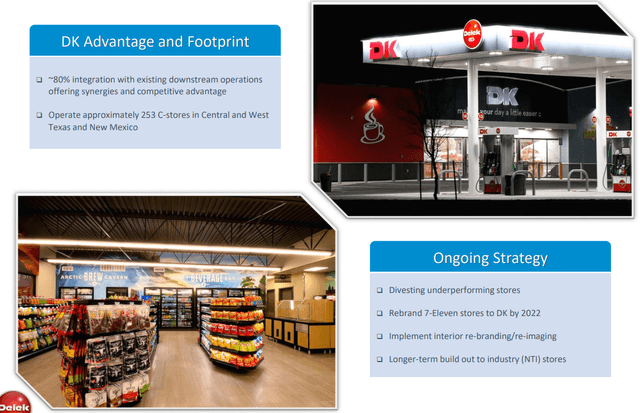 Delek US Holdings Retail – Delek US Holdings Investor Presentation
Delek US Holdings has 80% integration among its several hundred stores with its existing downstream operations. Again, this is another way for the company to extra value and cash flow at every step of the process. The company is currently focused on re-branding stores and divesting under-performing stores, both of which will enable it to diversify its portfolio.
These stations alone could represent significant locked up value. 7-11's owner has been on the prowl for stations buying ~1000 for $3.3 billion several years ago, and 3900 for $21 billion more recently during COVID-19. That's a per-store value of $3.3 – $5.4 million implying a midpoint value of more than $1 billion for Delek US Holding's stores.
For a company with an EV of $1.7-$1.8 billion, that's a significant amount of locked up value that could potentially transform the business.
Delek US Holdings Refining
A major aspect of the company's downstream operations, and an integral part of the synergies its able to achieve, are the company's refining businesses.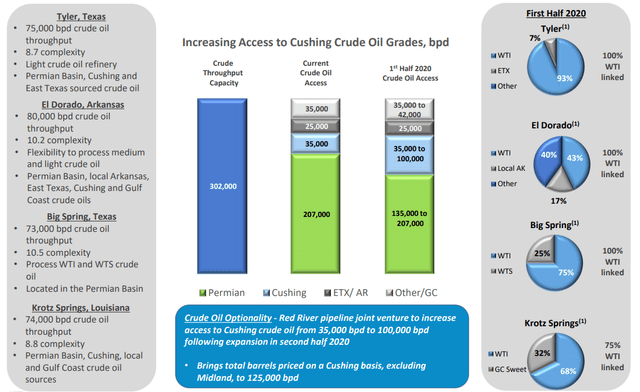 Delek US Holdings Refining – Delek US Holdings Investor Presentation
The company has 4 refining facilities each in the range of 73-80 thousand barrels / day of capacity with fairly mid-tier complexity (8.7-10.2). Through these, the company sends in roughly 302 thousand barrels / day with the optionality, through its pipelines, to use primarily Cushings or Permian Basin crude oil. With these pipelines, the company can manage the entire system and extract rewards from the transportation differentials.
The company's operations in major growing crude markets here, and its ability to refine these barrels should continue to provide it individually with significant value. The company, for example, earning just $1 / barrel more in refining as margins recover, would mean nearly $100 million / year.
Delek US Holdings Renewables
Another impressive aspect of Delek US Holding's operations is the company's refining operations.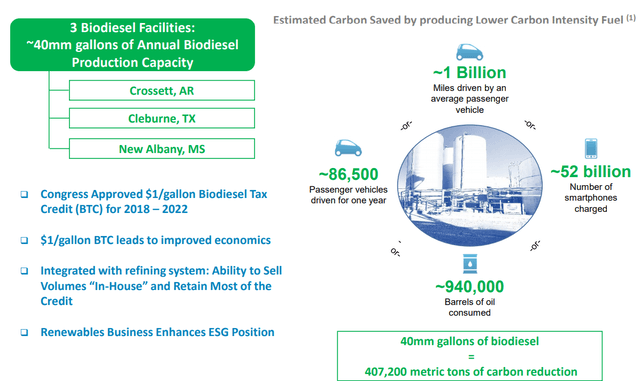 Delek US Holdings Refining – Delek US Holdings Investor Presentation
Through the company's refining assets, the company is both improving its emissions profile and diversifying its business. The company can collect a $1 / gallon biodiesel tax credit for the next 2 years due to its environment operations, which alone provides $40 million / year. The company operates its facilities across 3 biodiesel facilities.
The financial metrics of this business aren't particularly ground breaking in relation to the company's overall businesses, but it's another source of diversification of income, which by itself carries significant value.
Delek US Holdings EBITDA Transformation
Overall, the company is working to both grow and transform the stability of its adjusted EBITDA.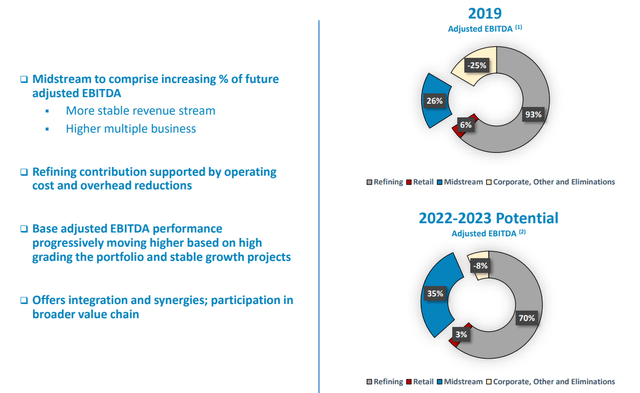 Delek US Holdings EBITDA Transformation – Delek US Holdings Investor Presentation
The company seems significant diversification in its adjusted EBITDA with the reliable cash flows provided from midstream becoming a much larger part of its business. At the same time, the company's overall EBITDA should grow at the mid-high single digits through this time period as we head from now into 2023 and major capital spending projects come online.
The company is looking for divestitures where it can cut out large components of its capital spending and synergies across its portfolio. Realistically, we see the next several years as "transformation" years where the company works to diversify its portfolio and its cash flow. Going into the mid-2020s we see the potential for massive shareholder rewards with this company.
Delek US Holdings Capital Allocation
Putting together the company's overall asset base, and we can begin to understand its exciting capital allocation framework.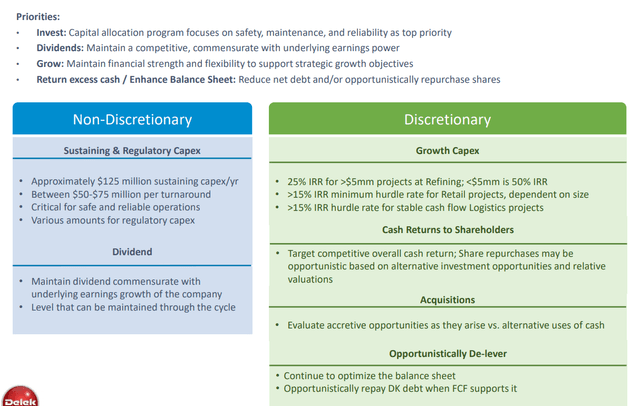 Delek US Holdings Capital Allocation – Delek US Holdings Investor Presentation
Delek US Holdings breaks its capital spending into "non discretionary" and "discretionary". The non discretionary includes regulatory capital spending, turnarounds, and regulatory. Together these things cost the company $125 million / year minimum up to $200+ million / year. At the same time, the company is focused on maintaining its >8% dividend yield at ~$80 million / year.
The company's discretionary capital spending comes with much higher targets for returns. For refining the company wants >25% IRR on >$5 million or 50% IRR below. The company's retail and stable cash flow logistics projects have a >15% IRR target. Outside of that the company has continued to look at accretive acquisitions or share repurchases.
The company continues to de-lever as the opportunity presents itself, with one of the lowest net debt positions. Given how much some midstream companies have declined, we'd like to see the company look at opportunistic midstream investment opportunities. Especially if it can merge DKL with another smaller company and increase the value of its 80% stake over the long-term.
It's worth noting though that due to COVID-19 the company has done an amazing job reducing capital expenditures. The company's 2019 capital spending was nearly $430 million which it cut to $250 million for 2020. Out of that, the company only has $47 million in spending for the rest of the year. The company made a number of share repurchases over the past years and stopped them in 2020.
We'd like to see the company keep capital spending as low as possible until COVID-19 and its effects on the company's ability to generate FCF decline substantially.
Delek US Holdings DKL Assets
We do want to set aside some time to talk about Delek US Holdings interest in DKL given that DKL's dividend to the parent company alone is more than enough to invest in Delek US Holdings. More so, with DKL being a publicly traded easy to value company, its clear that the market considers DKL to be Delek US Holding's most valuable asset by far.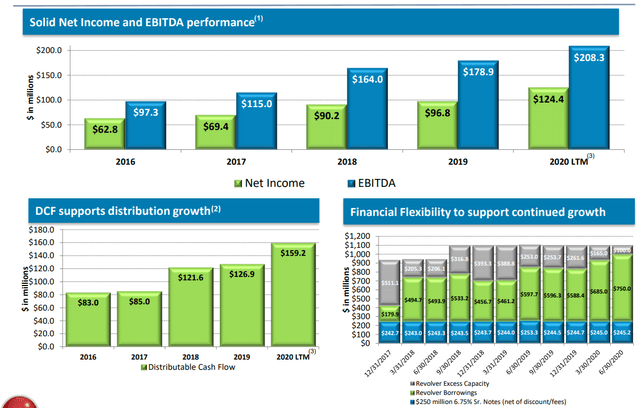 Delek Logistics Partners Performance – Delek Logistics Partners Investor Presentation
Delek Logistics Partners has continued to participate in spin-offs with the parent company, drastically growing its DCF. The company's 2020 LTM DCF was nearly $160 million most of which is paid out as the company's dividend outside of maintenance capital. With Delek Logistics Partners near the peak of what we'd consider a good leverage ratio, that means there's minimal capital leftover for growth capital.
However, in our view that's fine. When your stock is trading at a double-digit dividend yield, that's the markets way of telling you they're not a huge fan of how you've deployed your growth capital and worth rather you redirect it into alternative forms of shareholder rewards. However, the takeaway here is the business has reliable cash flow, and significant growth opportunity.
And that, at the end of the day, post maintenance capital, Delek US Holdings is getting a double-digit return on its stake in annual dividends. With more drop down assets with reliable cash flow expected, that makes it enormously valuable to shareholders.
Delek US Holdings Risk
Delek US Holdings risk is more nuanced than that of a standard midstream company, despite the company's aggressive growth in the midstream space. To start with, the company's overall financial position is incredibly strong, and while it does have significant parts of its market capitalization locked up in Delek Logistics Partners, its separated from the subsidiaries ability to payback debt.
The company's refining business has struggled, but that struggle is supported by the company's improving integration to its other assets and diversification. While we'd like to see the company more focused on extracting shareholder value in the immediate term, we feel that overall the company is a strong long-term investment.
Conclusion
Delek US Holdings is an impressive investment with significant long-term potential for investors. The company's retail businesses and midstream assets alone account for more value than its enterprise value, per our forecasts, not counting for the company's refining or other owned assets. This represents a unique opportunity.
Over the coming years, we expect that the company will continue through its transformation period and enter a period of significant growth. Past that, the company will continue to increase shareholder rewards which makes the company a quality long-term investment. As a result of this potential, we recommend investing in the company.
The Energy Forum can help you generate high-yield income from a portfolio of quality energy companies. Worldwide energy demand is growing and you can be a part of this exciting trend. 
Also read about our newly launched "Income Portfolio", a non sector specific income portfolio.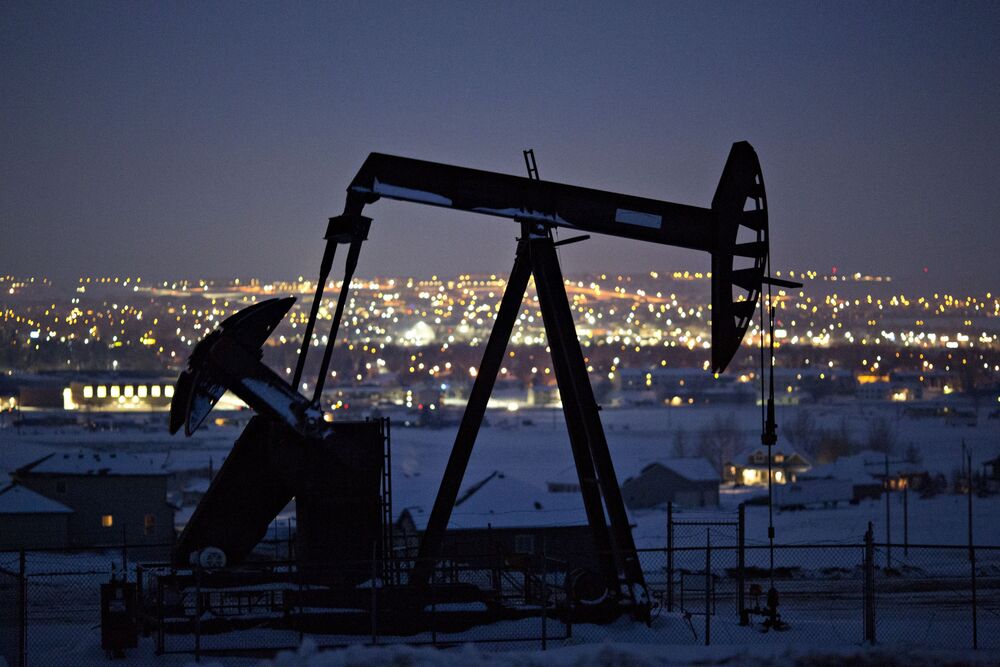 The Energy Forum provides:
Managed model portfolios to generate high-yield returns.
Deep-dive research reports about quality investment opportunities.
Macroeconomic market overviews. 
Click for a 2-week free trial, with an unconditional money back guarantee and 47% off of our popular annual plan! There's nothing to lose and everything to gain!
Disclosure: I am/we are long dk, DKL. I wrote this article myself, and it expresses my own opinions. I am not receiving compensation for it (other than from Seeking Alpha). I have no business relationship with any company whose stock is mentioned in this article.