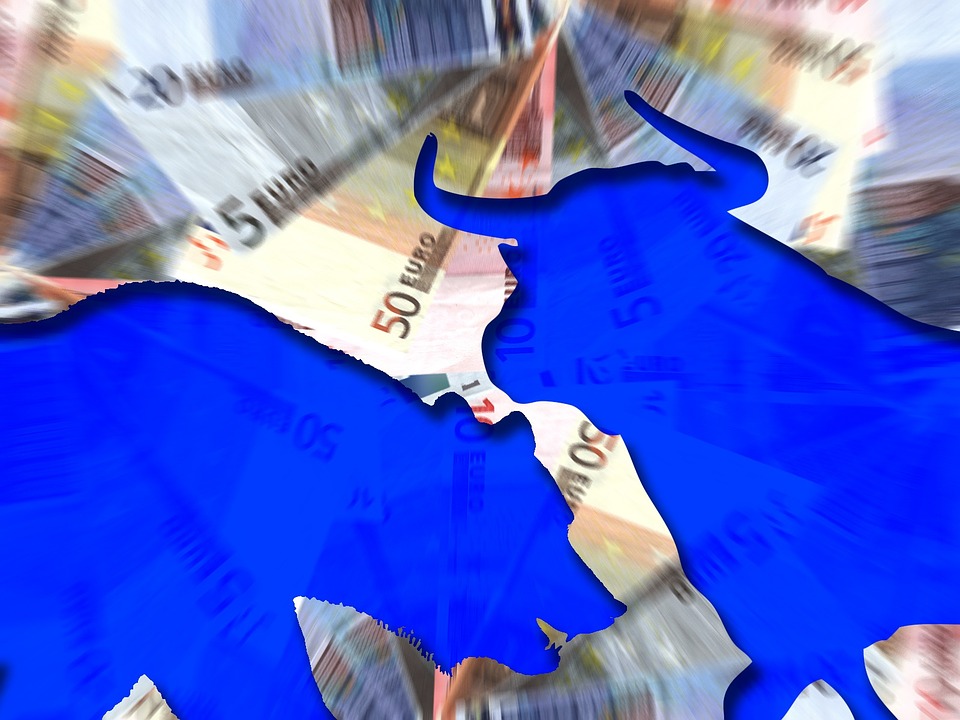 There are few things in this world that have unlimited potential, and technological innovation is one of them. When we look at what life was like 100 years ago, it's hard not to be impressed by how far we've come. One of the aspects of technology that has grown rapidly over the past decade is the proliferation of data. With the upcoming 5G upgrade cycle in the near-term, and the growth of AI in the long term, it appears that data center REITs are in a prime position to benefit.
In this article, I evaluate the large data center REIT, Equinix Inc. (EQIX), and make a determination on whether it presents an attractive long-term investment; so let's get started.
(Source: Yahoo Finance)
A Look Into Equinix
Equinix is a large data center REIT with a global presence. It has 210 'International Business Exchange' data centers on 5 continents, with access to over 55 major markets. This strong digital footprint allows for Equinix to provide its customers with global interconnectivity, and last year, the company generated nearly $5.5 billion in total revenues. Currently, its ecosystem is comprised of 2,900+ partners. As seen below, the company has relationships with leading cloud providers.

(Source: Company website)
The company appears to be immune to the effects of COVID-19, as its revenues increased by 6% YoY, and its AFFO/share rose by an impressive 8.2% YoY during the second quarter. The company appears to be firing on all cylinders, as its same-store gross profit increased by 4% YoY and its expansion projects posted 11% YoY gross profit growth in the latest quarter.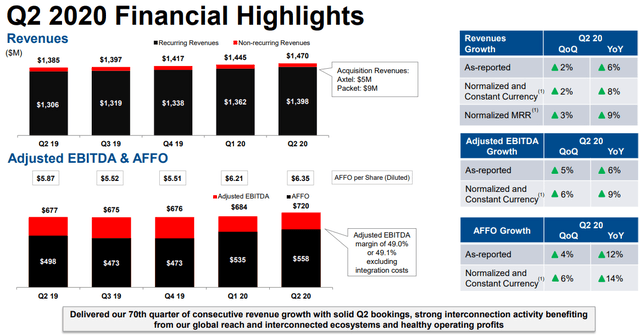 (Source: July Investor Presentation)
This is further supported by a record-setting bookings performance in the Americas during Q2. Unlike some other REIT sectors that have been materially impacted by the pandemic, Equinix has benefited from increased stay-, play-, and work-from-home trends during this pandemic. This is supported by management's following note during the latest conference call (emphasis added by author):
"We added an incremental 8000 interconnects driven by streaming, video conferencing, enterprise cloud connectivity and investments in local aggregation to support work from home. Internet exchange had one of its best quarters ever with peak traffic up 44% year-over-year as the peering community augmented capacity for video conferencing, gaming and over the top video replacing headroom that had been exhausted by COVID related traffic growth."
Globally, the company generated an impressive 4,200 deals with 3,000 customers during the second quarter. In addition, the company is showing no signs of slowing down from an external growth standpoint, as management plans to close on the acquisition of 13 Bell Canada data centers by the end of Q4 this year, with the expectation of immediate accretion to the bottom line. I see this as being a highly strategic deal, in that it provides Equinix with access to 8 leading Canadian markets, from Vancouver to Montreal. As seen below, this further solidifies Equinix's strong position in North America.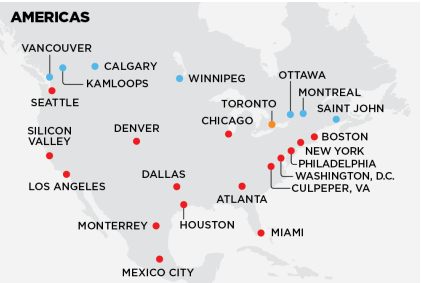 (Source: July Investor Presentation)
This acquisition is supported by a strong balance sheet. While Equinix's BBB- and equivalent credit ratings from all three ratings agencies may be a detractor for some investors, I see a disconnect between the perceptions of the ratings agencies and that of bond investors. This is supported by the recent $2.6 billion bond issuance (to refinance higher yield debt) that the company made at just a 2.07% weighted average interest rate, which management noted as being the lowest rate ever, for a BBB- rated issuer.
Management has also done an impressive job of deleveraging the company, from a 4.4x net leverage ratio at the end of 2018, to 3.3x at the end of Q2 '20. Its weighted average borrowing rate is just 2.64%, and 99% of its debt is unsecured. The combination of the low cost of debt with a high share price valuation is a key advantage for Equinix as it seeks accretive acquisitions going forward.
For illustrative purposes, I wanted to calculate the company's WACC (weighted average cost of capital), using the inputs below.
AFFO/Share: $24.27 (mid-point of 2020 Guidance)
Cost of Equity: 3.2% (24.27 / 752.18 share price)
Cost of Debt: 2.64%
Market Capitalization: $67.5B
Debt Balance: $12.4B
Based on the above, I arrive at a WACC of 3.1%, which is quite low, and means that cap rates on acquisitions that are above this WACC are accretive to the bottom line (assuming that Equinix issues equity at or above the $752 per share level). This low cost of capital is a key advantage for Equinix, as it continues to expand. This is demonstrated by Equinix's recent acquisition of the Indian operations of GPX Global Systems for $161M in cash.
Turning to dividends, it appears that the company has ample room to continue annual dividend growth in the low teens, as the payout ratio has held steady at around 44% in the past three years.

(Source: July Investor Presentation)
Risks To Consider
Equinix owns 98 out of the 214 data centers that it operates, which means that it leases the remaining 54% of its data centers. This could be a risk if the leasing landscape becomes more competitive down the line, thereby making the leases more expensive for Equinix. In addition, Equinix is subject to interest rate risk, as it uses debt to fund a portion of its acquisitions.
While interest rates remain low today, future increases in the interest rate can raise Equinix's cost of capital, thereby making acquisitions more costly from a WACC perspective. Another risk actually stems from an easing of the pandemic. This could potentially slow down the company's growth rate, as consumers may shift away from some virtual environments. However, I see the company's long-term growth thesis to be intact.
Valuation
Additionally, I wanted to calculate what the PEG ratio would be, if I replaced earnings with AFFO in the calculation. I apply the following figures into the formula below:
Price: $752.18
AFFO/Share: 24.27 (latest 2020 Guidance)
AFFO/Share Growth Rate: 12.4 (based on the 4-year CAGR in AFFO/Share). For reference, the 2019-2020 AFFO/Share growth rate is 6.4%, at the mid-point of guidance.

The end result is a PEG ratio (with AFFO substitute) of 2.5, which implies the stock is somewhat overvalued.
Investor Takeaway
Equinix is a data center REIT that appears to be firing on all cylinders, as demonstrated by its solid internal and external growth characteristics. I see the company furthering its economy of scale and attractiveness to its customers, as it expands into Canada and around the world. This is supported by a strong balance sheet and a low cost of capital. One of the risks comes from an easing of the pandemic, which could slow the company's growth, as consumers shift away from some virtual environments. However, I see that as being a mere potential speed bump, as the long-term growth story remains intact.
I see the stock as being in overvalued territory, at the current share price of $752.18 and a blended P/AFFO of 31.4. As such, I have a Hold rating based on valuation and would recommend buying on a pullback to $602 per share or below, which would bring the modified PEG ratio (with AFFO substitute) to a more reasonable 2.0. While $602 may seem quite far below the current share price, I believe it is reasonable, as that is where the stock traded at earlier this year, before the pandemic set in.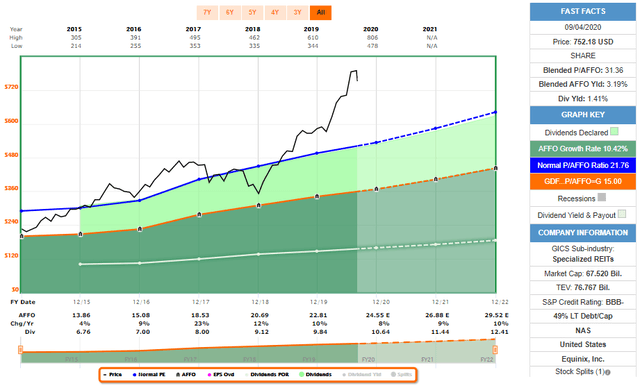 (Source: F.A.S.T. Graphs)
Disclosure: I/we have no positions in any stocks mentioned, and no plans to initiate any positions within the next 72 hours. I wrote this article myself, and it expresses my own opinions. I am not receiving compensation for it (other than from Seeking Alpha). I have no business relationship with any company whose stock is mentioned in this article.