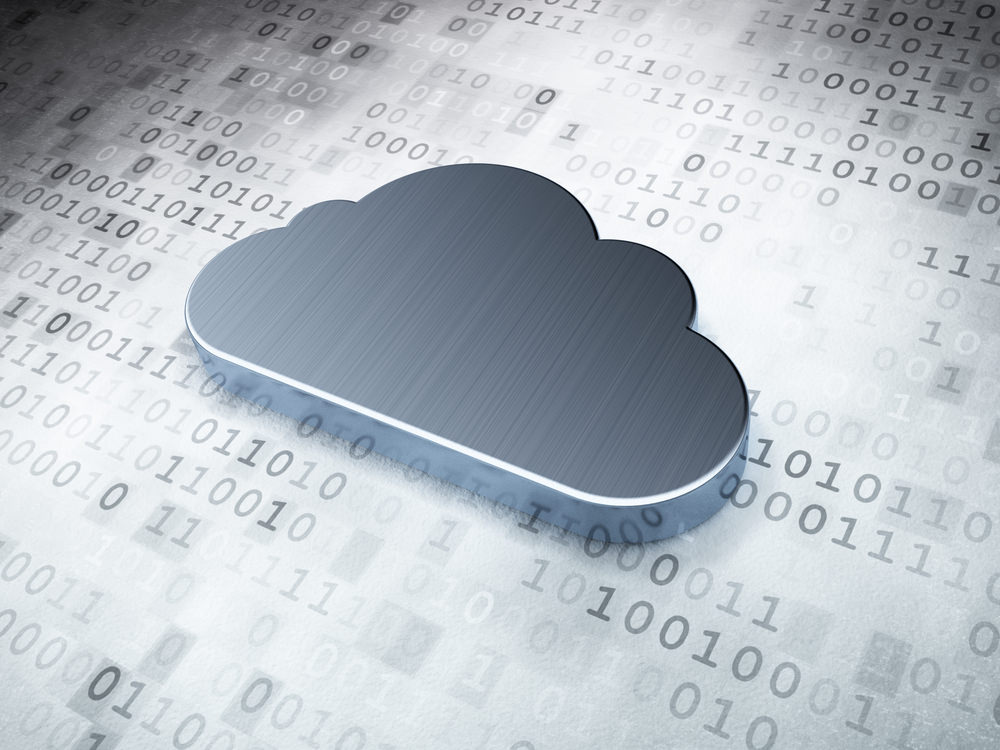 While Snowflake's (SNOW) product offering and growth story is compelling, it does not hold up as a solid IPO investment to make. It's lack of competitive moat and pricey valuation makes it a "wait and see" rather than a "must buy".
As a Silicon Valley Engineer who has worked on big data processing, warehousing, and scaling at startups and large tech companies, Snowflake's IPO caught my eye. Its main product is a data warehouse service that can be setup and run quickly out-of-the box and completely on the cloud.
Target Audience – Small/Mid Sized Companies
Large companies often have the resources and organizational structure to build their own physical data centers and internal data warehousing systems and tooling. Snowflake's technology is much more useful to small startups and mid-sized companies that want to focus on their core product rather than dedicate resources towards building their own data warehousing solution like large companies. They much prefer to pay "on-demand" for data warehousing and processing as their data needs wax and wane.
Snowflake already has quite a few recognizable names in its customer base including Adobe, CapitalOne, Square, Instacart, Sony, and even Apple. Snowflake primarily targets more tech focused companies that have extensive data processing and storage requirements.
Competitors
There are several large companies that offer similar cloud-based data warehousing solutions, including Google BigQuery which runs on Google Cloud Platform (GOOG), Microsoft SQL Server which runs on Microsoft Azure (MSFT), and Amazon Redshift which runs on Amazon Web Services (AMZN). Ironically, Snowflake partners with these companies and uses their products serve as the cloud infrastructure for its own products.
There are also some smaller but well-known names in the industry that provide similar offerings such as Databricks and Cloudera (CLDR). The latter company IPOed in 2017 and will be a useful point of comparison later on in this article for valuation.
Competitive Technological Advantage
When evaluating * As-A-Service companies, it's important to discern if their offering actually has a technological advantage or moat over its competitors. This is generally hard to achieve as technologies and designs are fairly difficult to patent and fairly easy to copy in the tech industry. This means that there is generally very low barrier to entry in these kinds of markets. Just look at what Facebook (FB) has done to copy Snapchat (Stories) and Tiktok (Reels).
Currently, Snowflake's data warehousing offers several advantages over offerings such as Amazon Redshift. Most notably, it separates out data storage and data processing, which gives the customer much more flexibility in selecting the right level of service for them as well as much quicker response times when needing to scale up or down the amount of nodes they need. In contrast, Amazon Redshift bundles storage and processing together when providing resources and scaling up or down can take up a large amount of time.
Having worked at a startup that used Amazon Web Services (AWS), I remember the engineering team being very cost-conscious and spent a lot of effort making sure we were never using more or less than the required amount of resources to run our data jobs. This meant a lot of time and energy was spent on requesting and waiting for our nodes to scale up or down.
We were also hesitant as a company to agree to longer-term pricing contracts with Amazon, because startups often only have a year or two of funding at a time. The flexibility that Snowflake's offering would provide would allow smaller companies to continue to pay on-demand at the service levels they need.
Competitive Moat Does Not Exist
Despite this advantage, there is no reason to believe that these large tech giants that are strongly invested in these offerings as a core part of their business, could not also transform their offerings to have the same capabilities as Snowflake. It may be a paradigm shift that requires a lot of planning and effort but if these companies truly felt threatened by Snowflake's offerings, they would invest that time and effort.
AWS makes up 13% of revenue and 71% of operating profits for Amazon. Cloud offerings make up nearly a third of revenues and operating income for Microsoft. Google Cloud Platform is just 5.5% of revenue for Google but it is growing fast for them and a large part of its growth strategy. These companies certainly would not want its offerings to fall to the way-side against Snowflake.
Additionally, there is risk for Snowflake to be sharing the same cloud infrastructure that is AWS, GCP, and Azure with its largest competitors. If Amazon, Google, or Microsoft felt threatened, they could easily make moves on their own platforms to reduce Snowflake's competitiveness. This could be considered anti-competitive and illegal, but Microsoft famously only received a slap on the wrist for this kind of move with Internet Explorer vs Netscape on Windows. This also means Snowflake's future innovation potential is capped by the design and innovation of its competitors on their cloud platforms.
One could argue that Snowflake's offering adoption is good for its competitors as Snowflake must pass through some of its own revenues to Amazon, Google, or Microsoft to pay for the cloud platform usage. This is good for them in the short run but they would much prefer to be the one directly providing services with their own products. There is also risk to the competitors that if Snowflake grows enough, it would create its own data centers and cloud services to compete for market share and remove caps on its potential.
Per Snowflake's own S1 filing, it acknowledges all of these issues as risk factors.
IPO Valuation of $24B Is Pricey
Snowflake, like most tech IPOs, lacks significant amounts of historical publicly released detailed financial data and is also not profitable, meaning there are not a lot of metrics available to do a rigorous valuation. It acknowledges this in its S1 filing. In this case, revenue multiples and revenue growth are the best metrics to use to compare against a similar company as context.
Snowflake made $241M in the first half of 2020, more than double its 2019 first half revenue of $104M. This means it is on pace for nearly $500M in revenue in 2020. Snowflake is being valued at IPO at around $22-24B which would mean it's being valued at nearly 50x Price to Sale (P/S) multiple.
For context, we need a comparable revenue multiple from another company. Amazon, Microsoft, and Google are not good companies to use as comparison because they are significantly more mature and also cloud data warehousing solutions are not their only revenue generating product like Snowflake.
Instead, I look to Cloudera, which IPOed recently enough (2017) and primarily offers cloud-based data warehousing solutions, just like Snowflake.
Cloudera's stock price has not done well at all since IPO, which is not a great sign for Snowflake.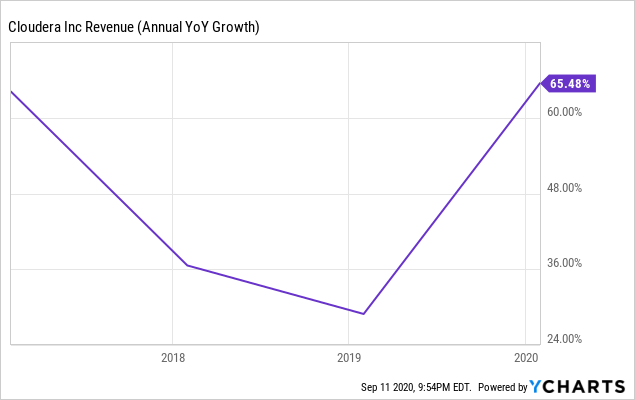 Cloudera's revenue growth has been fairly uninspiring until recently, where its 2020 revenue is estimated to be around $800M.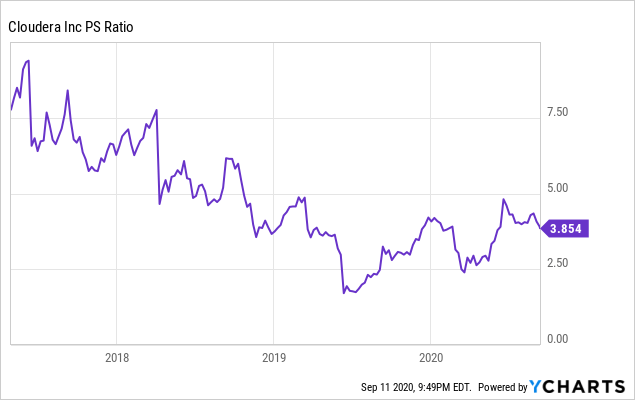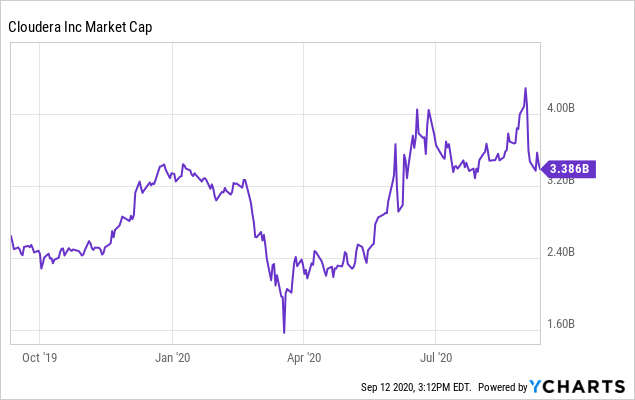 Cloudera's current market cap is $3.4B, which means it is trading around a 4x P/S ratio, more than 10 times less than what Snowflake's IPO revenue multiple would be despite the two offerings being fairly similar. Even moving back to Cloudera's IPO, its P/S ratio was no more than 10x.
One could argue that Snowflake's technological advantage and customer momentum would lead to much higher revenue growth than Cloudera and thus the high multiple is justified. However, with a 4x future revenue P/S and a current $24B valuation, Snowflake would need to grow to $6B in annual revenue. Starting at $500M, this would be 12-fold growth. After 4 years of growth, that would mean the IPO is pricing a CAGR of 86% annually just to justify today's price.
For more context, Facebook, which is now considered one of the most successful IPOs this decade that exceeded growth expectations, never had a P/S ratio much higher than 20. It also only came close to 86% growth the one year before its IPO.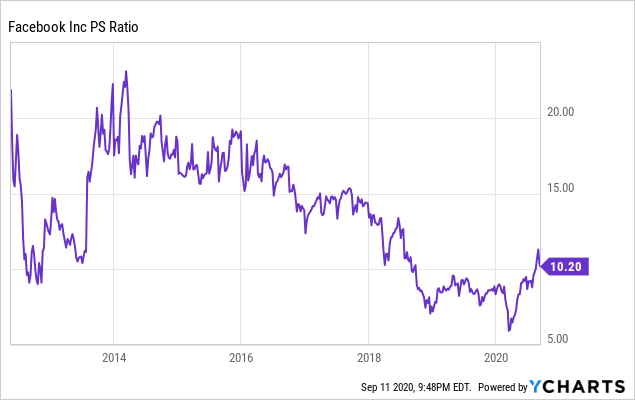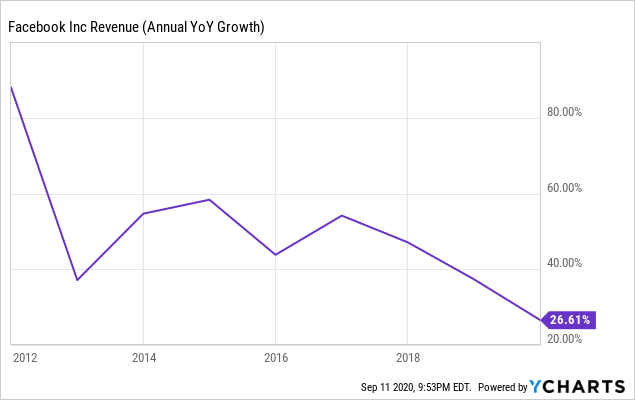 Conclusion
While Snowflake's technological advantage seems promising, it lacks a moat and can be easily copied by its numerous competitors. Additionally, the IPO price would require nearly impossible levels of growth from Snowflake which I don't believe it will hit.
I am not going to be purchasing the Snowflake IPO and will instead monitor its progress for a few years post-IPO for more financial information and technological changes before re-evaluating.
Note: Since the article was written, Snowflake's price more than doubled on its IPO date, which makes the valuation even higher than comfortable for me to invest in.
Disclosure: I am/we are long FB, MSFT. I wrote this article myself, and it expresses my own opinions. I am not receiving compensation for it (other than from Seeking Alpha). I have no business relationship with any company whose stock is mentioned in this article.