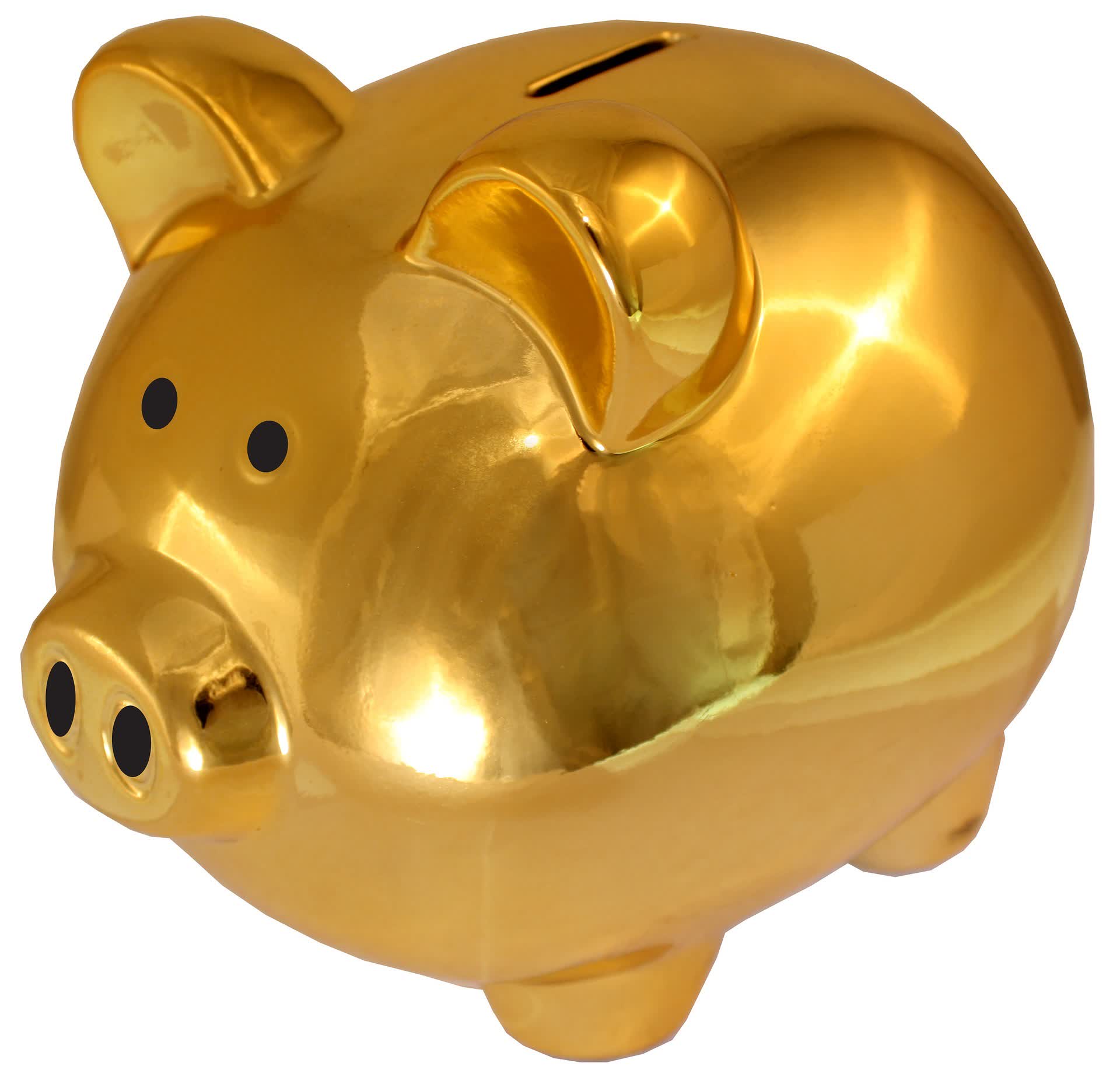 Article Thesis
Exxon Mobil (XOM) is a well-regarded dividend growth stock among the retail investing crowd. In the past, it has delivered solid returns and reliable dividend growth, but due to a weak oil price environment, its dividend growth track record may be broken in the future.
There is a substantial risk of a dividend cut, although this is not a sure thing, of course. Exxon Mobil may very well be able to weather the current environment until oil prices have recovered. Much depends on management's willingness to raise debt levels in order to maintain the dividend.
Exxon Mobil is sometimes compared to either AT&T (T) or General Electric (GE), but I will show in this article why I believe that neither of these comparisons is a very good one.
Source: Seeking Alpha's image bank
In the past, Exxon Mobil has indeed been a piggy bank for those that bought at the right level: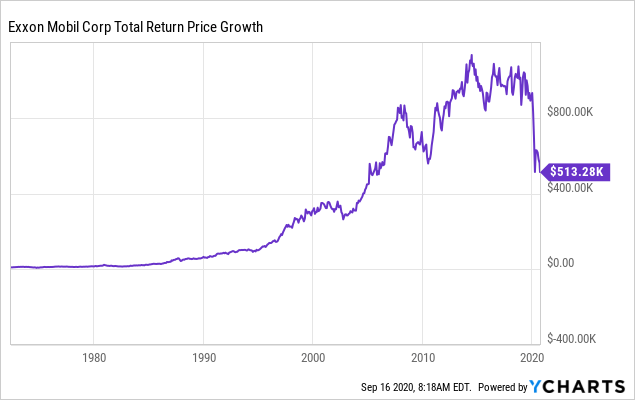 For someone that bought in the 1970s, a $10,000 investment would have turned into more than half a million by now. If the investment would have been sold a couple of years ago, when Exxon Mobil's share price was much higher, the investment would have been a 100-bagger, as a $10,000 investment would have turned into more than a million dollars.
The ultra-long-term track record is thus not bad at all, but at the same time, we see in the above chart that the record over the last 5, 10, or even 15 years was not a strong one. Shares are trading at decade-lows right now when we back out the lows from spring 2020. The explanation for that is rather simple, as investors are pricing in low near-term profits and cash flows due to a weak oil price environment, while markets are also anticipating a dividend cut. Let's take a closer look at what may lead to a dividend cut for Exxon Mobil.
Weak Cash Flows, But Balance Sheet Flexibility
At the current level of $3.48 per share per year, the dividend costs Exxon Mobil about $15 billion a year in cash. That makes Exxon Mobil one of the companies with the largest total cash dividend payout.
This dividend has not been covered by free cash flows in the recent past, even before the coronavirus crisis and this year's oil market downturn: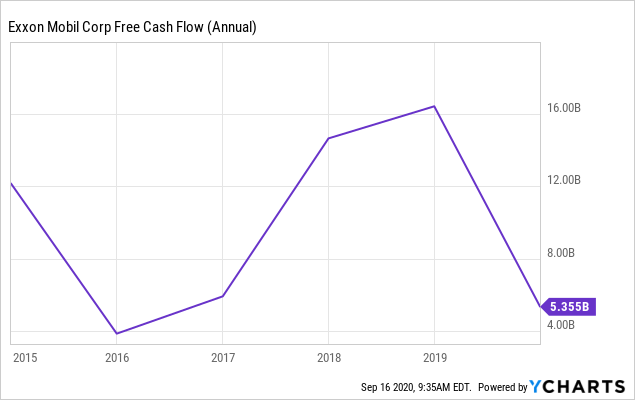 Between 2014 and 2019, Exxon Mobil generated an average annual free cash flow of about $10 billion a year, thus the dividend was already not covered by underlying cash generation before 2020. The company has spent an average of ~$13 billion a year on its dividend payments in that time frame, or about $65 billion in the 5-year period. This year, the free cash flow outlook is even worse compared to the cash flows the company generated in the recent past.
Per its 10-Q filing, Exxon Mobil generated the following cash flows during the first half of the current year: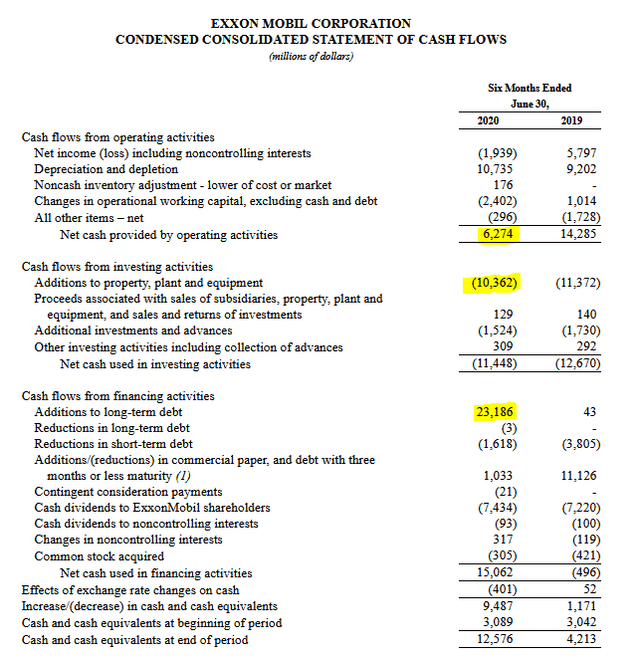 Through operating cash flows of $6.3 billion and capital expenditures of $10.4 billion, free cash flow stood at a negative $4.1 billion during the first half of the current year — even before dividend payments. Exxon Mobil thus had to issue a whopping $23.2 billion in new debt ($21.6 billion on a net basis) in order to finance both its free cash flow deficit and its dividend payments. This is, of course, not sustainable in the long run, but then, at the same time, conditions during H1 of 2020 were extraordinary for sure. Oil prices have recovered from the lows, and so did the demand for gasoline, kerosene, etc. H2 of 2020 should thus be a better period for Exxon Mobil compared to H1, although oil prices are still way down from levels seen one year ago. With H2 likely being better than H1 but worse than H2 of 2019, we can guesstimate that Exxon Mobil may be able to break roughly even in terms of FCF during the second half. Overall, this would still equate to a total cash burn of about $19 billion in 2020 alone, made up by cash dividend payments of $15 billion and a cash burn of $4 billion during H1.
Does this mean that Exxon Mobil will have to cut its dividend? No, it doesn't, as the company has significant flexibility when it comes to leveraging its balance sheet further: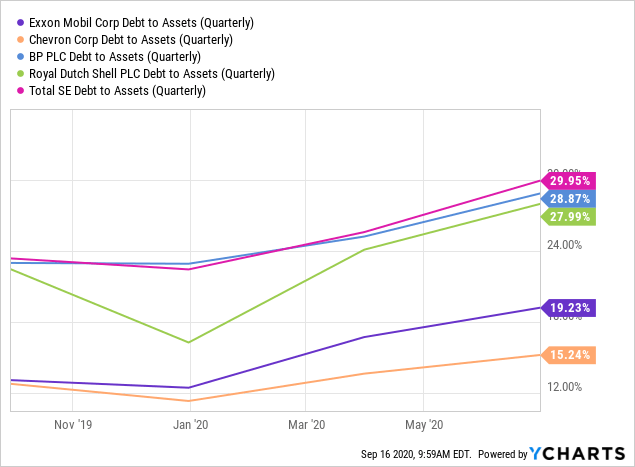 On a debt to assets basis, Exxon Mobil is more indebted than its US peer Chevron (CVX), but it still holds significantly less debt compared to its European peers Shell (RDS.A) (RDS.B), BP (BP), and Total (TOT). Exxon Mobil could thus, if management wants to do that, increase its debt levels over the near term in order to finance its dividends. When we assume that Exxon Mobil will be able to break even on a FCF basis next year, before FCF starts to grow over the coming years once oil prices normalize, it may cost Exxon Mobil about $30 billion to finance its dividend at the current level through the end of 2022. This would make Exxon Mobil's debt to assets ratio rise to about 28%, which would be quite in line with the debt to asset ratios of BP, Shell, and Total.
If management decides to weaken its balance sheet in order to keep the dividend intact through the next couple of years, Exxon Mobil may very well maintain its dividend at the current level. Then again, management may also decide that hurting the balance sheet this much is nor worth it. We can thus summarize that the dividend is not covered by FCF at all right here, but Exxon Mobil has the balance sheet strength to finance the dividend at the current level nevertheless. Whether management will ultimately decide that maintaining the dividend record is worth hurting the balance sheet or nor is not yet known.
In a previous article, we identified the dividend cut risk to be the highest at BP, where management has since decided to cut the payout, while Exxon Mobil has still an above-average dividend cut risk, while Chevron looks like the safest among the group.
Why Exxon Mobil Is Not Like General Electric
Some comments state that Exxon Mobil's fate is decided already and that it will be the "next GE". There are huge differences between the two, however: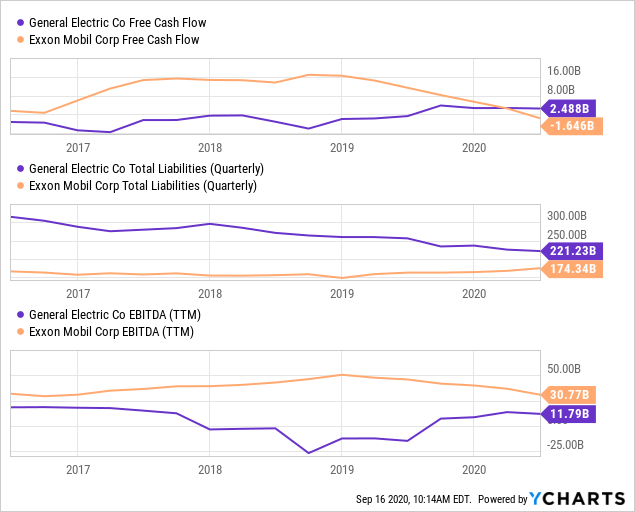 General Electric has generated no or even negative free cash flows during almost every year since 2016, whereas Exxon Mobil generated a positive free cash flow every year, except for the first half of 2020. With GE, generating negative cash flows was thus their modus operandi for years, whereas this year's cash burn at Exxon Mobil will likely be a one-time item based on a huge external hit.
At the same time, GE has much higher liabilities compared to Exxon Mobil, and this was especially true a couple of years ago when the company decided to cut its dividend (late 2017, and then again in late 2018). Last but not least, Exxon Mobil has been generating much higher EBITDA than GE, which makes its leverage ratio less daunting. This does not necessarily make Exxon Mobil a good buy here, but problems at GE were much more severe, and the dividend cut was inevitable at that company — this is not true for Exxon Mobil.
Why Exxon Mobil Is Not Like AT&T
Some comments also liken Exxon Mobil to telecom giant AT&T, which offers a quite high dividend yield as well. This comparison is not a very good one, either, I believe, as the risk of a dividend cut for Exxon Mobil seems significantly higher: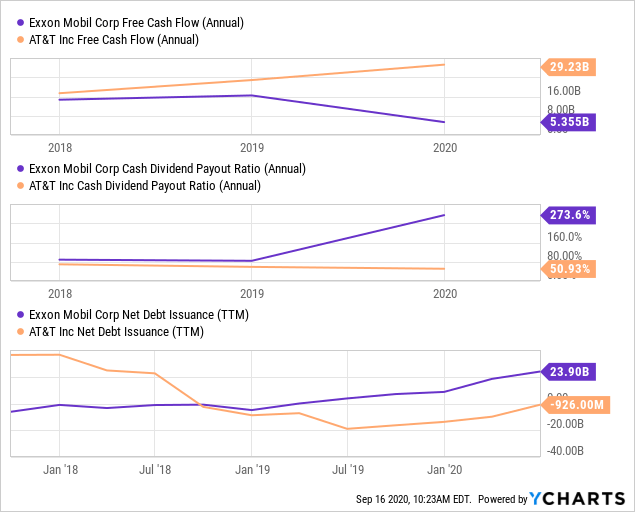 AT&T has generated higher free cash flows than Exxon Mobil during every year of the recent past, while its free cash flows also have been growing, whereas free cash flows declined at Exxon Mobil. AT&T's dividend is very well covered by free cash flows, with a payout ratio of just 50% in 2019. Exxon Mobil, on the other hand, paid out more than 2.7 times its free cash flows during the same year. Last but not least, net debt issuance at AT&T has been negative in recent quarters, which means that the company has been paying down debt, while Exxon Mobil, on the other hand, has grown its debt load quite a lot.
The dividend cut risk for AT&T seems rather small, due to the strong, reliable cash flows, while the dividend cut risk seems definitely bigger at Exxon Mobil.
Takeaway
Exxon Mobil is one of the giants in its industry for sure, and investors who bought several decades ago have benefited from very nice returns. Right now, the company is under a lot of pressure due to a weak macro environment for the oil industry. This may change in the coming years, as demand for oil products normalizes. I thus am not bearish on Exxon Mobil in the long run, especially as its share price is so low right now. In the meantime, however, it is very well possible, although not guaranteed, that Exxon Mobil will follow BP and Shell in cutting its dividend.
Likening Exxon Mobil to either GE or AT&T is not correct, I think, as Exxon Mobil is in a worse position than AT&T, but in a better position than GE was before it had to cut its dividend a couple of years ago.
For those seeking a safe dividend yield, Exxon Mobil does not look like the best choice. If investors want an investment that will profit a lot once/if oil prices rise back to $50, $60, or more, Exxon Mobil could be attractive with shares trading at the current, very low price. Overall, I am neutral on Exxon Mobil right now, and moderately bullish in the long run, but I want to note that the risk of a dividend cut seems quite meaningful right here.
One Last Word
If you found this article interesting or helpful, it would be greatly appreciated if you "Followed" me by clicking the button at the top, or if you "Like this article" below, as this will help me in building an audience and continuing to write on SA. If you want to share your opinion or perspective, you are also very welcome to comment below. Happy investing!
Is This an Income Stream Which Induces Fear?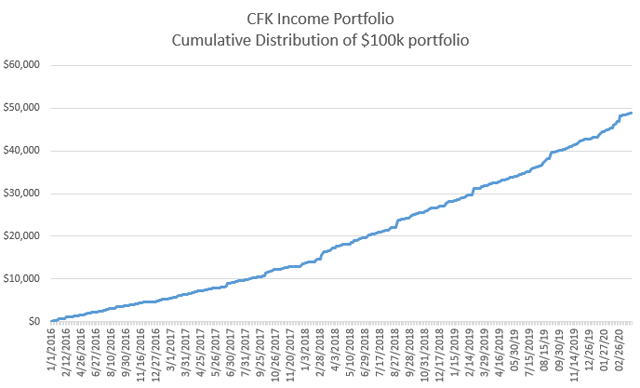 Data verified by Etrade.
The primary goal of the Cash Flow Kingdom Income Portfolio is to produce an overall yield in the 7% – 10% range. We accomplish this by combining several different income streams to form an attractive, steady portfolio payout. The portfolio's price can fluctuate, the income stream not so much.
Disclosure: I am/we are long RDS.A. I wrote this article myself, and it expresses my own opinions. I am not receiving compensation for it (other than from Seeking Alpha). I have no business relationship with any company whose stock is mentioned in this article.