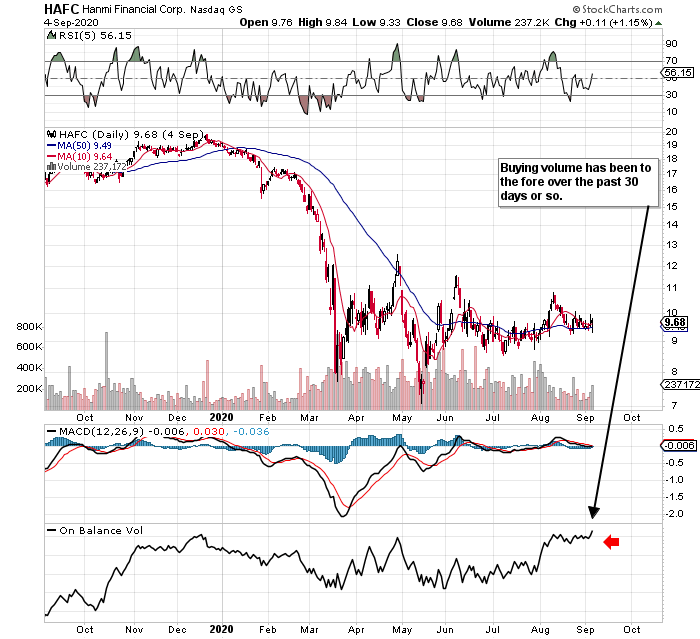 Whether the struggling banking sector is a sign of things to come in the stock-market remains to be seen. We continuously run screens for "value plays" where our objective is to find stocks with earnings power, a paying dividend as well as a strong balance sheet. When we run screens along the lines of the above parameters, financials stocks whether they be asset managers, insurance firms or banks themselves have definitely been the most dominant industry of late.
Investors can look at this in two ways. On one side, as we head into peak flue season, it could be said that the market is pricing in pretty tough times for this industry (due to an increase in cases of the corona-virus) over the next few quarters. On the other side, it could be said that some of these financial stocks present an excellent value proposition. We have stated in previous commentary that the main tailwind behind the banking industry at present is the move to digital. Yes, the lending market will obviously remain subdued until the effects of the pandemic is behind us but more profit will be made off each customer due to the introduction of new fees and charges.
The banks which have lost the most over the past 7 months or so will most likely have to raise fees the sharpest. On the contrary, the banks which remain well capitalised and which have retained strong liquidity through this downturn will be able to continue to add value with their products and services.
One such stock which looks attractive in this industry at present is Hanmi Financial (HAFC). Firstly, the bank saw strong insider buying back in May when shares were trading just below $8 a share. Since then shares have rebounded back to approximately the $9.70 level but obviously nowhere near their 2020 highs.
As we can see from the daily chart below, shares have been caught in a trading range for more than 3 months now. However, buying volume in this same time-period has been very strong and is prompting that shares will eventually go higher from present levels.
We acknowledge that the dividend has been cut twice since May to protect liquidity. Furthermore, although the bank's $4.8 billion loan-book dependence on commercial real-estate (68%) has been declining, we still do not like how much of the loan-book is allocated to the hospitality and retail divisions as we see below. We would like to see more industrial-type loans for example as this segment of the commercial space should do well as a result of the continued shift companies are making to e-commerce.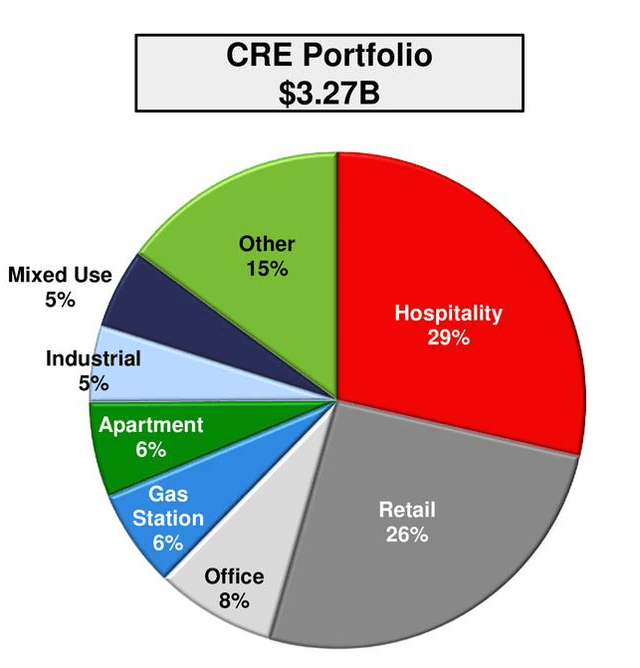 Source: Company Investor Presentation
Where Hanmi is definitely trailing the industry is with respect to its profitability. At present, its Return on Common Equity (ROE) metric comes in at 4.82%. This number is well down on the 8%+ average in this sector. Its net-income per employee of $42.63k also trails the average by a considerable margin.
However, when we are dealing with well capitalised stocks with plenty of liquidity, profitability metrics (at least in the short-term) are over-rated in our opinion and here is why. At present, Hanmi´s sales multiple is 1.4 and earnings multiple is 11. These numbers look really attractive when compared to the bank´s averages of 4.1 and 14.9 respectively. Suffice it to say, the bank has plenty of sales and earnings at present which are much cheaper than historic averages. For example, margins go up when revenues go down and/or net profit goes up. What are far more mean reverting are valuation multiples and not margins. So if we are happy with the earnings multiple and the sales multiple and if both metrics (earnings and sales) at least are expected to remain stable if not grow over the next few years, then profitability should take care of itself over time.
Therefore, to sum up, we would expect that price should eventually be able to break out of its present trading range. The pay-out ratio over a trailing average now comes in at just over 60% which brings stability to the situation for shareholders. Let's see what the third quarter brings.
———————-
Elevation Code's blueprint is simple. To relentlessly be on the hunt for attractive setups through value plays, swing plays or volatility plays. Trading a wide range of strategies gives us massive diversification, which is key. We started with $100k. The portfolio will not not stop until it reaches $1 million.
———————–
Disclosure: I/we have no positions in any stocks mentioned, and no plans to initiate any positions within the next 72 hours. I wrote this article myself, and it expresses my own opinions. I am not receiving compensation for it (other than from Seeking Alpha). I have no business relationship with any company whose stock is mentioned in this article.