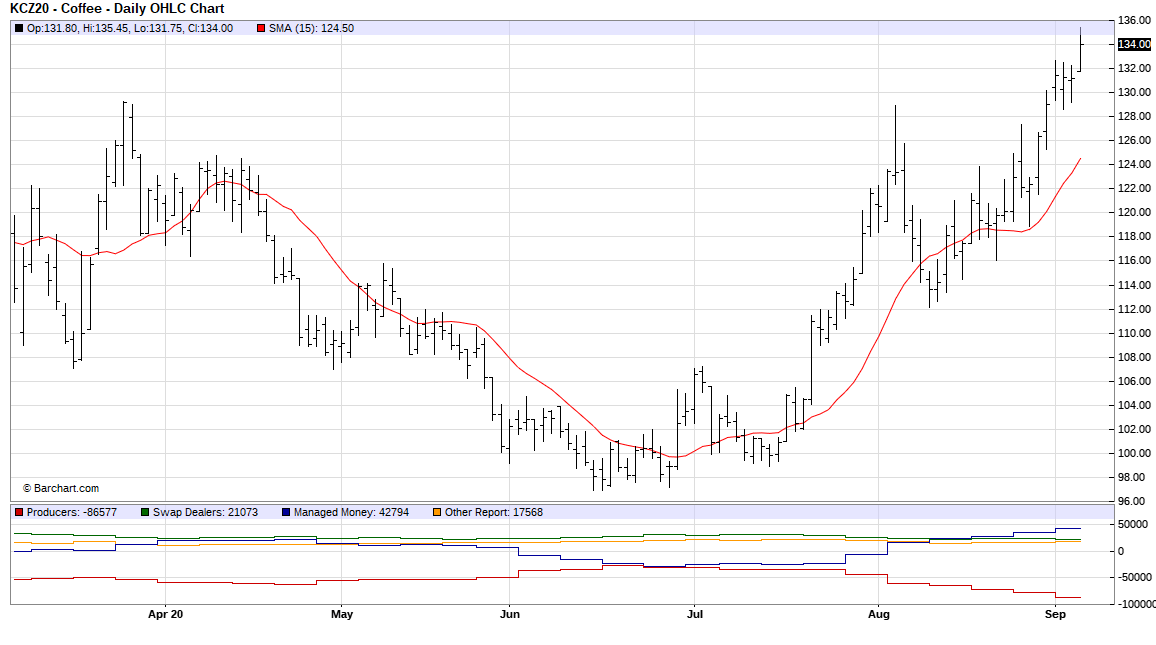 In a remarkable turnabout, coffee futures have become the commodity trading vehicle of choice for a growing number of managed funds. Indeed, its increasing popularity has given coffee prices a much-needed dose of price momentum, making it one of this summer's hottest commodities. But a growing body of data suggests that the bulls won't be able to maintain control of the java market much longer. Here we'll review the fundamental and technical evidence which points to potentially lower prices ahead.
A major catalyst behind coffee's recent price gains is the growing number of hedge funds playing the long side of the market. This can be clearly discerned in the latest Commitments of Traders (COT) reports from the CFTC. It shows that non-commercial traders (including hedge funds and institutions) have dramatically increased their long positions in coffee futures in recent weeks, while covering prior short positions.
Commenting on the increase in managed money pouring into the market, the most recent S&D Coffee & Tea Report observed:
The driving force [for coffee] was once again focused on larger speculative buying as funds added about 5K lots to their net long position.
Against this increase in speculative interest, however, the fundamental background for the bean market has also seen significant deterioration lately. While some industry reports show ICE stocks are at low levels as the industry tries to get a handle on transport-related disruptions, other reports point to a disturbing decrease in long commitments among commercial players.
The following graph shows the December coffee futures contract along with the latest COT numbers. As you can see, though prices have risen dramatically since July, the commitments of commercials (red line at bottom of chart) have been quickly declining since August. That's a pretty good indication that the major players – the ones who really know what's going on in the industry – aren't convinced that prices will continue rising in a sustained fashion. And if the commercials aren't showing bullish conviction, it's usually a good idea for smaller traders to follow their footsteps and avoid overcommitting to the long side of the market.
Source: BarChart
The next chart exhibit (from the Tradingster website) provides an even broader perspective of the massive gap between the trading positions of non-commercials (blue line) and commercial (gray line) participants. In the past, whenever there has been a gap this conspicuous between the two classes of traders, coffee prices have faced serious headwinds in the weeks-to-months that followed.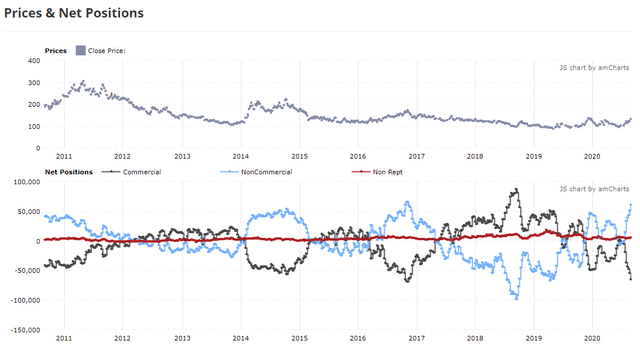 Source: Tradingster
From the macro perspective, a weaker U.S. dollar has contributed to higher coffee prices this summer, as has the Fed's easy money policy and corresponding commitment to keeping interest rates low. But the dollar is only one variable of the complex coffee market equation; an equally important (some would argue even more important) determinant for future coffee prices is the Brazilian real currency.
As the following graph illustrates, Brazil's currency is weak, a fact that doesn't favor significantly higher coffee prices ahead. Historically, a stronger real is supportive for coffee prices on the world market, while a weak real is typically a headwind. As previously discussed, the real's devaluation has proven to be the enemy of coffee exporters since banks have cut credit lines, making it more difficult to export products. Moreover, a weak real has pushed domestic prices higher, thereby decreasing the flow of business abroad.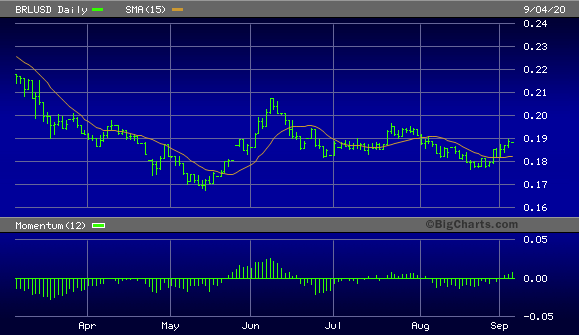 Source: BigCharts
For the coffee bulls to have a good chance at maintaining their near-term control over the market, the real-to-dollar pairing shown above should ideally push decisively above the 0.21 level (near the previous peak from early June). This in turn would likely put upward pressure on bean prices on the global market. Otherwise, the weak real is likely to exert a dampening effect on prices going forward.
Although the virus-related shutdowns have put a crimp on the transporting of coffee in some countries, one thing that apparently hasn't been disrupted by COVID is the latest harvest. In Brazil, the first harvest is over and few worker-related disruptions were reported; instead, the harvest went off without any major weather-related hitches. What's more, preliminary estimates suggest Brazil may have had its biggest harvest ever. From a supply perspective, this is another key fundamental consideration which will likely weigh on prices in the coming weeks.
In closing, it's important to remember that the upward price momentum of front-month coffee futures prices has been strong lately, so it's possible there may be a final thrust higher in the market before the next major top is in. But based on the collective evidence we've discussed here – from declining commercial trader support, to a healthy Brazilian bean harvest, to weak Brazilian currency – the odds don't favor the coffee market rally continuing much longer. Sooner or later, the deteriorating fundamentals we talked about will exert a negative impact on coffee.
Accordingly, if you're long coffee futures or a coffee ETF, I recommend taking some money off the table and raising stop-losses on existing positions to protect against the heightened risk of a sharp price decline in the coming weeks.
Disclosure: I/we have no positions in any stocks mentioned, and no plans to initiate any positions within the next 72 hours. I wrote this article myself, and it expresses my own opinions. I am not receiving compensation for it (other than from Seeking Alpha). I have no business relationship with any company whose stock is mentioned in this article.