Keysight Technologies Inc. (KEYS) commercializes electronic design and test solutions for communications, electronics, and aerospace industries. These are the behind-the-scenes technical applications and development tools which are utilized by the top companies for high-growth next-generation technologies like 5G wireless communications, IoT ("Internet of Things"), and semiconductor manufacturing. While the company's operating environment was disrupted earlier this year given the COVID-19 pandemic, its latest quarterly earnings highlighted a rebound in sales and a positive forward outlook. We think shares of KEYS are a buy following a recent pullback supported by steady growth and firming profitability. This is a quality, market-leading stock with solid fundamentals.
(Source: Finviz)
Company Q2 Earnings Recap
Keysight reported its fiscal Q3 earnings on August 20th, with non-GAAP EPS of $1.19, which beat expectations by $0.35. Revenue of $1.01 billion represented a decline of 7.3% year over year, but was ahead of consensus estimates by a solid $96.6 million. While total orders were still down 4% y/y, this was a strong earnings report which showed a strong rebound compared to the weaker environment from Q2.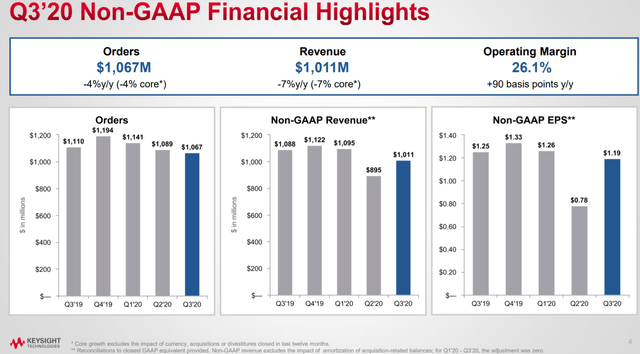 (Source: Company IR)
The story has been an ongoing turnaround since a sharp drop in sales during Q2, impacted by the supply chain disruptions and shutdown of facilities at the time. Management explains that production levels have now recovered to nearly 100% and expects positive year-over-year sales growth for the upcoming quarter.
The company has made cost-cutting efforts and other savings initiatives, leading to an 8% y/y decline in SG&A, along with roughly flat R&D spending in the period. The result is that the adjusted operating margin for Q3 reached 26.1%, up 90 basis points compared to the period last year.
Demand Drivers
A bright spot this quarter was the sales environment in the Asia-Pacific region, with revenues up 5% year over year. This offset the weaker trends in the Americas and Europe, particularly in the first half of the quarter. Notably, the Asia-Pacific region including China represents nearly 50% of the total business.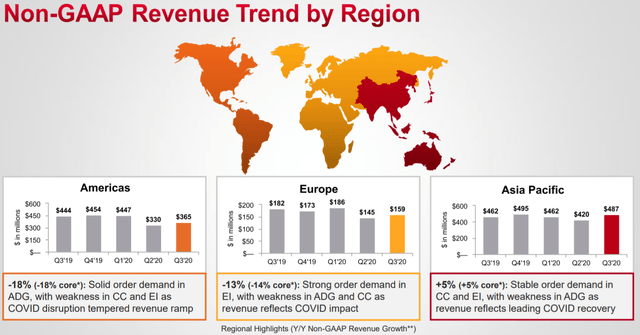 (Source: Company IR)
By segment, the Communications Solutions Group ("CSG") revenue was down 4% y/y, even as the operating margin reached a record of 25.9%. CSG contributes approximately 75% of total firm-wide revenue and 60% of total operating income. Wireless 5G technology-related products and services continue to be the growth driver, with commercial deployment supporting device and design development by the customer base.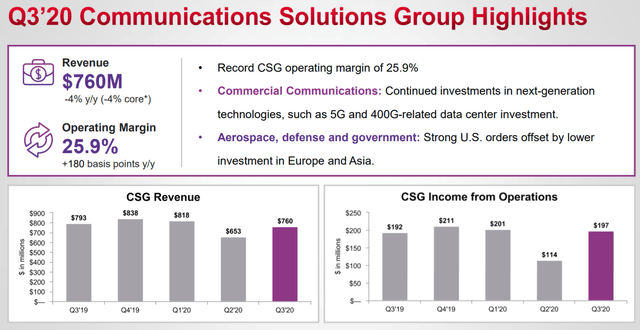 (Source: Company IR)
The smaller Electronic Industrial Solutions Group ("EISG") group, with sales of $251 million in the quarter, was down 15% y/y given the challenging macroeconomic environment. The company highlighted weakness in general electronics and automotive markets, partially offset by continued investment in advanced semiconductor process node technologies.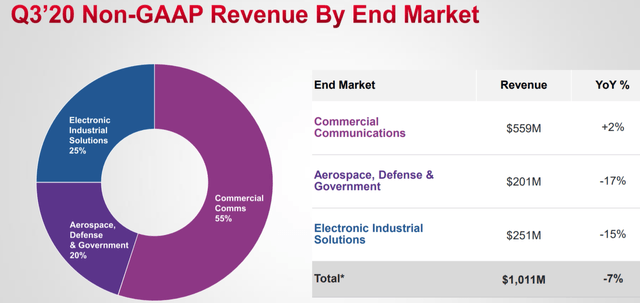 (Source: Company IR)
Keysight maintains a strong balance sheet and financial position. It ended the quarter with $1.7 billion in cash and equivalents against $1.8 billion in long-term debt, highlighting the limited leverage. The company does not pay a dividend but has historically repurchased shares, although the buyback program was suspended in Q2. We expect buybacks to resume over the next year based on consistent profitability and positive free cash flow.
Management Guidance and Consensus Estimates
As mentioned, management expects to reach positive year-over-year growth in the current fiscal Q4. Targeted revenue between $1.17 billion and $1.19 billion, along with non-GAAP EPS of $1.42-1.48, represents an improvement compared to the period last year.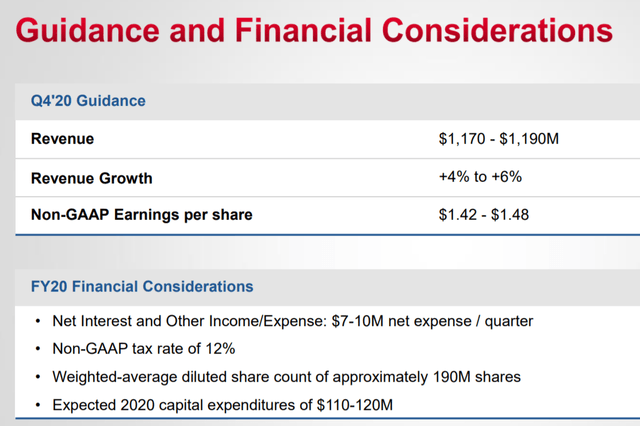 (Source: Company IR)
It's worth noting that back in early March, in its Investor Day presentation, Keysight had announced a long-term sustainable revenue growth target between 4% and 6% per year, along with EPS growth above 10% over the long term. These targets are now being reiterated. From the conference call:
While the near term remains challenging, the long-term secular growth trends in our markets remain intact. We continue to invest in R&D and focus on our long-term strategy of enabling customer success through first-to-market leading-edge solutions. As I mentioned last quarter, the durability of our business model, steady cash generation, strong balance sheet and market leadership give us confidence in our long-term core revenue growth target of 4% to 6% and operating margin target of 26% to 27%.
In terms of consensus expectations, the market sees Keysight's full-year 2020 revenues declining by 3%, along with flat EPS for the year, given the COVID-19 disruptions during Q1 and Q2. With the ongoing recovery of the operating environment, fiscal 2021 growth should bounce towards 10% next year, while the EPS estimate of $5.35 represents a 14% increase.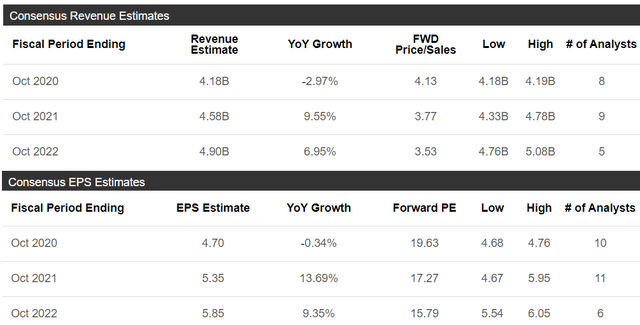 (Source: Seeking Alpha)
Analysis and Forward-Looking Commentary
Since joining the S&P 500 in the second half of 2018, Keysight has maintained a relatively low profile compared to some of the market-moving mega-cap names. The stock has underperformed this year, down about 10%, which is likely related to exposure to more cyclically industrial sectors.
We think the value here is the company's differentiated solutions and market-leading technology, which have a wide competitive advantage backed by deeply rooted customer relationships. We like the progress towards enhancing its software-based services, including the latest launch of the "PathWave" design software suite. Keysight remains active with strategic acquisitions, including "Eggplant" announced in June, enhancing its artificial intelligence and automation technologies capabilities.
We are bullish on shares viewing Keysight as one of the few large-cap tech names with a good combination of growth at a reasonable valuation. With management guidance targeting EPS growth averaging above 10% per year over the long run, a 1-year forward P/E of 17.7x based on the fiscal 2021 EPS estimate appears attractive.
While there are not many directly comparable peers for Keysight, as other competitors at the product level typically have other unrelated business segments, we highlight National Instruments Corp. (NATI), Teradyne Inc. (TER), AMETEK Inc. (AME), Teledyne Technologies Inc. (TDY), and Cadence Design Systems Inc. (CDNS), as they are in the same market segment of instrumentation hardware and software testing solutions.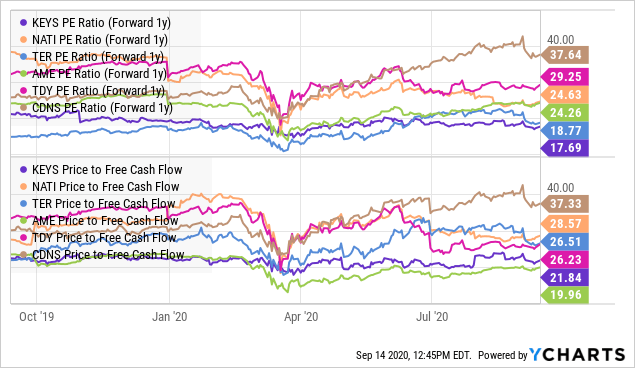 Keysight trades at a discount to the group with a 1-year forward P/E ratio of 17.7x, compared to an average closer to 25x for the group. Similarly, the company's current price-to-free cash flow multiple of 21.8x is also below the average among this selection. There are important differences between these companies, which each have varying levels of growth and application focused on different industries. Still, Keysight stands out for its diversified customer base, exposure to various markets, along with its solid fundamentals.
Growth Tailwinds for Wireless Technologies
The theme of wireless communication and new networking applications continue to be strong growth trends. Data by Keysight suggests significant opportunities in 5G, as commercialization is still in its early stages. Increasing penetration of connected automobiles and IoT represents growth tailwinds for the company.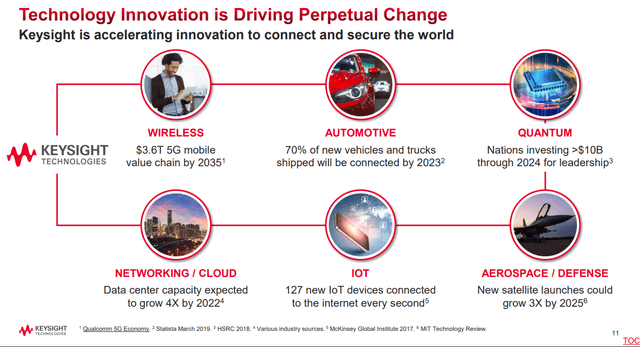 (Source: Company IR)
The customers disclosed by Keysight includes most mega-cap tech firms and industrial giants, from Amazon.com Inc. (AMZN), AT&T (T), Nvidia (NVDA), Microsoft Corp. (MSFT), and Tesla Inc. (TSLA), among others. The solutions are differentiated with a high degree of technical specialization.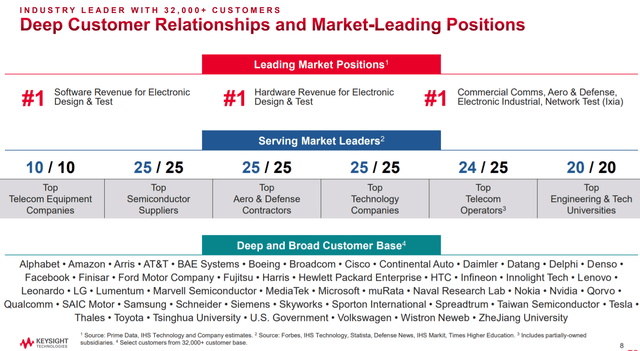 (Source: Company IR)
Takeaway
Overall, the outlook is positive considering the company is well-positioned to benefit from continued growth by its core customers. We rate shares of KEYS as a Buy, with a price target of $117 representing a 1-year forward P/E of 22x based on fiscal 2021 consensus estimates. We sense that as the operating and financial environment normalizes, there will be an upside to the earnings outlook and the company can gain momentum as end-user markets recover.
It will be important for Keysight to show a continued recovery in sales orders over the coming quarters. The operating margin is also an important monitoring point going forward. In the context of the current macro environment defined by a recovery compared to the depths of the pandemic with several industries shut down, there is still some uncertainty related to the strength of global growth. Weaker-than-expected macro conditions could limit sales demand for core products and services, which would be reflected in a revision lower to earnings estimates pressuring sentiment in the stock.
Add some conviction to your trading! We sort through +4,000 ETFs/CEFs along with +16,000 U.S. stocks/ADRs to find the best trade ideas. Click here for a two-week free trial and explore our content at the Conviction Dossier.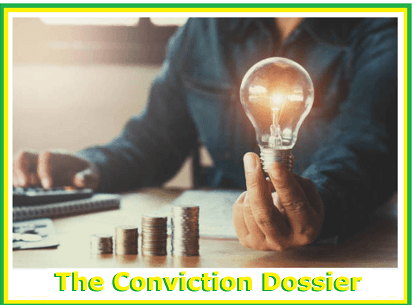 Disclosure: I/we have no positions in any stocks mentioned, and no plans to initiate any positions within the next 72 hours. I wrote this article myself, and it expresses my own opinions. I am not receiving compensation for it (other than from Seeking Alpha). I have no business relationship with any company whose stock is mentioned in this article.