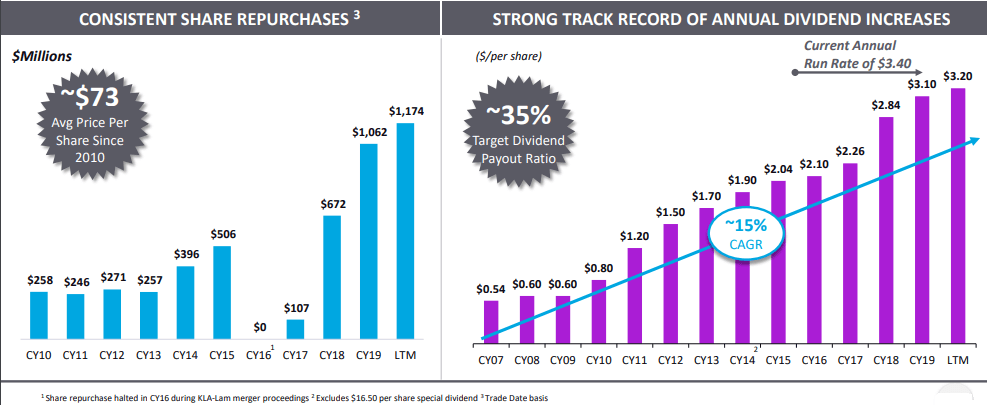 KLA Corporation (KLAC) (formally known as KLA-Tencor) is an important part of the global semiconductor manufacturing market. The company provides process control and yield management solutions for semiconductor manufacturers. KLA's offerings include inspection, metrology, computational lithography, situ process monitoring, data analytics, and related services.
There are multiple growing technologies that create strong demand for KLA's products/services. This includes artificial intelligence [AI], 5G, virtual communications, automotive, internet of things [IoT], and data center. As these technologies advance, the need for KLA's solutions remains strong. KLA allows semiconductor manufacturers to produce accurate, reliable semiconductors in a productive manner.
KLA's valuation is currently at a reasonable level as compared to its industry and the broader market. However, we need to watch the market to see if we're beginning to experience a correction. A full market correction of 10% or more would probably provide a better entry point for the stock.
Multiple Technology Growth Drivers for KLA
AI, 5G, IoT, virtual communications (remote learning/working from home), data center, and advanced vehicles have the potential to provide strong demand growth for KLA. Here are the expected compound annual growth rate [CAGRs] for these technologies:
| | |
| --- | --- |
| Technology | Expected CAGR to 2027 |
| 5G | 44% |
| AI | 42% |
| IoT | 25% |
| Automotive | 18% |
| Virtual Communications | 43% |
| Data Center | 13% |
Sources: Grandview Research, Fortune Business Insights, MarketWatch
The double-digit annual growth for these technologies should be a strong catalyst for driving KLA's product demand. The forecast period lasts to 2027. So, that provides many years of potential growth for KLA.
The potential for KLA is large because the company's customers will need to produce chips at high yields while ensuring that they are reliable and of high quality. KLA's solutions help customers manufacture quality chips at high yields.
Products such as smartphones, laptops, PCs, tablets, LCD/OLED screens, smartwatches, the cloud, virtual reality applications, robotics, artificial intelligence applications, hybrid/autonomous vehicles, and space exploration all require KLA's solutions to produce reliable semiconductors efficiently. KLA enables its customers to achieve continuous innovation for these products.
Strong Dividend Increases
KLA increased the dividend payment at a CAGR of 15% for 11 consecutive years. The company was able to implement those increases as a result of strong free cash flow growth. KLA's free cash flow was 22% of total revenue in FY20. Free cash flow increased from about $579 million in FY11 to about $1.3 billion in FY20. That rate of growth supports strong increases in dividend payments.
The expected growth of the numerous products and applications that KLA supports increases the likelihood for the company to continue to grow revenue and cash flow at strong rates. Therefore, KLA has a good chance of continuing to increase dividend payments in future years.
The company's strong growth rates can also support further price appreciation over the long term. Consensus estimates show that revenue is expected to grow between 4% and 6% annually and earnings at about 10% annually over the next three years. That should help drive the stock higher along with dividend payment increases.
Valuation
The S&P 500 (SPY) is trading with a high forward P/E of 24 as compared to the average forward P/E of 15.2 over the past 4 decades. The Semiconductor Equipment & Materials industry, which KLA is a part of, is trading with a lower valuation with a forward P/E of 19.5. KLA is trading below the S&P 500 and its industry with a forward P/E of 15.7. The company also has a PEG ratio of 1.72, which is in the reasonable (fair) valuation range of between one and two for the strong-performing growth stocks that I've covered.
Here's how KLA compares to its peers:
KLA

Applied Materials

(AMAT)

ASML

(ASML)

KLA's Industry
S&P 500
Forward PE
15.7
13.8
42
19.5
24
Source: Seeking Alpha, finviz, ssga.com
While KLA is trading slightly above its peer Applied Materials, its valuation is significantly below ASML's forward P/E and it remains below the valuations of the industry and the S&P 500. This shows that the stock is trading at reasonable, fairly-valued levels as compared to many stocks in this market that rose to lofty above-average valuations.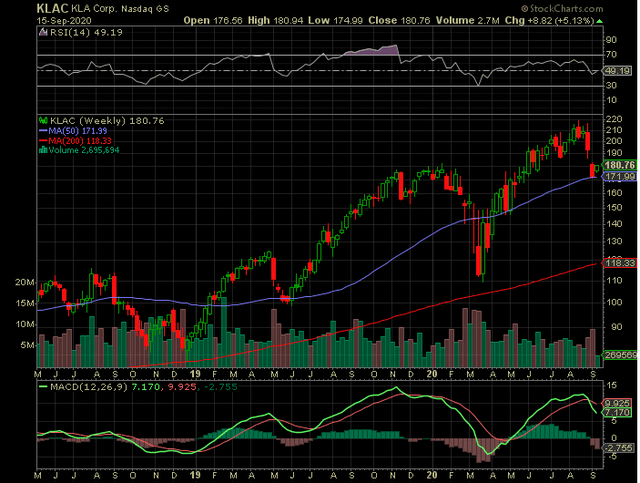 Source: stockcharts
KLA's weekly chart shows that the RSI dipped downward below 50 with a current reading of about 49. The green MACD line dropped below the red signal line, indicating a change in momentum from positive to negative. That tells us we should wait for a better entry point, especially since the broader market has been overbought and overheated lately (before the recent pullback). I would rather see these indicators rising from lower levels as a better buy signal.
Demand is Strong
Despite the COVID-19 pandemic, KLA ended fiscal Q4 2020 with a record backlog level. The backlog increased by 15.8% to $2.13 billion as of June 30, 2020. This increase shows the resiliency of KLA's business even during a pandemic. This makes sense since many consumers have still been using smartphones, laptops, wearable devices, etc., during this time.
The demand is also evident in KLA's 27% revenue increase for FY20 over the prior year. This shows how the pandemic circumstances actually helped KLA with high demand for laptops, PCs, and portable devices for remote learning and working from home. KLA helped to support this high demand by helping chip manufacturers produce quality semiconductors at high-yield rates.
The pandemic might spark a longer-term growing trend in working from home if employers find cost savings in this practice. There are many work-at-home-friendly jobs such as programmers, artists/animators, travel agents, consultants, virtual tutors/teachers, web developers, virtual nurses/doctors, social media managers, patent lawyers, bloggers/writers, etc.
KLA Corporation's Long-Term Investment Outlook
The short-term is less certain for KLA's stock since the market could still be in the process of correcting. There could be more downside to this market correction. So, I wouldn't jump into the stock at the moment. Waiting for a better entry point would be prudent.
However, the long term for KLA looks positive. The company has a good chance of achieving strong growth over the next six years. This expectation is backed by the strong projections for growth in various markets such as 5G, IoT, AI, virtual communications, advanced vehicles, and data centers.
KLA's significant free cash flow generation and growth are likely to lead to future dividend payment increases. Given KLA's growth and below-average valuation, the stock has a good chance of achieving above-average gains over approximately the next six years. We'll have to keep an eye out for a good entry point.

I contribute to Kirk Spano's Margin of Safety Investing where we offer a more in-depth analysis of individual companies.
Subscribers also get an exclusive SWOT analysis on this company and others (Strengths, Weaknesses, Opportunities, and Threats), which help investors discern between good investments from poor ones.
Try Margin of Safety Investing free for two weeks and get your first year for 20% off.
Learn our 4-step investment process that top hedge funds use.
Invest with us in a changing world that demands a margin of safety. Click here to find out more.
Disclosure: I/we have no positions in any stocks mentioned, and no plans to initiate any positions within the next 72 hours. Business relationship disclosure: The article was written by David Zanoni for Kirk Spano's Margin of Safety Investing service [MoSI].
Additional disclosure: The article is for informational purposes only (not a solicitation to buy or sell stocks). David is not a registered investment adviser. Kirk Spano is an RIA. Investors should do their own research or consult a financial adviser to determine what investments are appropriate for their individual situation. This article expresses my opinions and I cannot guarantee that the information/results will be accurate. Investing in stocks involves risk and could result in losses.