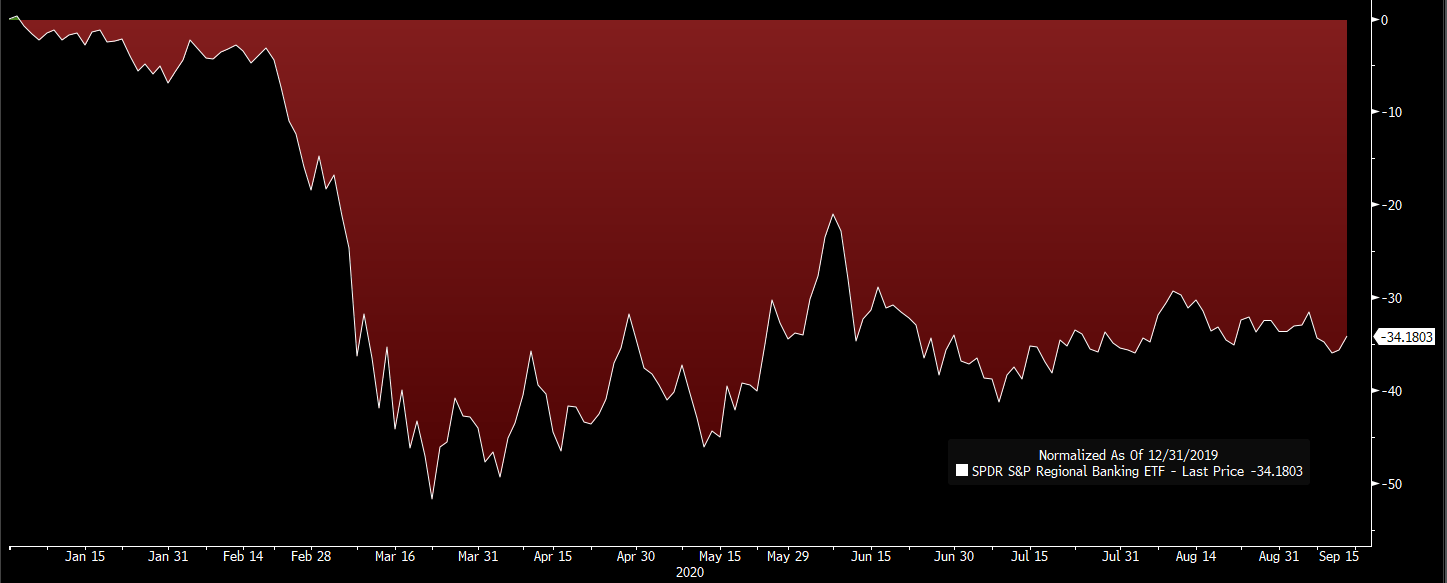 Financial stocks have radically underperformed the broader equity market as overnight interest rates have remained pinned at 0%, and the long end of the yield curve refuses to steepen meaningfully.
While the S&P 500 is boasting positive gains for the year, and with the technology sector posting returns north of 20%, financial stocks have significantly lagged.
KRE: Regional Bank ETF YTD Performance:
Source: Bloomberg
The weak performance out of financial stocks and regional bank stocks, more specifically, is not a new trend that started after the COVID-19 crisis.
Regional bank ETF (KRE) peaked in the summer of 2018 and has declined more than 40% to date.
KRE: Regional Bank ETF Performance From 2018 Peak: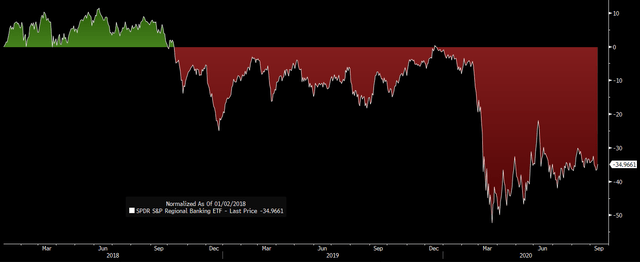 Source: Bloomberg
Financial stocks and regional banks, most specifically, are suffering under three main conditions.
First, the flatness of the yield curve and the short-term rates pinned at 0% are reducing the net interest income and net interest margin for most lenders. Regional banks are more exposed to low interest rates and a flat curve compared to larger diversified banks with more revenue lines.
Secondly, loan growth is contracting across nearly every major category. Tightening financial conditions and lower loan growth against less creditworthy borrowers is creating a challenging environment for regional banks to grow earnings per share.
Lastly, regional banks have long been a value trap, trading at a low PE ratio and enticing many value investors. Regional banks have struggled to generate sustainable earnings growth, particularly in a new regime of 0% interest rates and, thus, are deserving of a low PE ratio.
As the US economy moves into a new monetary policy regime, with interest rates pinned at 0% for what consensus believes is at least the next five years, earnings growth will be challenged at any institution that derives a majority of income from interest spreads and loans.
Regional banks have been a targeted short at EPB Macro Research since 2018 (see "How To Play The End In The Bank Rally" – May 9, 2018).
We have never shorted any large diversified banks for the reasons outlined above and instead have only held an unfavorable view among the financial institutions most likely to be impacted by the new "Japanificaiton" of monetary policy.
Below we'll outline the three main factors working against regional bank ETF KRE and why this sector, despite its low PE Ratio, should be on your avoid list. If you want to remain exposed to financial stocks, there are companies that are less sensitive to the new Japanification of our monetary policy.
Regional Banks Have Limited Or No Earnings Growth
Since the end of 2018, when the Federal Reserve started slashing interest rates amid the slowdown in the global economy, regional banks have been under pressure in terms of net interest margins and net interest income.
The three largest holdings in regional bank ETF (KRE) are SVB Financial Group (SVB), Citizens Financial Group (CFG), and Comerica Incorporated (CMA).
Year over year, total interest income is down nearly 11% at SVB. Net interest income, one of the most important metrics at financial institutions, is down ~12% due to lower total interest income and higher provisions for credit losses based on the company financial reports.
SVB Financial: Declining NII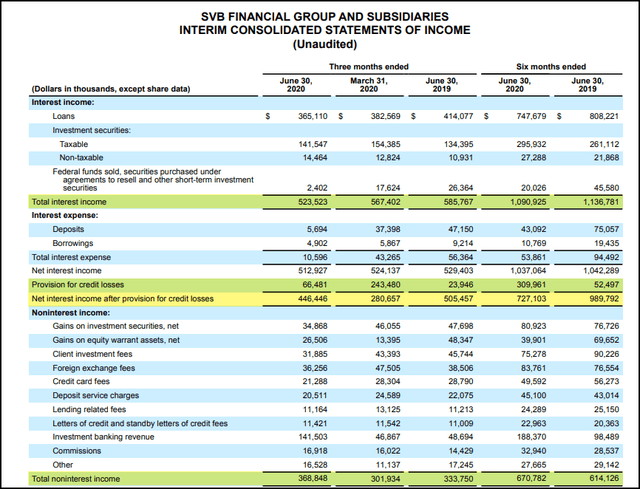 Source: Company Filings
SVB commented on the decline in net interest income, highlighting how a decline in gross yields negatively impacted net interest income. In other words, if interest rates continue falling, net interest income will likely remain under pressure.
SVB Financial Earnings Discussion:


Source: Company Filings
A similar story was seen at CFG over the last year. Total interest income fell ~15% year over year, and net interest income declined 1%.
Citizen Financial Group Net Interest Income: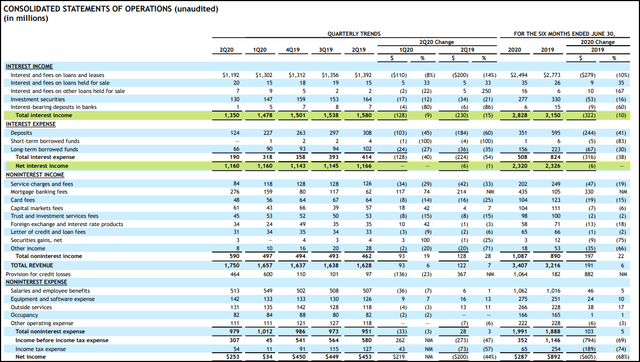 Source: Company Filings
CMA commented on their decline in net interest income, echoing the negative impact of lower interest rates.
Comerica Incorporated Earnings Commentary: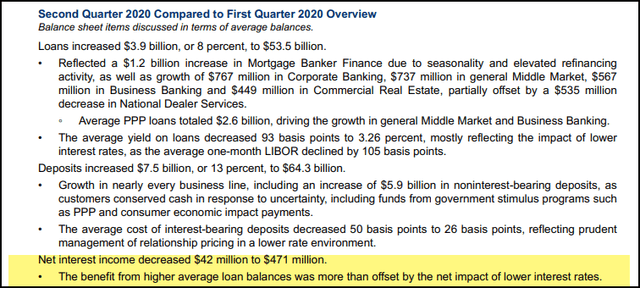 Source: Company Filings
Based on the company filings and the commentary from management, lower interest rates and tighter spreads across the Treasury curve are a headwind to income and earnings growth at the top holdings in regional bank ETF KRE.
Looking at net interest margins, we see a declining trend across the top three holdings.
Net Interest Margin: SIVB, CFG, CMA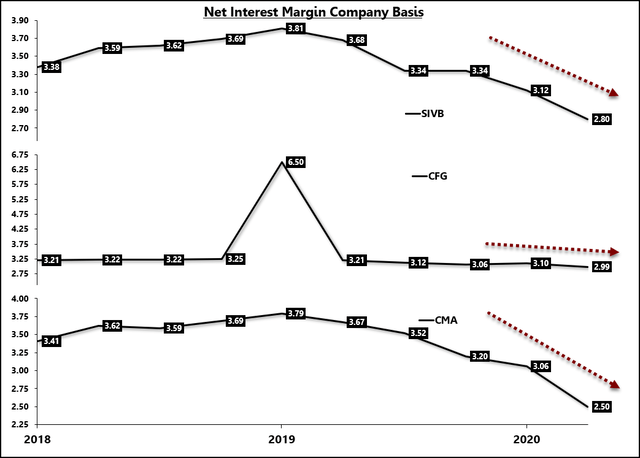 Source: Company Filings, Bloomberg, EPB Macro Research
Of note, the decline in net interest margins was exacerbated by the decline in interest rates after the COVID-19 crisis. Still, the trend started in late 2018 or early 2019, a similar starting point to the decline in the expected Fed Funds rate, graphed below.
The chart below shows the market expectation for the Fed Funds rate, three years in the future. In other words, three years from today, the market is expecting the Fed Funds rate will still be stuck near the zero lower bound, at just 11bps.
Market Implied Policy Rate: 3 Years Forward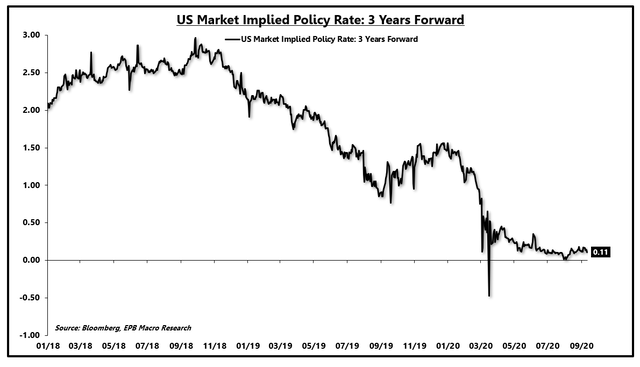 Source: Bloomberg, EPB Macro Research
The expectation for rates to stay at 0% for an extended period of time is flattening the Treasury curve through the belly (out to five to seven years). The long Treasury rate, however, also refuses to steepen to levels that are normally seen after recessions.
After the last three recessionary periods, the spread between 30-year rates and two-year rates widened to more than 300bps.
Today, even after some volatility on the long end, the spread between 2s and 30s is less than 130bps.
30-Year Treasury Rate Minus 2-Year Rate (2s30s Spread):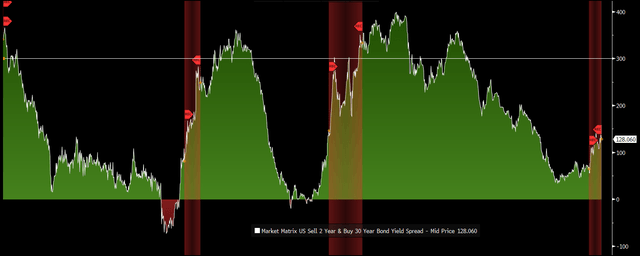 Source: Bloomberg
Hindered by a crushing debt overhang, discussed at length here, long-term interest rates will struggle to normalize, as the rate is most impacted by the future expectations of real GDP growth, the expected path of the Fed Funds rate, and long-term inflationary expectations.
Overnight interest rates that remain pinned at 0%, coupled with a damaged economy, will keep rates low and the yield curve flat. Regional banks specifically will struggle to generate sustained earnings growth without rising spreads or higher interest rates.
Loan Growth Is Contracting
One of the primary functions of banks is lending to the real economy. As the COVID-19 crisis has reduced the creditworthiness of the country in aggregate, particularly without more fiscal support, loan growth is starting to contract rapidly.
During the height of the crisis, the Federal Reserve started large-scale asset purchases "QE" again, which boosted the growth rate of the M2 money supply to over 80% on a 13-week annualized basis.
While QE contributed to the rise in money growth, bank lending growth also surged north of 30%, which significantly increased the growth rate of the money supply.
Loan growth increased due to corporations drawing on their existing credit lines to prepare for a revenue gap, as well as PPP loans backed by the government.
Banks were willing to extend PPP loans as the credit was guaranteed.
Without the guarantee, banks are unwilling to lend in the aggregate to an economy that has reduced creditworthiness.
The 13-week annualized change in bank loan growth has dropped from over 30% to a negative 11.6%.
Total Bank Loans + Nonfinancial Commercial Paper: 13 Week Annualized Change (%):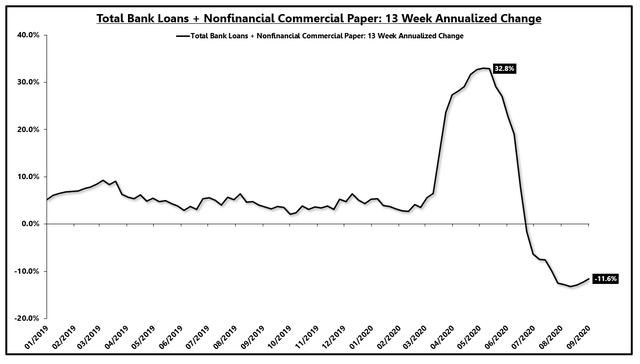 Source: FRED, EPB Macro Research
If PPP funds are reloaded by congress in the next stimulus bill, we could see another rise in C&I loan growth and a resulting increase in money supply growth.
Without more aid, however, banks are likely to remain tight in terms of lending conditions as the economy still struggles with 11.5 million jobs missing relative to the peak in employment early in 2020.
The major categories of bank loans include commercial and industrial loans, real estate loans, and consumer loans.
Total loan growth is down about 10% on a 13-week annualized basis. Real estate loan growth is the only category still positive as the suburban housing market stays red hot with the shift from city living to suburban housing.
Total Bank Loan Growth By Category: 13-Week Annualized Change (%):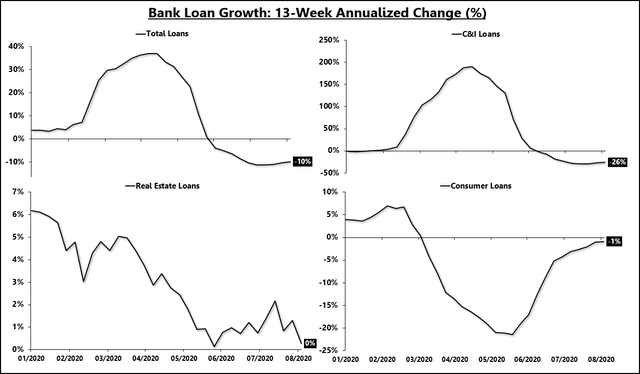 Source: FRED, EPB Macro Research
After recessions, it's common for loan growth to remain weak or negative (a deleveraging) for many years as employment takes time to recover, and creditworthiness is re-established.
It still remains unclear how much permanent damage has been done to the labor market from the COVID-19 crisis.
Job Losses From Five-Year Max In Employment: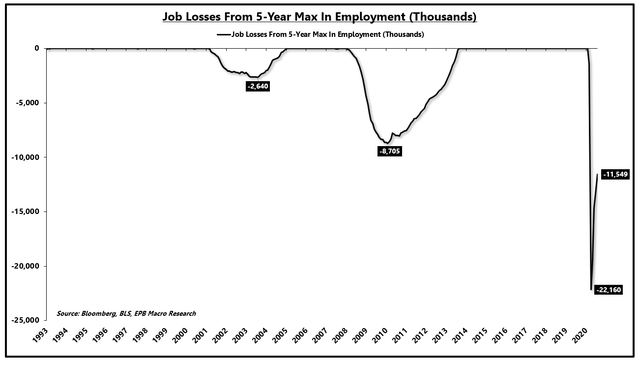 Source: Bloomberg, BLS, EPB Macro Research
The economy is certainly recovering, but with still 11.5 million jobs missing, the labor market is more impaired than the depths of the 2008 crisis. It will take time for the labor market to normalize, and loan growth will remain weak during the recovery process.
Weak and contracting loan growth is another significant headwind for any business that's dependent on lending to the real economy.
Regional Banks Are A Value Trap
In recent years, regional banks have traded from a 17x PE ratio to single digits.
The PE ratio in the chart below is defined as the current price divided by the three-year max in EPS estimates to smooth out recessionary distortions.
The GICS level 4 regional bank sector was used as a proxy for ETF KRE.
As the multiple in the banking sector was declining alongside worsening fundamentals outlined in the first two sections, investors tried to catch a falling knife all the way down to a PE ratio of 8x.
Regional Banks Trade At Single Digit PE Ratio: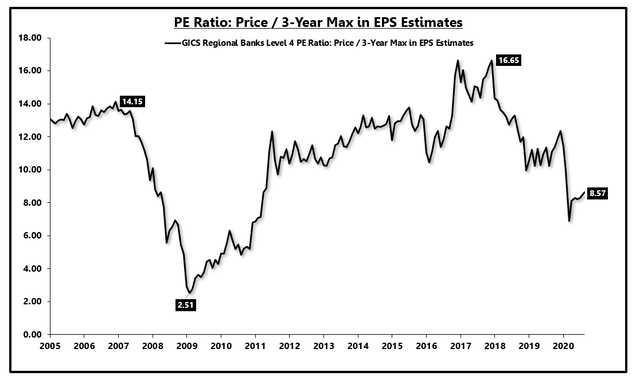 Source: Bloomberg, EPB Macro Research
The low PE Ratio in the financial space, however, is a value trap as a low PE Ratio is justified for businesses with no earnings growth (or negative earnings growth) and a realistic possibility of following the path set by European and Japanese banks.
No Earnings Growth = Low PE Ratio: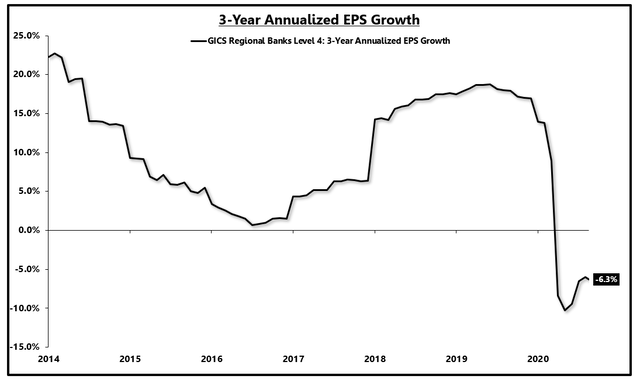 Source: Bloomberg, EPB Macro Research
The Federal Reserve has declared a rise in interest rates will not come upon the first sighting of inflation. In fact, interest rates may not rise until inflation averages 2% over some longer period of time.
Over the last 30 years, core inflation "CPI" averaged less than the Federal Reserve's 2.0% target. Under the new monetary policy regime, that would imply no rate hikes for almost three decades.
While that seems impossible, it's worth noting that it took more than half a decade to raise rates after the 2008 crisis, the economy is far more indebted today relative to 2008, and Europe and Japan have been stuck at 0% or negative rates since the last crisis.
Currently, regional banks have major headwinds, and the possibility of low rates and no interest rate hikes for more than a decade must be discounted by the market. Should 0% interest rates become an eventuality for a decade, regional banks do not offer much value, even at a single-digit PE ratio.
The secular headwinds facing regional banks has been a concept we've discussed in prior articles, such as: KRE: Regional Banks Face Structural And Cyclical Headwinds | Jan 24, 2020.
Summary and Conclusion
Regional bank stocks have radically underperformed the broader equity market both before and after the COVID-19 crisis due to the secular headwinds of falling interest rates.
Falling interest rates have hurt net interest income and lowered net interest margins across the sector.
The market is not forecasting the overnight policy rate to rise for more than three years, and the possibility for a Japanification of US monetary policy is firmly on the table.
Banks In Europe and Japan: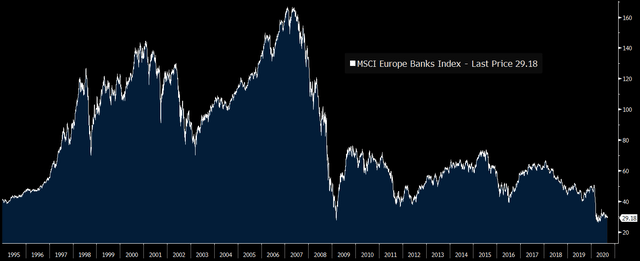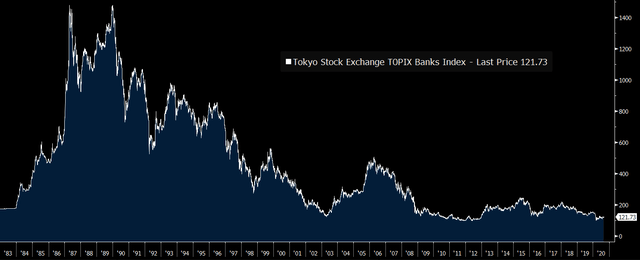 Source: Bloomberg
Lower interest rates and weak/contracting loan growth will continue to put pressure on the industry that has fewer revenue offsets as compared to diversified conglomerate banks.
While regional banks continue to trade at lower and lower PE Ratios, the relative performance chart looks similar to the nominal performance of banks in Europe and Japan.
Regional Banks Relative To SPY Performance Ratio: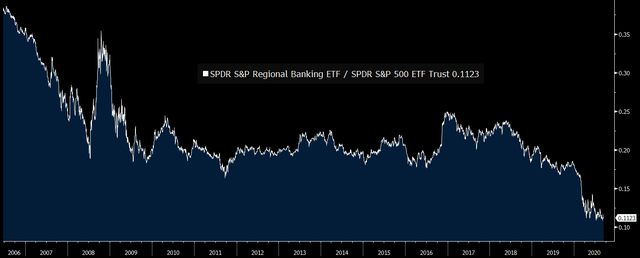 Source: Bloomberg
Investors will continue to shun regional banks, despite the lower PE Ratio, if earnings growth and revenue growth remains a challenge under low interest rates, a flat yield curve, and weak/contracting loan growth.
Credit card companies that take limited or no credit risk or even more diversified financial institutions likely offer more value than regional bank stocks, which should remain on your list of companies to avoid.
EPB Macro Research provides macroeconomic analysis on the most significant long-term and short-term economic trends, as well as the impact on various asset prices, including stocks, bonds, gold, and commodities.
EPB Macro Research provides a low volatility monthly asset allocation model that translates the economic research into an actionable portfolio of ETFs.
If you want to learn a long-term investment framework that you can rely on in any market, click the link below.
Click this link for a 14-day FREE TRIAL
(20% discount for new members)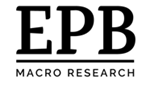 Disclosure: I am/we are short KRE. I wrote this article myself, and it expresses my own opinions. I am not receiving compensation for it (other than from Seeking Alpha). I have no business relationship with any company whose stock is mentioned in this article.