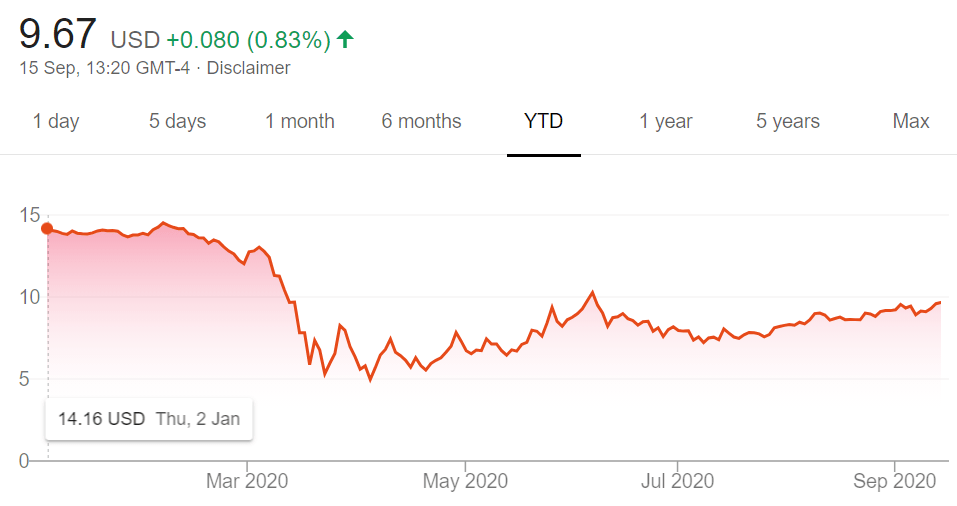 MGIC Investment (MTG) has staged a powerful rally from the depths of the Covid-19 lows in early April. The thesis of this article is that the stock is potentially very attractive, but there is a speculative element to buying it here due to the lack of an apparent horizon for when, and if, excess capital will be released to shareholders.
Source: Google
I was positive on MTG in 2016-17, when I regarded it as an undervalued recovery play. Anyone wishing to read about the company's recovery from the 2008 financial crisis, should click here.
Here is my conclusion from my last article on the stock.
Investors looking for capital appreciation should buy MTG now. In addition to the strong EPS outlook and still-cheap PE, we have a stock that is returning to dividend distribution, having focused resources on building capital and debt rationalization for the last eight years. Here is an article from last year in which I look at the debt dynamics closely.

MGIC's risk to capital ratio has fallen again recently from 12.6:1 to 11:1. The company is now overcapitalized to the eye of this analyst. Consider the ROE of the business, which is about 14%, and the rate of growth of risk in force, which is what the capital backs, 6%. The bit in the middle between these two, should be finding its way back to shareholders. The pressure for this to happen will bring more investors to MTG and put it on the radar of income investors soon.
The stock price peaked shortly after I wrote that article, and went sideways in a wide range ($10-14) before being crushed in the Covid-19 sell-off in March this year, mirroring leading bank stocks. Trump's tax cut had washed through the economy and there was a major trade dispute with China. As this posed questions over growth, growth-geared, credit-driven financial sector stocks like MTG went into watch and wait mode.
After the partial recovery from the Covid-19 sell-off, where does MTG stand?
The business is in good shape
The main dynamics in the chart below are steady growth in revenues, chiefly driven by net premiums earned but also boosted by investment income in 2018-19, lower insurance losses as its higher-quality books (MTG deliberately targeted a lower risk business mix post-2008) give lower loss tendencies, and, as a result, stronger pre-tax profit.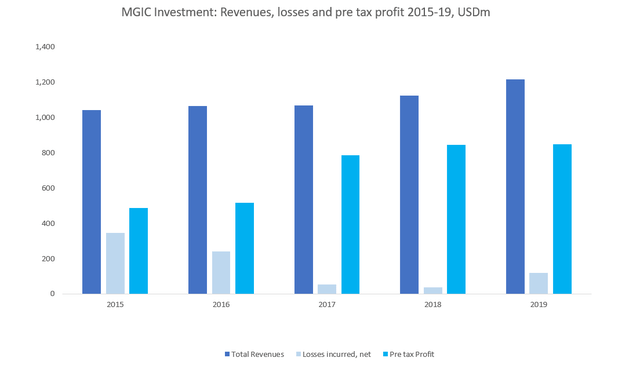 Source: Company data
Given I said the fundamental outlook was strong, and dividends were coming into the picture, I am pleased to see the P&L trends above, along with dividends restarting and the stunning developments in EPS, which hit $1.85 in 2019 from $0.86 in 2016.
Now, over the first half of 2020, the bottom line has been cut in half due to elevated risk charges that reflect a prudent approach to managing the Covid-19 recession. MTG has continued to write new business and management says they are extremely happy with the new risk taken on.
I don't want to get bogged down in the Covid-19-related outlook for MTG.
The sideways performance of the stock in 2018-19 doesn't really do justice to the strength in the P&L, and with the hit in March 2020, and the partial nature of the recovery so far, the stock seems very attractive in P/E terms.
Valuation
In few markets globally could the P/E ratios MTG trades on currently be regarded as challenging.

Source: Nasdaq Estimates
So it's cheap. The issue concerns the dividend yield. Dividends are being determined quarter to quarter at the current time, given the risks of losses due to Covid-19, but the stop-start of dividend flows in these exceptional circumstances isn't really the point here. The point is that the normalised yield is not very high. The current yield is 2.48% (current dividend policy is to pay $0.06 per share per quarter). And remember, this is a depressed share price reflecting the recessionary conditions in the economy. When MTG was trading around $15, the yield was 1.6%.
Capital should now be the centre of shareholder focus
Capital return overall, of course, has picked up. MTG's buyback program has reduced the share count materially over the last few years.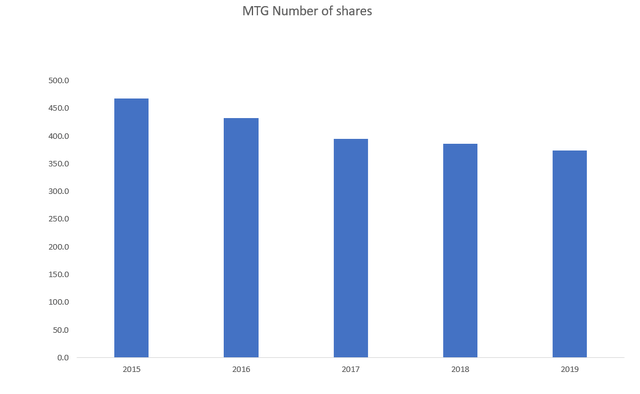 Source: Company Data
So we have a lowish yield and buybacks. Much of the banking sector operates like this and it is a useful reference point for the capital management issue at MTG. Low asset growth in banking consumes a limited amount of capital generated through earnings, leaving much of the earnings free to be distributed.
MTG is soaking in excess capital
The issue at MTG is that equity keeps growing. The next chart shows the extent to which shareholders' funds have grown as the main source of financing for MTG's balance sheet.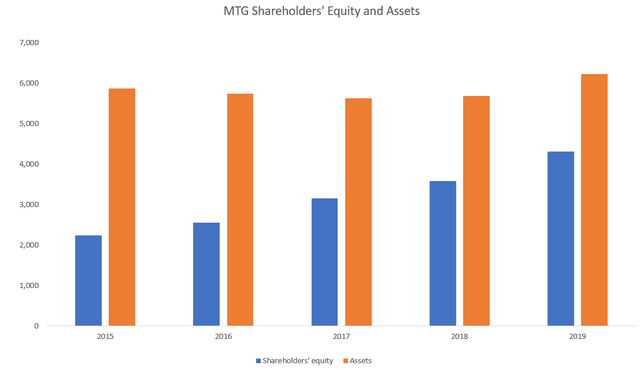 Source: Company Data
At the same time as equity/assets was reaching current levels, MTG generated ROE in 2018 and 2019 of 20% and 17% respectively. Equity accumulation isn't diluting out returns – at least not yet.
So unlike businesses that aim to pay out most or all of their net income to shareholders – whether through buybacks or dividends – MTG is retaining sizeable slugs of its earnings. Consequently, the risk/capital ratio has improved from 13.6x in 2015 to 9.6x in 2019. The question for shareholders is whether the business might be looking overcapitalised.
Consider growth: MTG's insurance in-force grew 6% in 2019, and this increased to 8.4% over the first half of 2020. These levels of growth are well within the levels of return the business is generating, hence the drop in the risk/capital ratio over time. When I wrote about MTG in 2017, I was discussing free cash flow generation in the context of a 14% ROE and 6% growth in in-force business. The ROE and growth divergence has grown since then.
This company is soaking in capital.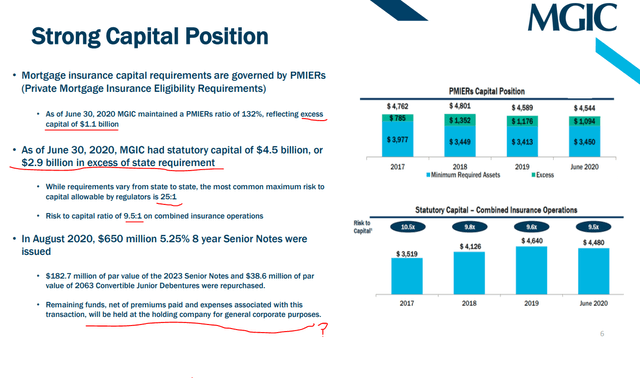 Source: Company Presentation
The amounts cited as excess to regulatory requirements are very material in relation to MTG's current market cap of $3.2bn.
Here's the strategy slide from MTG's presentation at the Barclays Financial Sector conference, from September 15.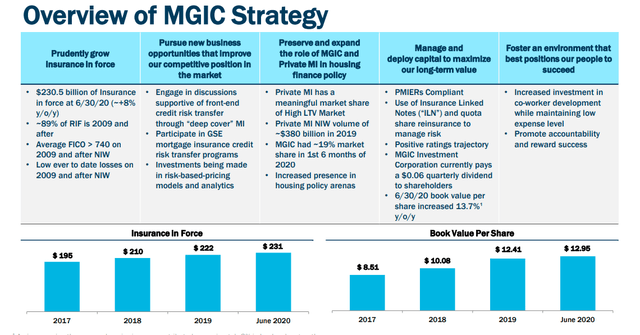 Source: Company Presentation
We don't see a commitment to a particular level of future shareholder distribution here. While that's understandable during the uncertainties of Covid-19, it is an issue that reaches back further.
The question you come away with as an investor is when will capital levels be deemed sufficient and dividends increase? I would argue that until MTG answers this, the question is likely to hold the shares back from the valuation they could achieve if the capital distribution outlook were clearer.
It is useful to look at the amounts MTG has committed to buybacks recently. In 2018 and 2019, it bought back shares to the value of $114m and $175m respectively. These amounts compare to net income of $670m and $674m. It is this low distribution of capital that allows significant excess capital to build at MTG.
Conclusion
In a sense, Covid-19 has given MTG a breather on the capital question. So far, the company is performing well in a deep recession and any good economic news will probably benefit the share price with strong elasticity.
As we emerge from the pandemic and the economy improves, shareholder focus should move relentlessly to the question of capital distribution. We have a high ROE business, mid single-digit growth, and strong free cash flow on top of incredibly comfortable regulatory capital. This should be a strong capital distribution story. It currently is not, despite the super-low P/E. The low P/E doesn't mean that much unless most of the earnings yield comes back to you.
I am neutral on the shares, and watching closely.
Disclosure: I/we have no positions in any stocks mentioned, but may initiate a long position in MTG over the next 72 hours. I wrote this article myself, and it expresses my own opinions. I am not receiving compensation for it (other than from Seeking Alpha). I have no business relationship with any company whose stock is mentioned in this article.