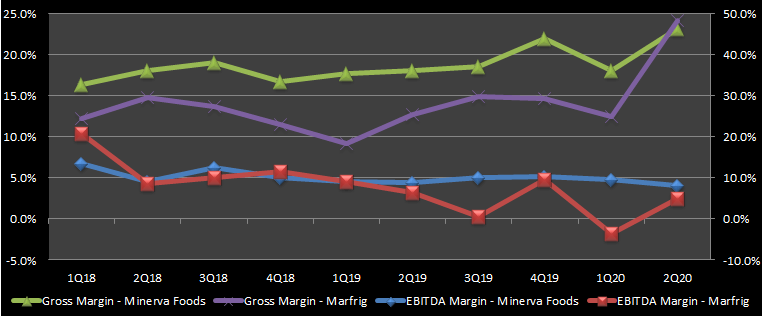 Minerva S.A. (OTCPK:MRVSY) is a beef company similar to Marfrig Global Foods S.A. (OTCPK:MRRTY), except that its operations are only in South America whereas Marfrig has operations in North and South America. It has long been a dream of mine that BRF S.A. (BRFS) and Minerva would merge, but until today, I have seen no signs that this will ever occur. From a consumer perspective (in Brazil), my most preferred brands in order of preference are Swift Black (JBS), Bassi (OTCPK:MRRTY), and Maturatta (also JBS). Estancia 92 (OTCPK:MRVSY) is a good premium brand, but it is impossible to find where I live, which is why it didn't make it on the list.
My readers and SA members that follow Marfrig know that I am bearish on the company because I believe the beef-only business model will not work unless the company has a way of adding value to its products by further processing them. Now, you may be asking yourself, why am I analyzing another beef-only food company if I feel this way. I was reading a beef industry article, and it sparked my interest in Minerva. In the article, it said that the company's export market accounts for a little over 75% of its total revenue. Exports make up 25% of Marfrig's total revenue, so I wanted to see if exports gave Minerva an advantage over Marfrig and if that advantage translated into an increase in shareholder value.
Quick Overview Of Minerva And Its Risks
Minerva has three divisions. One is called Athena Foods, the Brazilian division, and the Trading Division. Athena Foods is made up of the company's operations in Chile, Argentina, Uruguay, Paraguay, and Colombia. The company was going to IPO Athena Foods on the Chilean stock market (SSE – Santiago Stock Exchange) in 2019, but decided to cancel these plans early this year. Minerva's products include live cattle, fresh beef, offal, and other cattle bioproducts.
Minerva is a beef company located in Brazil has operations in five other South American countries. This means that investors are exposed to six volatile emerging market currencies. One of the five countries is Argentina, which is considered a hyperinflationary economy. In 2017, Minerva was investigated by the Brazilian Federal Police in Operation Vegas (what happens in Vegas, stays in Vegas) with the allegation of bribing employees at the Brazilian Ministry of Agriculture.
Does A Large Export Market Give Minerva An Advantage?
The following comparison is not to decide if an investor should invest in Minerva or Marfrig, but to see if Minerva has an advantage by exporting more than it sells domestically.
Figure 1 – Gross Margin vs. EBITDA Margin (Minerva and Marfrig)
Source: Minerva's and Marfrig's financial results
Since 1Q18, Minerva's gross margin has been consistently over 15% and has an average gross margin of 18.8%. Marfrig exports account for almost 25% of the company's total revenue, and its average gross margin during the analysis period was 14%. Minerva's average EBITDA margin was 10.1%, while Marfrig's was 7.8%.
As demonstrated in Figure 1, exports play an essential role in Minerva's profitability. Since 2015, there have been quarters when the export market accounted for less than 70% of the total revenue. I created a binomial model to help me analyze the data, and what I found was interesting. When the export market represented 68% or more of the company's total revenue, the average EBITDA margin of these quarters was 10.7%. When exports accounted for less than 68%, the average EBITDA margin was 9.5%.
The Brazilian division of Minerva had an average price per kilogram in the domestic and export markets of R$14.40 and R$18.00, respectively (1Q15 – 2Q20). During the same period, Athena Foods' average R$/kg was 11.70 and 16.30, respectively. It may seem that I should have just presented this information at the beginning and concluded that exports are the best thing for the company, but that would have left out the analysis of the COGS.
From 2015 until 2019, the company's total revenue has grown at a CAGR of 15.8%. Some of this growth was organic, but a majority of it was the result of Minerva buying JBS Mercosur (now called Athena Foods) from JBS S.A. (OTCQX:JBSAY). During the same period, the company's average yearly profit margin was -3.3%, and the average EBITDA margin was 10%, 13.3% more than the average profit margin.
Figure 2 – Debt Ratios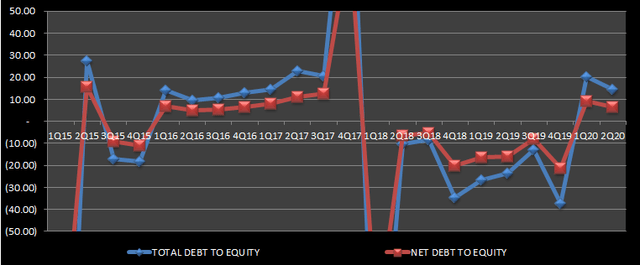 Source: Company financials
There is an 11% spread between Minerva's EBIT and EBT margin, meaning that 11% of its revenue goes to financial expenses. In Minerva's most recent quarterly results, Total Debt to Equity and Net Debt to Equity were 14.62x and 6.47x, respectively. As you can see in Figure 2, the company's debt ratios are improving but only because the company issued more shares.
Figure 3 – 2Q20 Financial Results

Source: Company's 2Q20 Financial Statements
As seen in Figure 3, the company's financial expenses make up a majority of the financial result. LTM2Q20, the FX variation was almost fully hedged (other expenses) during the period. The company's hedging policy appears to work well when the BRL is very volatile and weakening against the USD.
I am neutral on Minerva because though, the company's export strategy gives it higher margins, it seems that the company's capital structure management favors bondholders more than shareholders. In January of this year, the company issued new shares to improve its capital structure. The company has also been paying off higher interest notes with new issued lower interest debt. Even after doing all of this, the company's total debt has only increased, and the return of its cash investments provides very little financial income.
If you like what you read, please "Follow" me via Seeking Alpha. I typically only cover the Brazilian markets, the Robotics Industry, and the Food Industry.
Disclosure: I am/we are long BRFS. I wrote this article myself, and it expresses my own opinions. I am not receiving compensation for it (other than from Seeking Alpha). I have no business relationship with any company whose stock is mentioned in this article.