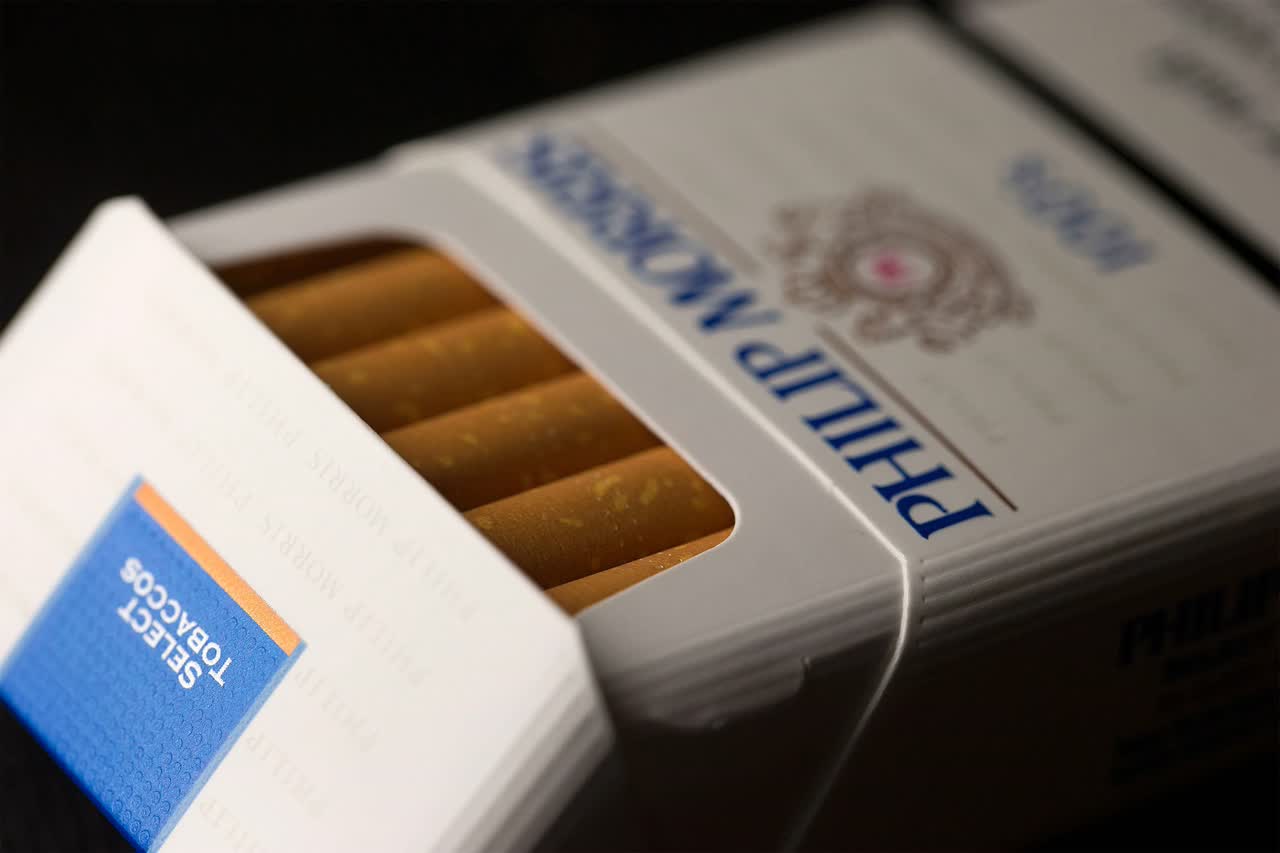 Philip Morris (NYSE: PM) is the largest publicly traded tobacco company with a market capitalization of more than $120 billion and a 6% dividend yield. The company has the potential to continue generating strong long-term cash flow for shareholders. As we'll see throughout this article, the company's continued performance and asset portfolio, along with options trading, makes it a quality long-term investment.
Philip Morris COVID-19 Performance
Philip Morris, with lock downs and job losses experienced a difficult quarter from COVID-19.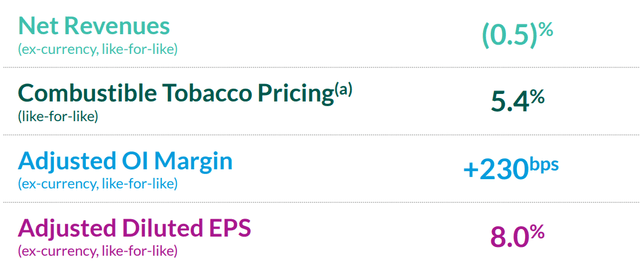 Philip Morris 1H 2020 Results – Philip Morris Investor Presentation
Specifically, in 2Q 2020, the company saw a 9.5% decline in revenue and a 7.5% YoY EPS decline. That doesn't count an additional ~5% EPS decline due to currency issues. Traditionally, in times of market instability, international currencies suffer more significantly. Philip Morris, as an international company, suffers from that more significantly.
More importantly, in 1H 2020, the company actually performed better. The company saw a mere 0.5% decrease in net revenue and 5.4% increase in combustible tobacco pricing. The company's margins not counting currency increased by 2.3% resulting in a non-currency increase in adjusted diluted EPS by 8%.
Counting currency impacts that was a low-single digit increase, but that growth, and the bottom of COVID-19, is incredibly impressive.
Philip Morris Volumes
More so, the numbers that truly matter for the company at the end of the day, its volumes are improving.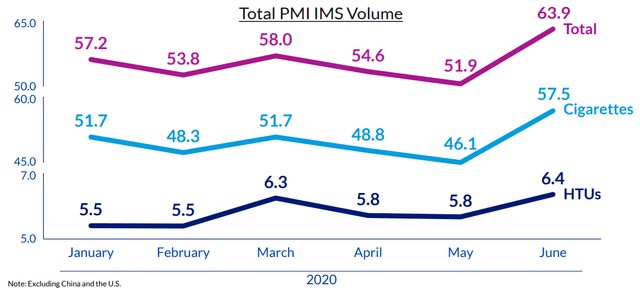 Philip Morris Volumes – Philip Morris Investor Presentation
Philip Morris saw volumes collapse towards May bottoms of 51.9 billion units of total volumes. The company's 2Q 2020 volumes of 170.1 billion units were down from 198.9 billion units in 2Q 2019. However, its also worth noting that YoY the company's HTU (heated tobacco unit) volumes increased by 24.3% highlighting a trend to the company's healthier higher margin business.
At the same time, the company's June rebounds were some of the strongest for the year as volumes rebounded significantly and COVID-19 lock-downs were lifted. It's worth highlighting that the company has continued to suffer from a strong anti-smoking push and higher taxes in Indonesia and the continued restrictions around air travel and duty-free sales.
Philip Morris's New Businesses
One of the most exciting aspects of Philip Morris's long-term potential is the company's continued focus on reduced risk products. These reduces risk products can not only have higher margins, but they'll help to support lower regulation of tobacco products.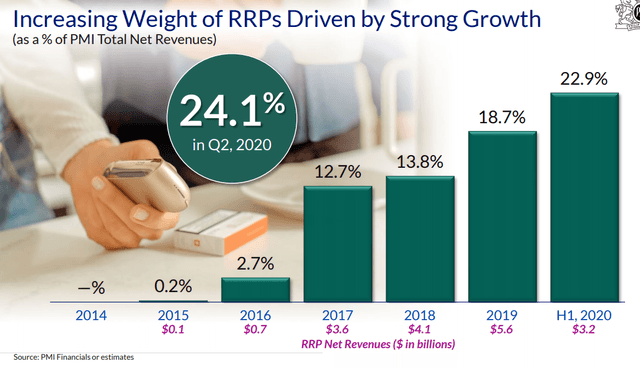 RRP Revenue – Philip Morris Investor Presentation
The company has seen RRP go from 0.2% of 2015 net revenue to 22.9% of H1 2020 revenue. This business is massively important to the company for a number of reasons and as it grows its incredibly import to Philip Morris shareholders. The first is that a low risk business means less incentive for government regulation in terms of the number of available customers.
The second is that HTU can actually be cheaper for customers. They have a higher one time cost for the device but a much lower daily cost to provide. 25 cigarettes worth of nicotine costs $4 in JUUL pods. A pack of cigarettes, which has 20-25 cigarettes, costs more than $6 on average. Lower costs to customers decreases the chance of customers stopping smoking.
Lastly, gross margins for the company are stronger due to the lower costs of pods versus cigarettes. Juul has a 70% gross margin, more than Philip Morris' gross margins, not counting the lower margin devices. Philip Morris' growing HTU is a significant part of the company's 2.3% margin improvement over the past year and will continue to support the company going forward.
These new businesses represent an exciting catalyst for the company.
Philip Morris Guidance and Shareholder Rewards
Putting all of this together, Philip Morris has exciting guidance which will support continued shareholder rewards. The company has a $1.17 quarterly dividend which is equivalent to $4.68 annually.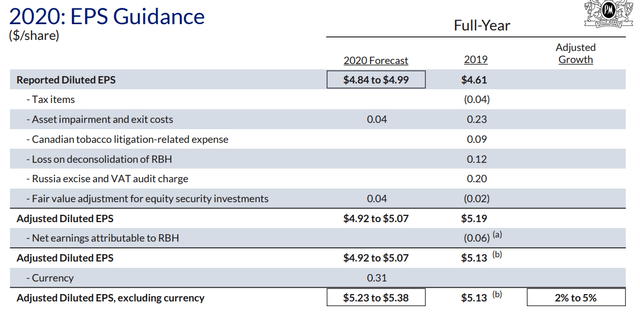 Philip Morris 2020 Guidance – Philip Morris Investor Presentation
The company's EPS guidance is expected to remain strong throughout 2020 and the company's forecast is for $5.3 in adjusted diluted EPS at the midpoint, a roughly 3.5% improvement over the past year. That's more than enough for the company to cover its impressive dividends and gives the company a P/E of 14.
That's a low P/E for the given time, especially when the company has a path to growing its revenue and margins. With the company's near 6% dividend, it has significant room to be updated.
Philip Morris Option Strategy
We recommend that investors invest in Philip Morris and then use an options strategy to expand their yield.

Philip Morris Options Chain – Yahoo Finance
Philip Morris share price is near $80 / share and investors who invest in 100 share batches can share covered CALLs with a $80 strike price at a midpoint of $7.8 / share. The expiration date on these is Jan. 2022. That represents 10% over 16 months or 7.5% annualized. That combines with the company's near 6% dividend meaning the opportunity for a more than 13% annualized yield.
That option strategy allows investors to more than double their yield.
Philip Morris Risk
Philip Morris's risk is the same risk that the company has had for decades. That's the fact that the company operates in a declining market segment that kills people. That continued threat to the company's business, however, is one that it has continued to handle. More so, it is one that it's handling for the first time in decades HTU.
That means one could argue that despite the company's risk, it's overall risk is lower than its ever been since tobacco's health hazards began to be revealed.
Conclusion
Philip Morris has an impressive portfolio of assets that helps to justify the company's valuation and ability to generate long-term shareholder rewards. The company has suffered during the quarter from COVID-19, however, even for 1H 2020 it has performed well. It will likely continue to perform equally well for the year.
The company now has a yield of near 6% with a roughly 85% payout ratio. More so, the company has the room to continue increasing its dividends with its growing EPS. Investors can more than double their yield with an options investing strategy which supports the company. This will support rewards for immediate term investing.
We recommend investing in Philip Morris at this time.
The Energy Forum can help you generate high-yield income from a portfolio of quality energy companies. Worldwide energy demand is growing and you can be a part of this exciting trend. 
Also read about our newly launched "Income Portfolio", a non sector specific income portfolio.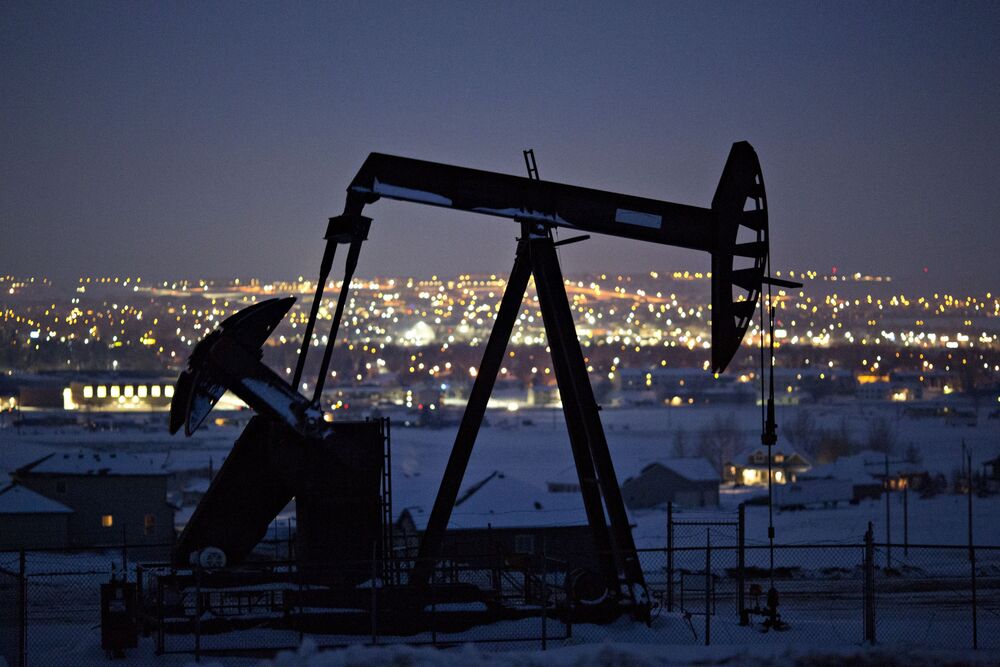 The Energy Forum provides:
Managed model portfolios to generate high-yield returns.
Deep-dive research reports about quality investment opportunities.
Macroeconomic market overviews. 
Click for a 2-week free trial, with an unconditional money back guarantee and 47% off of our popular annual plan! There's nothing to lose and everything to gain!
Disclosure: I am/we are long PM. I wrote this article myself, and it expresses my own opinions. I am not receiving compensation for it (other than from Seeking Alpha). I have no business relationship with any company whose stock is mentioned in this article.