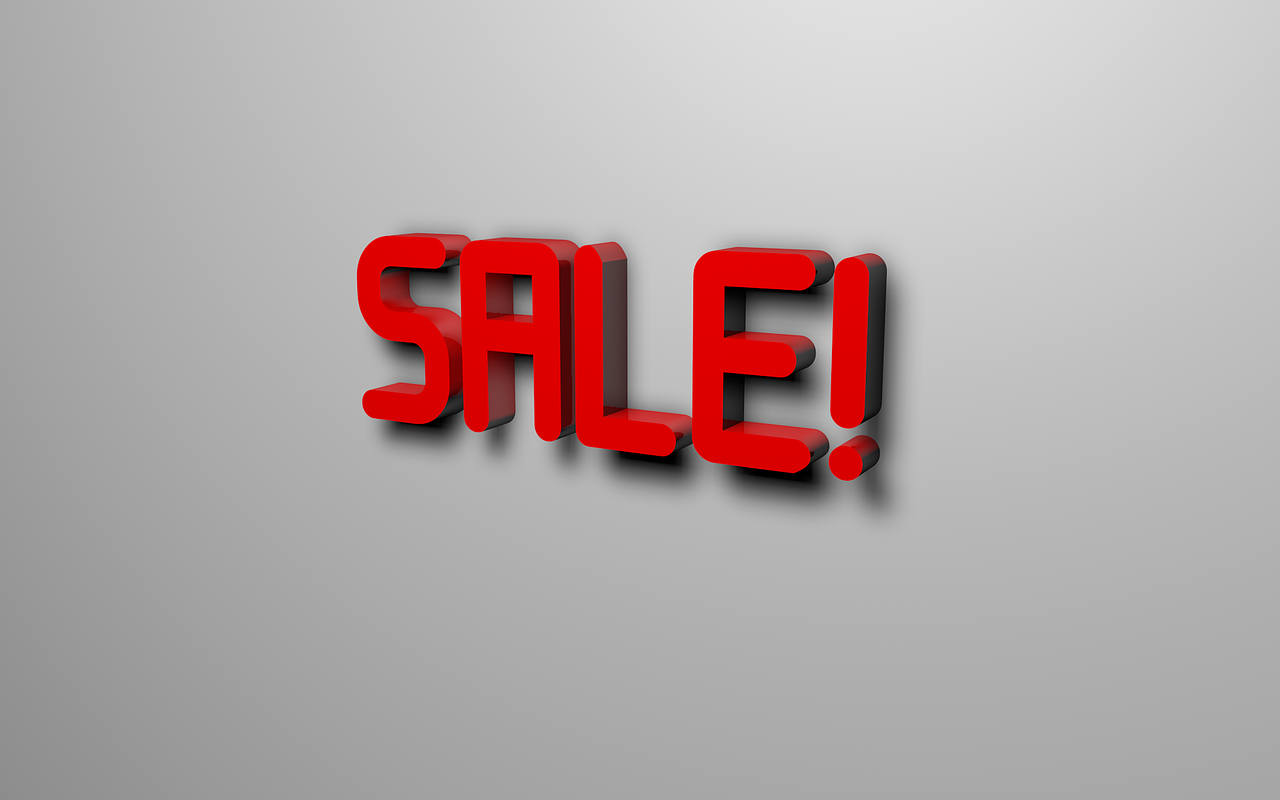 Introduction
The TJX Companies (NYSE:TJX) has been another player in the retail sector which has been significantly impacted due to COVID-19. Given the customers' preference for staying home and the company's presence primarily based on the offline store model (online forms barely 2% of total revenue), the company likely faced several challenges as it braces through the pandemic. Accordingly, the company has underperformed the broader market index significantly, down 8% compared to S&P 500's 8% rise YTD, however, its performance has been better than the apparel retailers index. Post the recent results, the stock tumbled about 10% as the recovery likely remains slow through Q3 wherein the management expects the revenue to decline by as much as 20%. Despite the near-term hiccup, we believe TJX is poised for the recovery as the off-price retailer stands to benefit on the consumers' preference to value during the period of economic uncertainty as seen during 2009. Its vast expansive network, lower reliance on holiday sales, and the department stores' struggle and store closures could act as tailwinds for further market share growth.
Earnings Corner
The company reported a 32% decline in revenues at $6.7bn which was slightly better than what most analysts had pegged at $6.5bn and was also above the management's internal assessments. This was primarily as the stores were closed down for almost a third of the quarter due to COVID-19. Comp sales at opened-only stores declined 3%, led by 20% growth in Home goods with Marmaxx down 6%. Average cart size did grow but it was not enough to offset the losses from extra discounts coupled with lighter store inventory levels to make space and enable social distancing in its stores. Gross margins fell sharply by about 6 percentage points as a result of discount merchandising and inventory clearing. Coupled with incremental COVID-19 related costs, lower sales, and gross margins, the company posted a surprise loss of $212mn or 18 cents per share compared to a profit of 62 cents per share a year ago. While the loss was surprising, TJX's underlined that its growth was fizzling, expecting a decrease in comp sales by as much as 20% denting the argument that T.J. Maxx is more pandemic-proof than its rivals. Visits to the stores rebounded in June, but shoppers did not return throughout the summer and the downward trend continued as the number of cases continues to rise.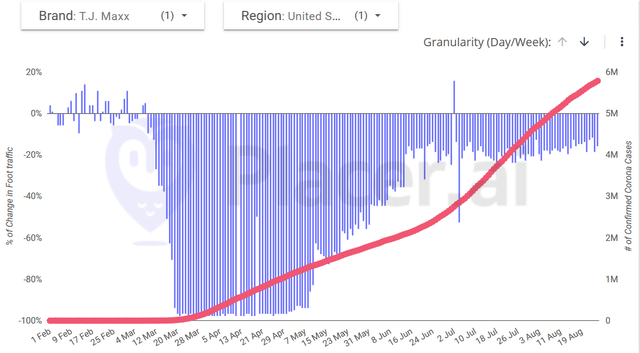 Source: Placer.ai
CFO Scott Goldenberg confirmed a clear correlation between regional COVID-19 case flare-ups and weekly traffic trends as seen by the data in the above chart with footfall declining to the tune of 16% for last week. Given the store footfalls are central to the off-price retailer, having made a name for itself with treasure hunts and attractive inventory, the recovery in an otherwise digital-less retail environment looks hazy in the short term.
Long-Term Story Intact
While the near-term blip looks to prolong till Q3, the long-term story for the off-price retailer remains intact. Within retailing, we believe the positioning of off-price retail is attractive with a tremendous capability to grow (currently forms only 15% of the $300 bn apparel market). TJX is a multi-year beneficiary given a rare combination of attractive inventory, power-packed in-store experience with the treasure hunt strategy, and global reach. Also, the off-price retail segment has been a major beneficiary during the time of the weaker cycle of the economy as seen during the 2008 Global Financial Crisis wherein 2009 witnessed significant growth for the off-price retailers despite weak consumer confidence and decline in apparel sales.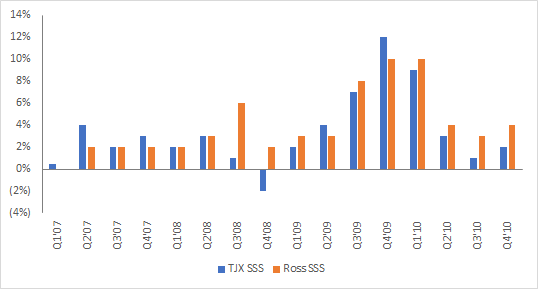 While the near-term headwinds remain and the recovery could start coming in from Q3, one cannot rule out any volatility in the near term. That being said, the company has been a market share gainer over several quarters and we expect them to continue to do so given the nascent stage of the off-price retailing in the country ($15bn out of $300bn apparel market).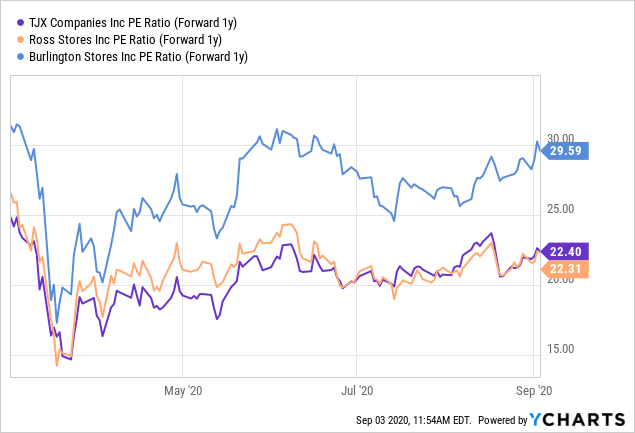 TJX is currently trading comfortably in-line with Ross Stores (NASDAQ:ROST) and slight discount to the sector average which would warrant a re-rating as the dust settles, making a strong case for multiple expansion. We value the shares at 24x CY2021 P/E, a premium to its 3-year average median given (1) TJX being the largest player in off-price retail with strong brand equity and network to lead the growth (2) strong growth prospects in the post-COVID-19 world particularly in a weaker economy as seen during 2009 where consumers prefer value, (3) store closures and bankruptcies in departmental stores to act as a tailwind to grab market share and (4) lower dependence on Black Friday/ holiday sales given its EDLP/non-promotional strategy. While the margins have dropped from the highs of sub-12% since 2014, we believe 2021E Sales to eclipse the 2019 sales with margins climbing back to 10.5-11% range (2019 margin = 10.6%). We believe the 2021 EPS to be $2.7 per share, around similar levels as that of 2019, and ascribe a target price of $65 per share at 24X 2021E EPS. The risks are a prolonged recovery amidst rising COVID-19 cases leading to continued pressure on store footfalls, any negative data on the COVID-19 vaccine, branded resale cannibalizing off-price retail, and inventory and supply challenges capping comps upside. Taking into account the near-term volatility that could be witnessed in the stock, we initiate the coverage with a Buy on Dips strategy.
Disclosure: I/we have no positions in any stocks mentioned, and no plans to initiate any positions within the next 72 hours. I wrote this article myself, and it expresses my own opinions. I am not receiving compensation for it (other than from Seeking Alpha). I have no business relationship with any company whose stock is mentioned in this article.