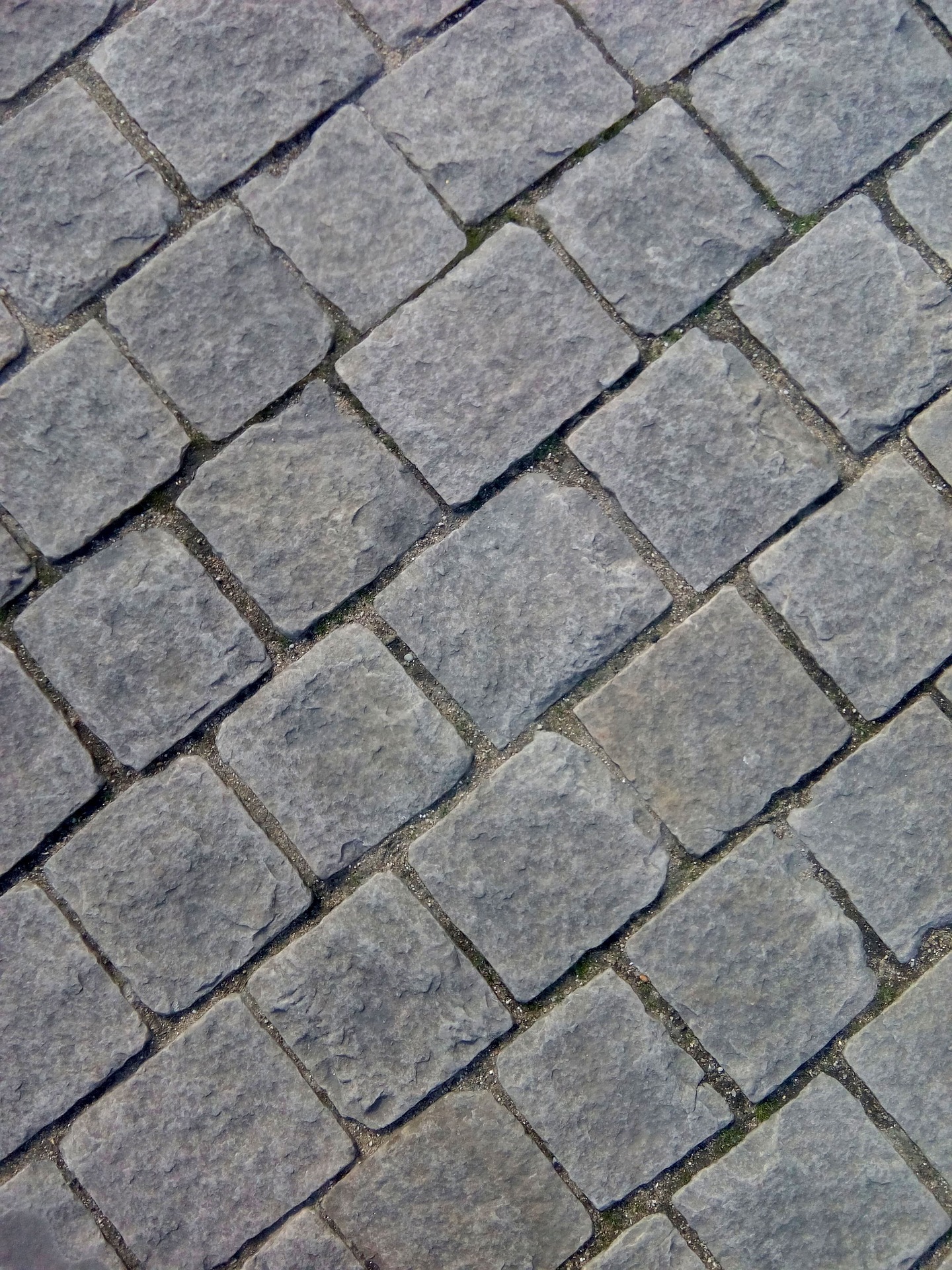 Travis Perkins plc (OTCPK:TVPKF)(OTCPK:TVPKY) is a U.K.-listed builders' merchant. It has a good market position and I appreciate its strategic shift to focus on the trade business. However, at around 1,100p, I think the shares are fully priced for now.
About Travis Perkins
As this is the first coverage of the company on Seeking Alpha, it may be helpful to provide an overview.
The company is the largest builders' merchant in the U.K. It traces its roots back to the end of the eighteenth century. Today, it operates from 2,000 stores, outlets and sites across the kingdom.
The company operates across three main areas. First is the core merchants business, which operates under multiple fascia. Secondly, it has a format called Toolstation, which is multichannel and focused more on do it yourself and light building needs, rather than heavyweight building supplies. Finally, it has a retail arm which trades under the brand Wickes in around 240 stores. The company has announced plans to dispose of Wickes, but these have been put on hold for now. The company also sees itself as having some expertise in developing property and reports that as a separate line item. I never regard that as a great sign – it's better to stick to the knitting than dabble in property on the side, where the gains are often driven by the property market more than any specific expertise.
Currently, Travis Perkins is focused on two main areas strategically. As well as streamlining their group, they have made a strategic decision to focus on the trade side of the business. That is in evidence in the decision to divest Wickes, for example.
Source: company factsheet
I think the trade focus makes sense. Trade customers have more specific demands than retail ones, so the market is less competitive. They are repeat customers, buying at quantity, so attracting and retaining a trade customer is far more lucrative than attracting and retaining even a dedicated do it yourself fan, let alone the occasional oddjobber. I used to go into a Wickes store about once every two or three years, for example: that is a much less promising purchase pattern than a builder using Travis Perkins to build an estate of houses.
That said, trade customers often like to purchase on credit, which introduces a complexity in terms of financing, but I think that is manageable. Travis Perkins has about 200,000 trade credit customers.

Source: company annual report
The company announced in June that it planned a reorganization, that would reduce the store count by 165 and cut headcount about 9%.
The U.K. Building Supplies Market Continues to Grow
It is worth noting that building in the group's core U.K. market has been growing for years and continues to grow. Although 2020 demand has been affected by lockdown, the building supplies market in the U.K. is expected to continue to grow for many years.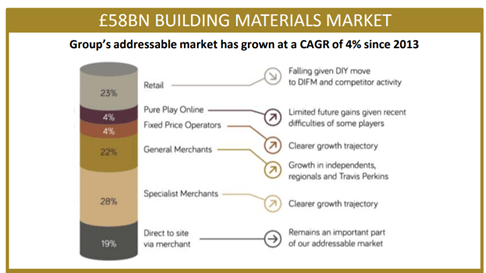 Source: company factsheet
COVID-19 Has Damaged Results But That is a One-Off
The company recently released its half year results. I think that their headline "Successfully adapted to unprecedented markets" was the sort of misleading guff promoted by poor management, as in fact the company's revenue in the six-month period fell over 20% versus prior year and adjusted earnings per share were down by 97.5%.
However, the impact of the pandemic and lockdown is likely to be fairly short-lived for the company. For several months during lockdown, most building sites had to stop work. However, as the restrictions were lifted from May onwards, they upped tools again. Based on the half year reporting of various building companies, activity levels seem to be running at full rate again. Additionally, in the home renovation market, demand improved during lockdown as people undertook delayed home renovation projects or converted home areas to working spaces.
So, although the pandemic dented the most recent set of half-year results, I do not think it has structurally damaged the business in any long-lasting way.
The Company Has a Decent Recent Dividend Payment History
For the past decade, the company has had a progressive dividend policy. Its last full year payout was 47p, which equates to a yield of about 4.2% at today's share price. However, note that the company suspended the declared final dividend for 2019 and dividends remain suspended as of now.
It is also interesting to look at the dividend history for the past quarter century. The recent years' runup and recent fall off in fact look very similar to what happened prior to the financial crisis. That is not to say that the same will happen again, but it is worth noting.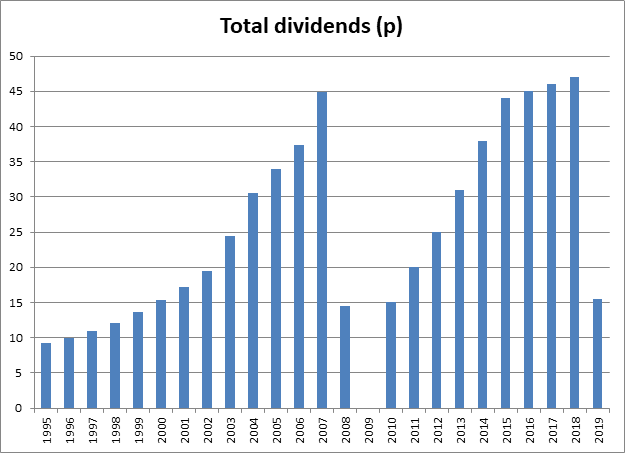 Chart compiled by author using data from company annual reports
The dividend cover is quite conservative, being a minimum of 2.4x earnings in recent years. The most recent free cash flow dividend cover would have been 1.7x, had the 2019 dividends been paid in full.
Valuation
The company P/E ratio is currently around 23x. That looks a bit high to me. However, its earnings tend to jump around a lot.
| | | | | | |
| --- | --- | --- | --- | --- | --- |
| | 2015 | 2016 | 2017 | 2018 | 2019 |
| Basic EPS (p) | 67.80p | 5.10p | 93.10p | -34.40p | 48.90p |
| Diluted EPS (p) | 66.20p | 5.00p | 92.20p | -34.40p | 48.40p |
| Adjusted EPS (p) | 124.10p | 120.40p | 110.40p | 114.50p | 112.70p |
Chart compiled by author using data from company annual reports and Hargreaves Lansdown
The share price, too, has moved around a lot this year. After a sharp fall before and at the time of the lockdown, the shares quickly recovered some ground in April and have only gained about 100p since then. For some months they have basically moved sideways.

Source: Google Finance
That makes it look like there is not a lot of excitement about the shares for now. I think that the market has been waiting for evidence that the company has put the sales challenges of lockdown behind it, but as the muted response to its half year announcement, at the end of the chart, shows, so far we are still in waiting mode.
Directors have not shown much support for the shares in their trading activities over the past year.

Source: Hargreaves Lansdown
For now, then, I regard the shares as fairly valued at best, with no compelling upside story in the short term. Potential triggers to share price movement in coming months would be better than expected trading, a full return to normal trading levels (which I expect in 2021), or an announcement that the Wickes divestment is back on, at a juicy price.
Conclusion: Travis Perkins
As the leading builders' merchant in the U.K., the company is in a strong position in a market where building supplies sales look set to continue increasing in coming years.
I don't think the shares are overpriced as such, but I don't think they represent good value either. In fact, I think there may be better value in this space in terms of medium upside in competitor Howden Joinery (OTCPK:HWDJF)(OTCPK:HWDJY), which I assessed some months ago here, although it is not yet at my target buying price.
Disclosure: I/we have no positions in any stocks mentioned, and no plans to initiate any positions within the next 72 hours. I wrote this article myself, and it expresses my own opinions. I am not receiving compensation for it (other than from Seeking Alpha). I have no business relationship with any company whose stock is mentioned in this article.