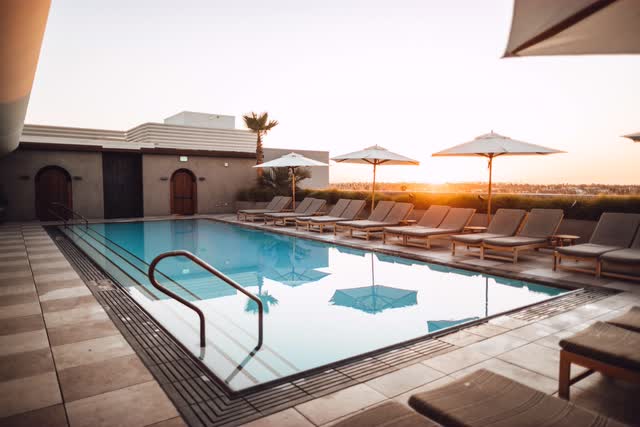 Surfeit FCF that London-based water treatment company Pentair plc (PNR) managed to deliver in the first half of the tumultuous 2020 despite the pandemic-related headwinds means the shareholder rewards of the Dividend Aristocrat are not in jeopardy. Its ~1.69% dividend yield, which is, unfortunately, close to a 3-year low, as the share price of this S&P 500 constituent is currently attempting to return to its 5-year high abandoned in 2018, is backed by a ~6.2% FCFE yield, and hence, the dividend margin of safety is exemplary. Thus, I am not anticipating PNR leaving the upper echelons of dividend-paying names anytime soon.
As the economy is gradually recuperating, I reckon the growth scenario Wall Street is expecting is plausible. Pentair will likely be able to return to single-digit revenue expansion in 2021, which means the DPS growth story will continue.
Source: Unsplash
Q2: Almost immune to the downswing
I have been covering PNR since June 2020. In my first note, I acknowledged its long-term advantages, including resilient FCF, while I also made a hypothesis that the sales of swimming pool equipment (which significantly contribute to PNR's top line, as its Consumer Solutions segment is the leader in the North American pool equipment market) might disappoint not only in Q2 but also in 2020 overall because the company depends on discretionary spending, which is strained due to high unemployment amid the recession as people temporarily change their spending habits and allocate funds principally to the essential and urgent things.
However, Pentair's second quarter was generally robust, as the company did not have to cope with a calamitous, let us say 20% or even deeper, total revenue drop, like many industrial, chemical, or energy names I cover. PNR did suffer from a 10.8% total revenues contraction that hammered the gross and operating margins and took its toll on the net earnings attributable to shareholders.
But the silver lining is that the damage the coronavirus pandemic had inflicted on the company was not as substantial as Wall Street had anticipated. And as a result, PNR beat both on adjusted EPS and revenue. The performance of its Consumer Solutions division fairly impressed me. Sales fell only 8%, mostly because Water Solutions was down in mid-teens. At the same time, Pool was immune to the headwinds, as its sales were flat (slide 9). And most importantly, PNR noticed "strong demand in aftermarket and new construction." Anyway, Industrial & Flow Technologies was far weaker, as Industrial Filtration bore the brunt of clobbered economic activity and had to cope with a low-twenties sales decline; overall, IFT was down 14%.
The U.S. is the key market of PNR (~63% of consolidated net sales, page 52). I reckon the generally healthy trends in the U.S. housing market will be supportive of the company's sales performance this year and in 2021. For example, the number of new private housing units authorized by building permits sharply rebounded from April lows, which might be indicative of higher demand for pool equipment going forward.

Obviously, it does not mean that one permit matches one potential swimming pool installation, but there is clearly some correlation. To bring a bit more color here, I delved into the American Housing Survey factsheets (2011, 2015, and 2017) and found some thought-provoking insights. For example, in 2015, around 16.6% of the U.S. houses had a pool vs. 15.7% in 2011 (use Table Creator, Health & Safety Characteristics for 2015; see page 2).
The anecdotal evidence suggests that pool installations are intertwined with the local climate per state. And the AHS data support that point. For example, in 2015 (the latest data available), 24.8% of Californian houses had a swimming pool, while in the case of New York, the percentage was much lower, only 9.7%. By the way, in the case in CA, building permits also steeply rebounded in summer and remained only slightly below the level seen in February 2020.

The corollary here is that PNR might benefit from higher demand for its consumer water treatment solutions, including the pool equipment.
So, as the macro data point to the fact that recovery is underway, since my previous coverage, Wall Street has become a bit more bullish on PNR's 2020 sales, as now the consensus estimate is specifying an only 5% contraction vs. 7% previously.
Has FCF covered the dividend YTD?
As I mentioned above, PNR's dividend yield is materially below its FCFE yield, which means that its DPS is excessively covered. To bring a bit more context here, I should mention that in H1, the company generated over $235 million in organic FCF and above $207 million in inorganic FCF (net CFFO less cash used in investing activities), while the total shareholder rewards (dividend and buyback) required only $178.9 million.
Capital structure and cost of debt
When assessing a dividend stock and, especially, a member of an upper-echelon Aristocrat club, it makes sense analyzing the capital structure and paying attention to the liabilities side of the balance sheet, as bloated debt, burdensome interest expenses and looming repayments of principal can easily shatter not only the DPS growth story but also lead to the full elimination of shareholder rewards.
I reckon that Pentair represents an exemplary case when the capital structure is not a concern for an income-oriented investor. For example, the company's Debt/Equity ratio is only 52% (it has plummeted since my previous coverage), while its peer Xylem Inc. (XYL) has D/E of over 113%. Besides, PNR's Net debt/Net CFFO ratio is only 1.77x.
That makes PNR a better pick when compared to other dividend-paying stocks I cover, like The Chemours Company (CC) and Olin Corporation (OLN). OLN and CC are high yielders with payouts barely comparable to PNR, but they have meaningfully higher portions of borrowed funds in their capital structures, which multiplies risks of the DPS reduction. (I am skeptical it will happen in the short term, but again, such a prospect should never be ignored.)
One of the factors that should also be considered is how significant Pentair's cost of debt is. According to my calculations, the company is paying only ~2.76% on its total debt (net interest/total debt), which, in a broader context, means it used only 6.9% of its operating income to cover net interest expense in 2Q20. Low cost of debt means a lower discount rate applied in the valuation process, hence, higher discounted cash flows, and hence, the higher intrinsic value of the stock.
After all, hefty maturities are also not impending. As CFO Mr. Fishman said during the Q2 earnings call:
While we have one small maturity upcoming in September, we have no other pressing capital needs outside of dividends in the second half.
Final thoughts
For most retail investors, owning a stake in a Dividend Aristocrat, which has minimal exposure to the cyclical industries and, hence, has a more stable and predictable cash flows is a reasonable strategy with limited risk and moderate upside potential and constant dividend income to boot. Though PNR is certainly not a non-cyclical or counter-cyclical play, the second-quarter results demonstrated that its revenues do not dive as deep as in the cases of other industrial names.
Thanks to the high dividend margin of safety, the shareholder rewards sustainability should not fray investors' nerves. If there are no crises more severe that the COVID-19 pandemic later in the 2020s, PNR can easily join the elite cohort of the Dividend Kings, the companies that have been increasing their payout for 50 consecutive years.
PNR is richly valued, as it has a D+ Value Grade. But while cracks are appearing in the S&P 500 rally, as the market is reconsidering lofty valuations of tech names, a buying opportunity in PNR might emerge. However, I am still not a buyer, as a low-single digit yield does not meet my investing objectives.
Disclosure: I/we have no positions in any stocks mentioned, and no plans to initiate any positions within the next 72 hours. I wrote this article myself, and it expresses my own opinions. I am not receiving compensation for it (other than from Seeking Alpha). I have no business relationship with any company whose stock is mentioned in this article.