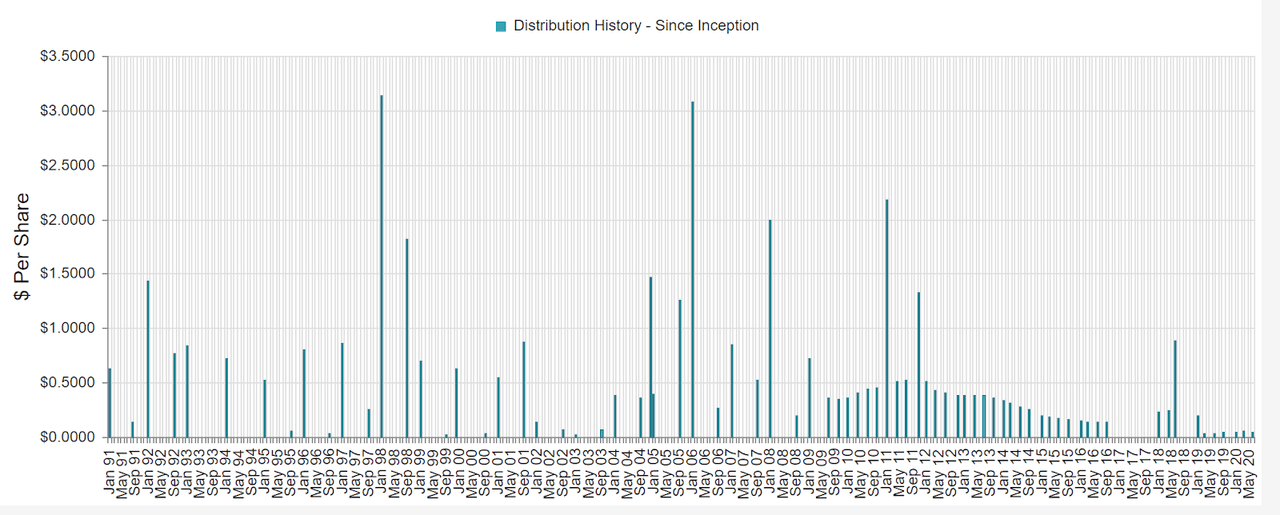 My investing approach is to combine an idiosyncratic top down view with a bottom up focus on discounted assets. From a top down perspective, emerging markets are one particular area that I expect to benefit from a coming macro regime shift. Emerging market equities are at historically low valuations relative to developed markets in spite of the massive growth opportunity they present. Emerging markets have experienced relentless outflows over the past decade, leaving most institutional investors underallocated. A mean reversion in positioning would drive valuations higher. The iShares MSCI Emerging Markets ETF (EEM) is a simple way to get broad based exposure, but more active strategies are necessary to maximize the risk reward tradeoff in these complex markets.
One active strategy with which to approach emerging market equities is to find the cheapest regions, industries and companies. Within emerging markets, some of the underfollowed regions such as Africa have the most potential in my opinion. Sometimes the best opportunities for individual stocks can be found in otherwise out of favor markets such as South Africa. Across different emerging market countries, certain industries such as consumer technology are especially promising. Airports in Mexico and other emerging markets also present intriguing opportunities from a bottom up perspective.
Another way to approach an allocation to emerging markets is to find broad based portfolios trading at a discount. In this article I provide an overview of 3 closed end funds offering diversified exposure to emerging markets at double digit NAV discounts. Aberdeen Emerging Markets Equity Fund (AEF) and Templeton Emerging markets Fund (EMF) are both focused primarily on long term capital appreciation while Voya Emerging Markets High Dividend Equity Fund (IHD) is an income focused fund. All three of these funds are able to differentiate themselves by making active decisions on country, sector and individual securities to build portfolios significantly different than popular emerging market indices such as EEM.
This table summarizes the yield, NAV discount, and expense ratio of each of these three funds:
| | | | |
| --- | --- | --- | --- |
| Fund | Yield | Discount | Expense Ratio |
| Aberdeen Emerging Markets Equity (AEF) | 4.5% | -15.5% | 1.54% |
| Templeton Emerging Markets (EMF) | 7.1% | -11.7% | 1.58% |
| Voya Emerging Markets High Dividend Equity Fund (IHD) | 10.7% | -11.6% | 1.39% |
Source: CEF Connect, Fund Websites
Aberdeen Emerging Markets Equity (AEF)
AEF focuses on companies with strong balance sheets and exposure to themes not impacted by Covid-19. In particular they have been looking for opportunities in healthcare, cloud computing, online education, e-commerce, and gaming. AEF has a value bias, and the average P/E in the portfolio is 14.6, compared to 16.2 for EEM.
AEF has a concentrated portfolio with the top ten holdings accounting for ~40% of net assets. Its largest holdings are Tencent(OTCPK:TCEHY) and Samsung Electronics (OTC:SSNLF), which each account for ~8% of the portfolio. China is the dominant country exposure with ~28% of the portfolio. In recent months being overweight Tencent and underweight Chinese banks relative to EEM has helped AEF's performance. However, its exposure to Chinese property developers detracted from performance. Additionally a comparatively large investment in Latin American e-Commerce powerhouse Mercado Libre(MELI) has supported performance.
Aberdeen has a dual objective to pursue both current income and long term capital gains. Its distributions are based on performance of its investments, rather than a target distribution rate. The current distribution rate is 4.6% based on the market price. The following chart shows AEF's long term distribution rate.
Source: CEF Connect
Aberdeen has a multi decade track record of outperforming in emerging markets, but has a difficult time lately, as I noted in an earlier article. In the most recent year, AEF has lost money while EEM has performed reasonably well. AEF's track record over the last ten years trails the broader MSCI Emerging Market indexes, which has itself been out of favor.

Source: Fund Fact Sheet
I remain confident in Aberdeen's ability to turn this around in the next emerging markets up cycle. However my patience is wearing thin. The fund has traded at an average discount of ~13% over the past year, reflecting low market expectations for the future. If performance continues to lag, and the discount remains elevated, Aberdeen should pursue aggressive share repurchases. Otherwise I'll probably replace AEF with another diversified closed end fund.
Templeton Emerging Markets (EMF)
One fund that would make a good substitute for AEF is the Templeton Emerging Markets Fund(EMF). EMF operates a portfolio even more concentrated than AEF with the 10 largest positions accounting for 57% of net assets. Its largest positions are in Ali Baba(BABA), and Taiwan Semiconductor(TSM), each comprising ~11% of the portfolio. Overall, China comprises ~33% of the portfolio. It has large investments in media and entertainment, which distinguish it from both AEF and EEM. With an average P/E of 15.9, EMF's portfolio is more expensive than AEF, but still cheaper than EEM.
EMF pays annual distributions. Like AEF, its distributions vary widely depending on portfolio performance. The trailing distribution rate is above 7%, although this year's distribution will likely be lower. This chart shows EMF's distribution history since inception:

Source: CEF Connect
Although its struggled a bit this year, EMF has performed well during a difficult period for emerging markets. Its five year NAV return of 13.44% is well above the MSCI emerging markets 8.96% return.

EMF has a net expense ratio of 1.58%, only slightly above that of AEF. Both EMF and AEF will do well during the next emerging market bull market, although they might not work for investors that need current income from their investments. For income focused investors, the Voya Emerging Markets High Dividend Fund(IHD) might be a better option.
Voya Emerging Markets High Dividend Equity Fund (IHD)
IHD uses a call writing strategy to generate income from a diversified portfolio of emerging market stocks. Like AEF and EMF it has large exposure to China (40%). Its largest holdings include BABA(~8%), TCEHY (~6%) and TSM (~6%). The top ten holdings account for ~32% of IHD's portfolio. Unlike AEF and EMF, IHD uses a quantitative model to choose stocks in emerging markets. IHD also has a 1.39% expense ratio, slightly lower than EMF and AEF.
IHD quarterly dividends, and the current dividend rate of 10.8% is well above EMF and AEF. Note however, that in the past year approximately 68% of distributions have come from return of capital, based on calculations using information on their website. This has tax advantages, but over-distributing during a time that emerging markets are out of favor limits the prospects for long term success. IHD could make sense for retirees focussed exclusively on income, but it won't offer the growth prospects of other emerging market equity funds.
Conclusion
AEF's long run of underperformance has been frustrating, although it's likely Aberdeen will be able to turn it around in the longer term. EMF's recent performance has been more consistent, and it offers a potential substitute for AEF. IHD could make sense for income focused investors that want a large allocation to emerging markets, but without overexposure to the frothy credit markets. All three of these funds offer significant upside potential in the event of a mean reversion in emerging markets: both from broad equity market upside, and from a closing of their NAV discounts as the sector comes more in favor.
Disclosure: I am/we are long EEM, AEF. I wrote this article myself, and it expresses my own opinions. I am not receiving compensation for it (other than from Seeking Alpha). I have no business relationship with any company whose stock is mentioned in this article.