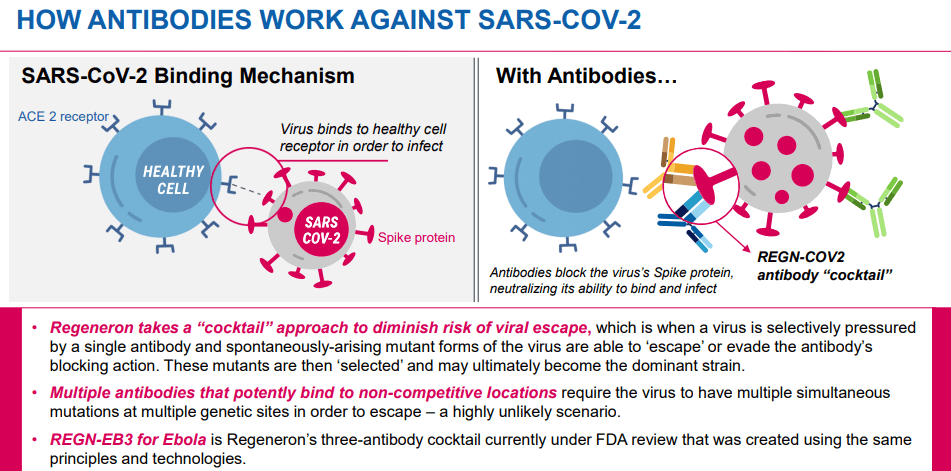 Regeneron Pharmaceuticals (REGN) has seen success so far with an antibody cocktail for COVID-19. On October 30, REGN notified the market of a setback in an inpatient study of its antibody cocktail, which is the focus of this article.
REGN
REGN's antibody based drug is REGN-COV-2, a cocktail of two antibodies (REGN10933 and REGN10987) that bind to different parts of the spike protein found on SARS-CoV-2, the virus responsible for COVID-19.
Figure 1: Left panel, the SARS-CoV-2 virus uses its spike protein to bind to the ACE2 receptor on human cells to infect them. Right panel, REGN's cocktail consists of two antibodies which don't compete (binding of one to the spike protein does not preclude binding of the other) shown in blue and orange. In green perhaps represents an antibody created by the body's own immune system. Source: REGN presentation.
Success so far
The big success so far for REGN came on September 29, when results from a group of 275 patients in a seamless phase 1/2/3 study in symptomatic outpatients (not hospitalized) with COVID-19 were released. Those results showed that in patients who didn't mount an immune response on their own (seronegative for COVID-19 antibodies), an 8 gram dose of REGN-CoV-2 was superior to placebo at reducing viral load through to day seven (p=0.03). The 2.4 gram dose was not superior to placebo by the same measure, but came close (p=0.06).
With success in outpatients, certainly success in inpatients would be encouraging.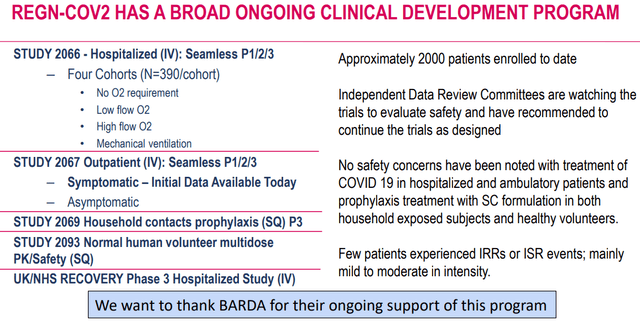 Figure 2: REGN-COV2 is being assessed in multiple clinical trials providing the company with multiple opportunities to demonstrate the value of the drug. Source: REGN presentation of REGN-COV2 results on September 29.
REGN's study 2066 seeks to look at inpatients with COVID-19, specifically with four cohorts requiring no oxygen, low flow oxygen, high flow oxygen and mechanical ventilation.
A setback
On October 30, 2020, REGN announced that an independent data monitoring committee (IDMC) had recommended that enrolment in the high flow oxygen and mechanical ventilation cohorts of study 2066 be put on hold. The hold is the result of a safety signal and the risk/benefit profile of the drug being unfavourable so far, but is "pending collection and analysis of further data on patients already enrolled." If REGN could demonstrate an efficacy benefit based on the patients enrolled in those groups already, as efficacy data matures, then a safety issue might be considered tolerable, depending on its severity and frequency. Alternatively an analysis of the data from those patients might provide an explanation for why that safety signal occurred. Alternatively REGN-COV-2 just might not be suitable for patients in those cohorts.
That REGN-COV-2 might not be a good bet in severely ill hospitalized patients seems to be a common interpretation of today's news. STAT's Damian Garde drew a comparison to Eli Lilly & Company's (LLY) antibody therapy for hospitalized COVID-19 patients (LY-CoV555 or bamlanivimab), a phase 3 study of which was put on hold in mid-October. By October 26, LLY announced no more COVID-19 patients in the hospitalized setting would be treated with bamlanivimab.
… hospitalized patients may have less benefit from neutralizing antibodies, which are a supplement to the patients' own immune system, as they may have developed their own endogenous antibody response and be in a phase of disease characterized by inflammatory responses to virus. This is why the use of immunosuppressive treatments is both widespread and still being investigated in hospitalized patients.

LLY statement on a pause of enrolment in the ACTIV-3 study of bamlanivimab in hospitalized patients.
For REGN, enrolment in the cohorts of patients requiring no or low oxygen in study 2066 is continuing, so REGN still has a clear shot on goal in that subgroup, but based on LLY's and REGN's results, these antibodies appear to be better before COVID-19 gets to the point where the patient is hospitalized.
Road ahead
REGN plans to share the IDMC recommendation with those monitoring the UK/NHS RECOVERY phase 3 study, and as such modification of enrolment seems possible there too. News that enrolment has been modified in the RECOVERY trial could see the stock trade down, but I think the bad news on REGN-COV-2 in hospitalized patients is already built in. If anything the best-use conditions for REGN-COV-2 are now more clear. These antibody based drugs work well early on and REGN already has data showing that.
I think REGN may be close to Emergency Use Authorization (EUA) which the company is seeking in mild-to-moderate COVID-19 outpatients at risk for poor outcomes based on the data to date. Indeed REGN's October 30 press release notes that the company's EUA is currently being evaluated by the FDA. The FDA having seen LLY's results and REGN's results in outpatients and inpatients, and even based on REGN's results alone will likely be under pressure to approve an antibody based COVID-19 drug. I am bullish on REGN as the bad news is built in but EUA and more data from outpatients, which I expect to be positive based on the results so far, is ahead.
Consider a recent EUA, the FDA's EUA of remdesivir from Gilead Sciences (GILD), GILD reported positive results from a phase 3 study on April 29, 2020. By May 1, GILD received EUA. This example shows just how quickly an EUA can come following positive data. I see REGN as a good long currently, as the name could be very close to an EUA, news which would likely send the stock on a run.
The risks of any long are several fold, a few of which are worth discussing. The FDA could tell REGN more data is required prior to EUA, which might cause the stock to fall. The safety signal seen in the severely ill hospitalized patients could appear in the other cohorts (no oxygen, low flow oxygen) of hospitalized patients. Lastly, REGN is exposed to the biotech market and broader market as a whole, which is currently selling off, a sell off represents a buying opportunity but additional selling, if large enough, could offset the gains from any announcement of EUA.
Disclosure: I/we have no positions in any stocks mentioned, and no plans to initiate any positions within the next 72 hours. I wrote this article myself, and it expresses my own opinions. I am not receiving compensation for it (other than from Seeking Alpha). I have no business relationship with any company whose stock is mentioned in this article.