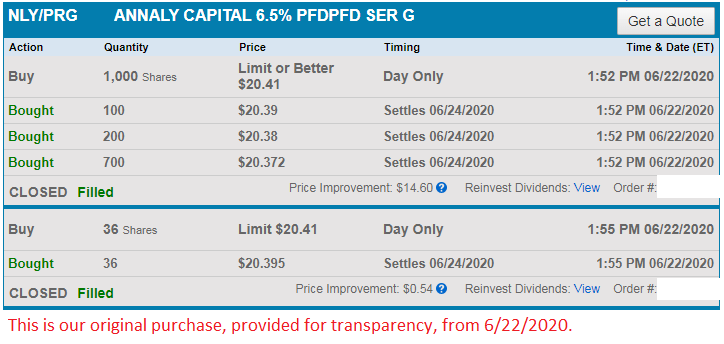 This research report was produced by The REIT Forum with assistance from Big Dog Investments.
NLY-G (NLY.PG) is one of the preferred shares from Annaly Capital Management (NLY). It rallied above our target buy-under price of $21.11. Yet we have several other preferred shares in the buy-under range by 3% to 5%. We decided to pull the money out of NLY-G and will be looking for opportunities to redeploy it.
Index Card
The index card is shown below:
Source: The REIT Forum
Our closed position is shown below:

Source: The REIT Forum
We earned 5.99% in a little over three months. That's not bad at all. Plenty of the other preferred shares struggled during that time, which is part of the reason we have so many opportunities today.
Trade Confirmation
Our execution on the sale is shown below:

Source: Schwab
Our original purchase is shown below: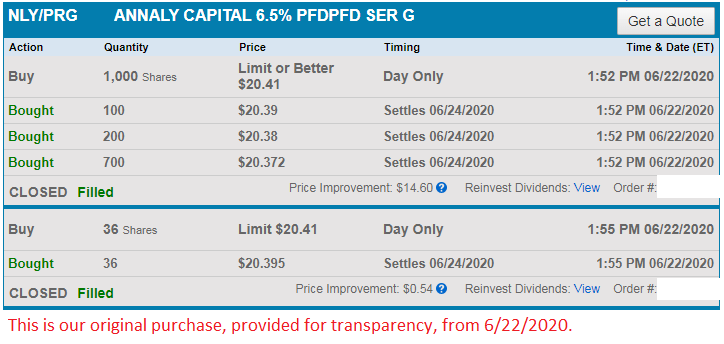 Source: Schwab
We are still long in the common shares, NLY-F (NLY.PF) and NLY-I (NLY.PI). Our largest preferred share is NLY-I, weighing in at about 8.18% of the total portfolio.
Options to Replace NLY-G
Investors in preferred shares should understand how to pick their own shares. We are here to help investors find the best opportunities, but they should understand what we are doing. Imagine you're talking to a mechanic. The mechanic can fix an issue with your car. It would be best if you understood what the mechanic is saying. You don't need to be able to duplicate the work, but you should understand which parts of the car he's talking about. Our goal is to help readers understand the investments enough to be confident that they know what they are buying and why.
We are going to take a look at preferred shares from Anworth Mortgage Asset Corporation (ANH). ANH has two preferred shares: ANH-A (ANH.PA) and ANH-C (ANH.PC) – both in our buy range.


Source: The REIT Forum
We have several additional options highlighted on The REIT Forum, but these two should suffice for the public release.
The main difference between these two preferred shares is the dividend rate. ANH-A has a higher dividend rate. Either share could be called at $25. If the company called ANH-C and not ANH-A, they would be dumb. That's not a realistic scenario. In any situation where ANH-C is called, the company should be calling ANH-A at the same time or before the call on ANH-C.
There's no guarantee that either share is ever called. Since the company has the right to call shares at $25, the share price should rarely move significantly above $25. If both shares traded at the exact same price, ANH-A would offer investors significantly more income and still have just enough upside to call value. That would be dumb. It would not be impossible. Share prices were absurd during March and April of 2020. Investors should expect that ANH-A always will have a higher share price than ANH-C. If that's not the case, they should be dumping ANH-C and buying ANH-A.
However, the market can overreact in the other direction as well. While ANH-C would have a lower share price than ANH-A, it should never be so cheap that it offers a higher dividend yield than ANH-A. At that point, investors would get more dividend income from ANH-C and more upside. That happened earlier this year. When liquidity was failing in March 2020, we saw some absurd prices throughout the mortgage REIT sector. In several cases, two preferred shares from the same mortgage REIT offered significantly different valuations. Some readers may be thinking that such events are extremely rare. They may assume that the market is remarkably intelligent. We wish to dispel that myth.
Take a look at (AGNCO) and (AGNCN) from AGNC Investment Corp. (AGNC). The market has consistently liked AGNCN more than AGNCO. We can see that AGNCN has regularly had a materially higher share price. Some investors are going to argue that AGNCN has a higher yield and therefore the price is justified. They are wrong about the price difference being justified.
AGNCN pays out an additional $0.125 per year in dividends ($1.75 vs $1.625). That will last for another two years. AGNCN would receive an additional $0.25 in dividends prior to Q4 2022. After that, AGNCN will begin floating. Based on the market's short-term and medium-term interest rates, it's most likely that the dividend rate will be lower after it begins floating. Investors in AGNCO will still have a fixed dividend rate for another several quarters. During that time, AGNCO will most likely pay a higher dividend. After AGNCO begins floating, the two shares will have nearly identical dividends. The rate on AGNCN would only be higher by a hair:
AGNCN: 5.111% + 3-Month LIBOR
AGNCO: 4.993% + 3-Month LIBOR
This is evidence that the market is regularly making at least small mistakes in valuation.
Swinging Through Positions
Today, we have several very viable options for replacing NLY-G. Some investors will claim that actively trading will only hurt returns. However, we've found a great deal of additional return by trading through preferred share positions.
You know we earned 5.99% in the NLY-G trade, but our desire to trade these positions occasionally makes more sense when you consider the series of trades: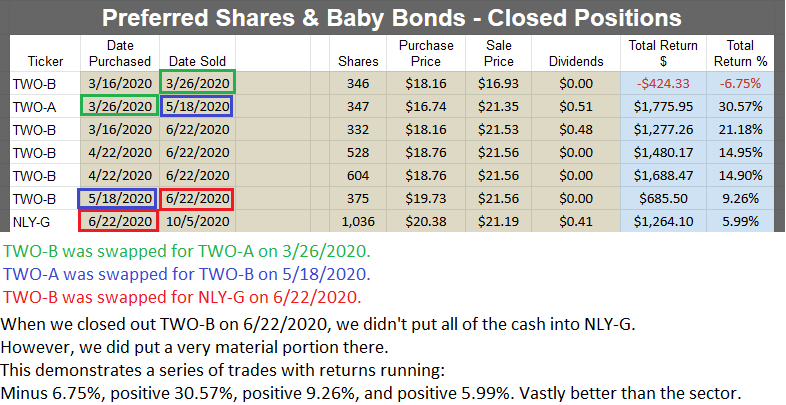 This sequence of trades enabled us to grow our portfolio faster. For instance:
We swapped 346 shares of TWO-B for 347 shares of TWO-A, then swapped that for 375 shares of TWO-B.
Anyone should be able to tell that 375 shares of TWO-B is better than 346 shares of TWO-B.
We didn't miss out on much by swinging to NLY-G either. During the last three months, TWO-B's share price is down (as of Oct. 7, 2020) by about 1% and it has gone ex-dividend once (next was Oct. 8, 2020). Therefore, TWO-B delivered about 1% in total returns during that three-month period (down 1% in price, but up 2% for dividend). We earned a better return by holding NLY-G during that period.
Some investors will still yell: "It isn't worth placing trades you fool!"
OK, fine. The extra wealth we generated by using NLY-G for that period was worth more than $1,000. Maybe some people don't want to log into their stock account to make an extra $1,000. So be it. Others will yell "yeah, but you have taxes to pay." We utilize tax-advantaged accounts like IRAs and a solo 401K for these trades, so we don't have a tax burden.
Final thoughts
Investors should be looking at several metrics when they evaluate preferred shares. When considering preferred shares from different mortgage REITs, there are plenty of viable reasons for differences in share prices and yields. However, the market will occasionally fail in pricing preferred shares from the same mortgage REIT. Those opportunities are exceptionally attractive for investors who can swap out of the more expensive share and into the more attractive share. Even if you are interested in the securities primarily for income, there's no reason to give up on opportunities to get more income for the same risk. When you are considering two shares that will each switch to a floating rate, make sure to compare the difference in the expected dividends after they begin to float. Don't lose track of the potential upside to call value either. It would be absurd to believe shares will automatically climb to that level. However, you should expect that shares will not climb materially above that level. Think of it as a soft ceiling on the potential for gains. By considering each of these factors, you will put yourself in a better position to understand why one share is more attractive than the other. You may find opportunities to capture additional income without additional risk.
Our method works. We know because we buy the same shares we recommend. We track our results on a real portfolio and we compare our returns with the major ETFs for our sector: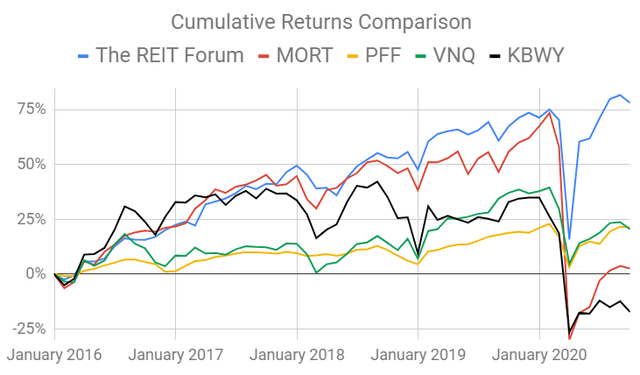 Those four ETFs are:
MORT – Major mortgage REIT ETF
PFF – The largest preferred share ETF
VNQ – The largest equity REIT ETF
KBWY – The high-yield equity REIT ETF
Sign up now. Take advantage of our October sale!

Disclosure: I am/we are long NLY-I, NLY-F, TWO-E, TWO-A, TWO-B, AGNCO, NLY, AGNC. I wrote this article myself, and it expresses my own opinions. I am not receiving compensation for it (other than from Seeking Alpha). I have no business relationship with any company whose stock is mentioned in this article.