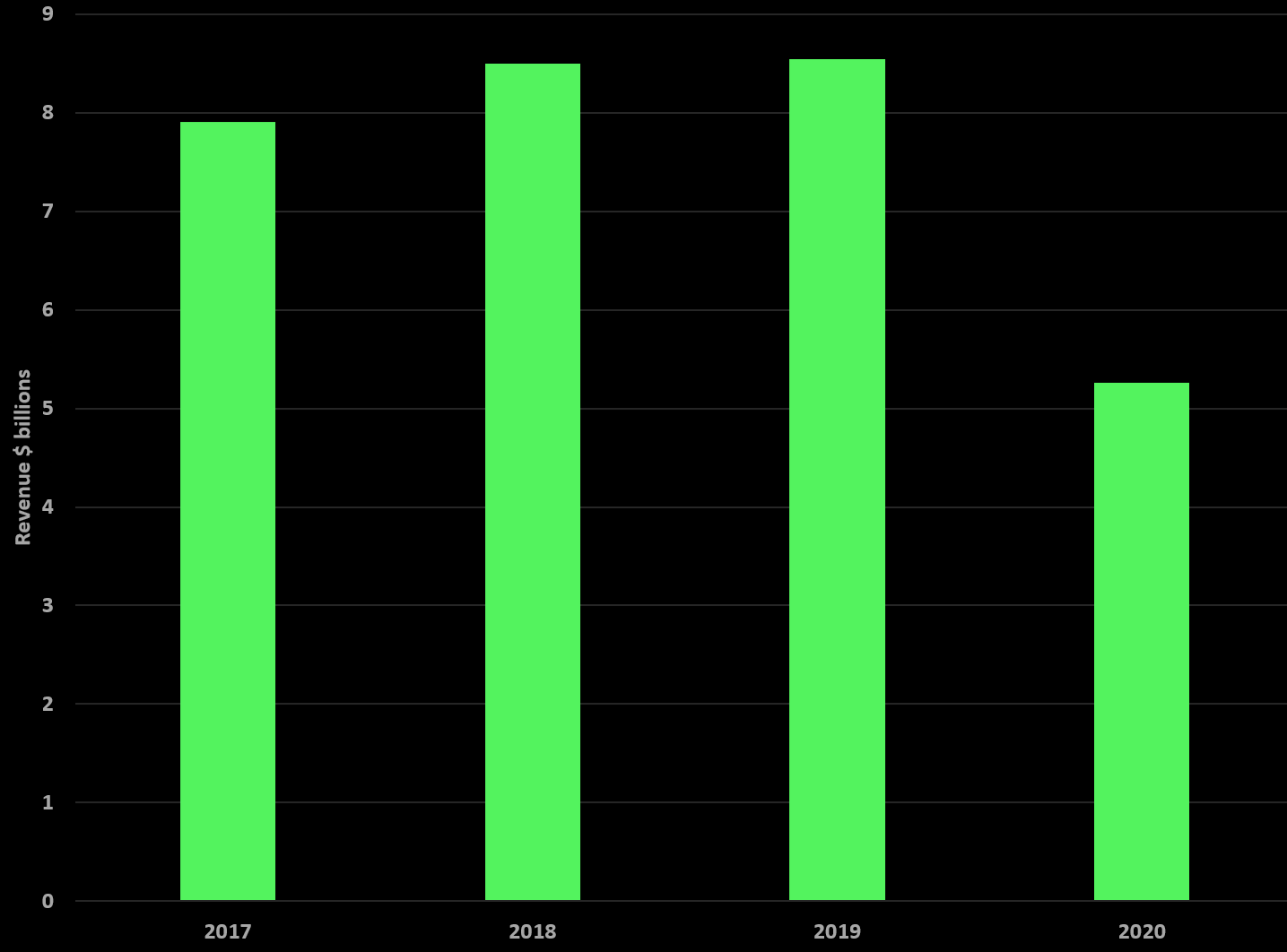 Prepared by Tara, Senior Analyst BAD BEAT Investing
We have traded Schlumberger (SLB) many times at our firm, and we started buying up the stock once again on recent weakness. As we mentioned, there was a lot to look forward to in the Q3 report. Things seem to be just starting to balance out for the oil space this week price wise but we are by no means 'out of the woods' yet for lack of a better expression. Demand erosion persists, and there is more than ample supply still. The company just reported Q3 earnings, which we had predicted (with a hint of the obvious) would be rough. In this article, we discuss the strengths and weakness in the key metrics we follow. We plan to add aggressively under $15 per share with a long-term outlook.
Revenues
We saw revenues declining sizably in Q3 on this but had some wide expectations. Admittedly, expectations from opinion makers and analysts were all over the map. We saw revenues coming in lower on the devastating decline in pricing and demand. We thought down 30%-40% was a solid base to work off of, revenues ended up coming in down toward the lower end of this range, and breaking a nice Q3 trend of revenue:
Source: SEC filings, graphics by BAD BEAT Investing
Make no mistake, Q4 will be tough too, but not as poor as Q3. We think operational performance bottomed in Q2. Pricing has started to rebound recently this week, but is still weak. With the cut in revenues, we are pleased to see management cutting expenses too. But revenues were $100 million below what we thought we would, and missed consensus by $110 million. Revenues were down 38.4% as a result versus last year. This is a pretty sharp decline but with oil prices still at about decade lows no one can be surprised here. As we wait for real demand to return, the company is back to cutting expenses to the bone like we saw five years ago.
Big cuts to continue
When oil prices declined from 2014 to 2016, Schlumberger worked to cut expenses significantly to maintain profits. We are now seeing this again, and are now seeing expenses having gone from cutting the fact, to management getting surgical to protect profit margins. That said, with the fall in revenues from last year, we were pleased to see that expenses were slashed compared to last year for Q3: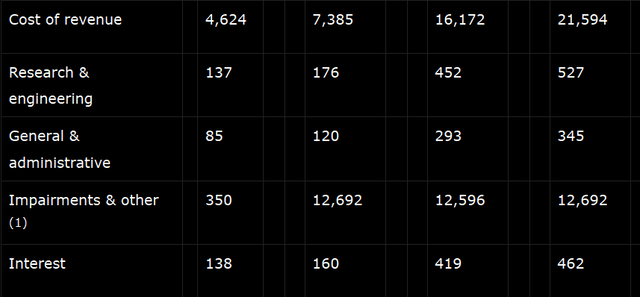 Source: Q3 earnings
If revenues fall, we usually expect a decline in costs. When they rise, we hope to see a small rise in costs. In Q3, with the revenue drop, we expected to see a drop in expenses. The big cuts will likely be with us for the remainder of the year, and will move commensurate with revenues/business volumes.
Q3 total cost of revenues was $4.62 billion, which fell from $7.39 billion last year. Solid declines were noted across the board.
Earnings
As you saw, the top line was toward the lower end of our expectations, while expense declines were better than our expectations, with the exception of the added impairment charges. Overall, margins were quite obviously pressured from last year, coming in at 10.9% versus 12.8% last year. They did rise from 7.4% last quarter. Earnings per share were $0.16, down from $0.43 a year ago: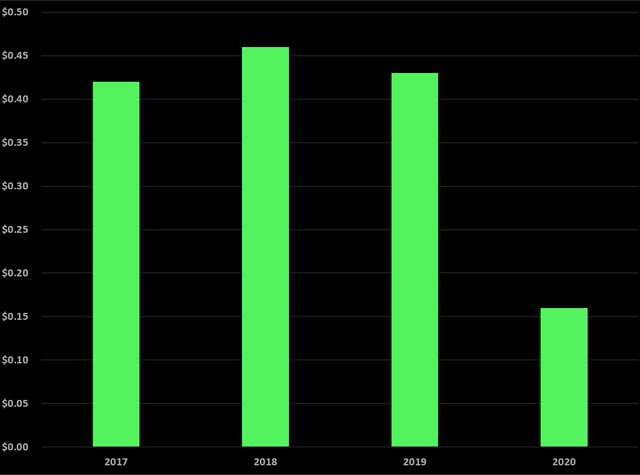 Source: SEC filings, graphics by BAD BEAT Investing
This was a solid adjusted earnings result. This was a beat of $0.02 versus our estimates, though were helped by lower costs than expected.
We think that despite the difficulties, you should be buying for improvements into 2021.
We do note that cash flow from operations was $479 million and they generated $226 million of free cash flow despite significant challenges.
Looking ahead
You know despite everything going on with Schlumberger it still has relatively impressive financial position overall. It may be many more months until the company is solidly profitable again, but it should be well-positioned as a company for a while. Something that really surprised us was that cash flow result still being so positive despite the weak oil. As we are in Q4 now, oil has been hit hard again, but should get a boost as winter begins. Keep this in mind. That is good for the stock. Despite the challenging environment, cash flow performance during the quarter was respectable. The company continues to do what it can to preserve capital. We know it has taken action to lower its structural and variable costs, and has undergone a restructuring of the organization to match activity where necessary. Great cost-cutting work has been done. Some of the savings include furloughing personnel, cutting salaries, lowering headcount and closing facilities. Overall, we like the actions being taken and think it is not too late to enter this name for the coming rebound into the high-teens, and dare we say, back over $20. The panic selling we saw today was not just a reaction to earnings being mixed, but the sector getting jittery. Oil and gas are not dead. While a clean energy future may be coming, fossil fuels will remain in play for the lifetime of everyone reading this column.
If you like the material and want to be the first to be informed click "follow" and if you are ready to get some real guidance from a professional trading team check out BAD BEAT Investing below.
This is it. Secure Your 50% Off Discount Now
Like our thought process? Stop wasting time and join the community of 100's of traders at BAD BEAT Investing at an annual 50% discount.
Available all day during market hours we, help you learn and grow. Best position yourself to catch rapid-return trades while finding deep value for the long-term.
You get access to a dedicated team, available all day during market hours.
Rapid-return trade ideas each week
Target entries, profit taking, and stops rooted in technical and fundamental analysis
Deep value situations identified through proprietary analysis
Stocks, options, trades, dividends, and one-on-one portfolio reviews


Disclosure: I am/we are long SLB. I wrote this article myself, and it expresses my own opinions. I am not receiving compensation for it (other than from Seeking Alpha). I have no business relationship with any company whose stock is mentioned in this article.