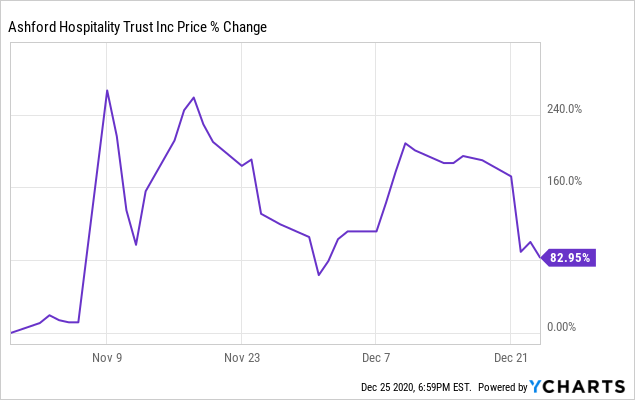 Ashford Hospitality Trust Inc. (AHT) has given investors and speculators an exciting few months. Just as the stock appeared to be headed to zero, the vaccine news created one of the most furious short squeezes seen. The stock rocketed over 240% at one point before settling back down.
We look at where this company stands today and whether it can make it through 2021.
Previous Position
The bulk of our position was a paired trade, which we closed out profitably. We had a direct short position as well. We closed this one out as well at the eleventh hour by purchasing preferred shares and tendering them in. The rationale was that the squeeze was so intense and borrowing rates were skyrocketing. Closing it out directly would have left us close to breakeven, while the arbitrage close (buying preferred shares and tendering them for common shares) was still heavily profitable. We currently have no positions.
AHT Financials
At the end of Q3-2020, AHT's position was as shown below.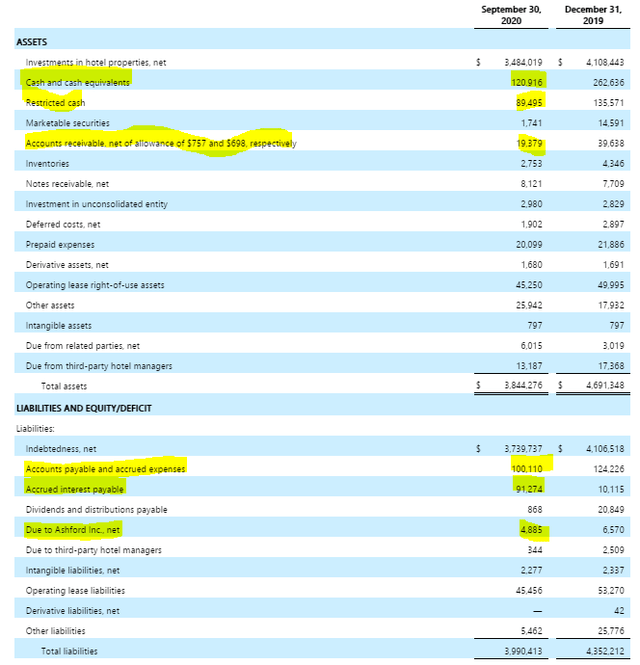 Source: 10-Q
AHT had about $210 million in cash equivalent funds and about $19 million in accounts receivable. Current liabilities were $195 million. Those current liabilities consist of accrued interest payable and their day to day expense liabilities. If we ignore the accrued interest payable category, AHT had $125 million in net current assets. Now all of this is not easily accessible as a great portion of this net amount is buried in restricted cash, which can only be used at a certain hotel. But let's give them the benefit and assume it is fully accessible.
Earlier in the year their cash burn was at $20 million a month. This has moved lower though.
"our hotel EBITDA averaged about negative $3 million in EBITDA. So we are getting to a point where we are getting close to that kind of breakeven-type level that Jeremy was mentioning."
Source: AHT Q3 Transcript
Corporate costs are an additional $4-$6 million a month, so AHT has a burn rate of $7-$9 million a month. Based on this information we can conclude that AHT has gone through at least another $21 million of net cash since Q3.
Hurdles For Common Shareholders
For argument's sake, let us assume that the world becomes perfectly normal at the end of the second quarter of 2021. Let's also assume that all these forbearance agreements are extended till then and AHT's cash holds out till June 30, 2021. What Cash Flow is needed for the company at that point?
For starters, its accrued interest payable will move from $91 million to over $290 million between September 30, 2020 and June 30, 2021. This is thanks to $67 million of quarterly interest expenses.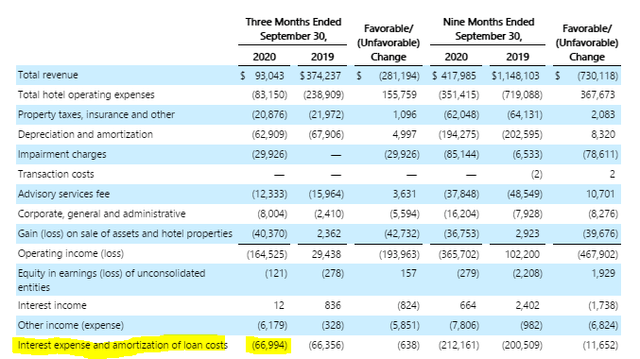 Source: 10-Q
$290 million of interest would be a quite a challenge in light of its market capitalization.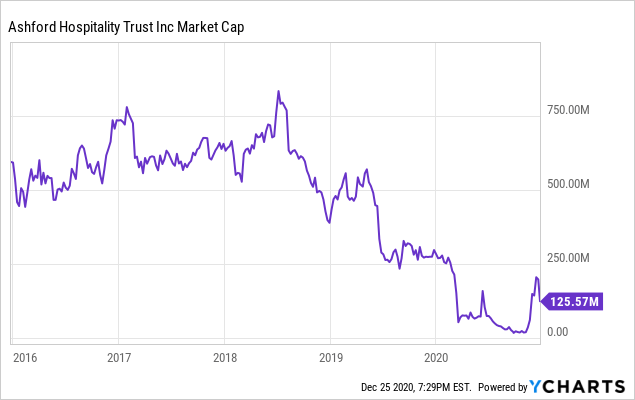 AHT would have to pay off this $290 million and the regular run rate of $260 million odd in interest over the next 12 months. The regular run rate is also likely to be higher as many defaults result in a penalty interest rate. Even at its absolute best, the company barely produced $425 million in adjusted EBITDA. Don't forget that AHT needs to spend $200 million a year in capex on its hotels, something it has deferred in 2020. Beyond this rather insurmountable challenge, 70% of preferred shareholders are standing in line. Remember that only 30% converted to common shares. That is $400 million of par value, that is owed in deferred preferred dividends before the common shares can get an iota of relief.
Conclusion
Management warned in their last 10-Q with a "going concern" notice. A few days back they brought this up again. Foreclosures started in 2020 and will accelerate in 2021.
The lender who held the mortgage note secured by the Embassy Suites New York Manhattan Times Square ($145.0 million comprised of mortgage and mezzanine loans) sent us an acceleration notice which accelerated all payments due under the applicable loan documents. In addition, the lender for the W Hotel in Minneapolis, Minnesota ($51.6 million comprised of mortgage and mezzanine loans), the lender for the mortgage, senior mezzanine and junior mezzanine loans with a principal amount of $144.2 million, and securing the Courtyard Billerica, Hampton Inn Columbus Easton, Hampton Inn Phoenix Airport, Homewood Suites Pittsburgh Southpointe, Hampton Inn Pittsburgh Waterfront, Hampton Inn Pittsburgh Washington, Residence Inn Stillwater and Courtyard Wichita, and the lender for the portfolio consisting of the Courtyard by Marriott in Fort Lauderdale, Florida, Courtyard by Marriott in Louisville, Kentucky and Marriott Residence Inn in Lake Buena Vista, Florida ($64.0 million comprised of mortgage and mezzanine loans), each sent to us a notice of Uniform Commercial Code ("UCC") sale, which provided that the respective lender would sell the subsidiaries of the Company that owned the respective hotels in a public auction.
Source: 10-Q
Lenders will seize any property that they believe they can sell for more than the debt owed. With its best hotels gone and pricing in shambles, AHT will struggle to generate enough EBITDA to even pay the interest expenses owing on an ongoing basis, let alone what is accrued. Remember, that even in peak years, AHT's interest coverage was around 1.5X. The hotel industry faces a tough 2021 as more homes are increasingly looking at AIRBNB to earn income. Regardless of what relief it may obtain in the short term, the longer term outlook looks increasingly grim.
If you enjoyed this article, please scroll up and click on the "Follow" button next to my name to not miss my future articles. If you did not like this article, please read it again, change your mind and then click on the "Follow" button next to my name to not miss my future articles.
Please note that this is not financial advice. It may seem like it, sound like it, but surprisingly, it is not. Investors are expected to do their own due diligence and consult with a professional who knows their objectives and constraints.
Are you looking for Real Yields which reduce portfolio volatility?   

Conservative Income Portfolio  targets the best value stocks with the highest margins of safety. The volatility of these investments is further lowered using the best priced options. Our Cash Secured Put and Covered Call Portfolios are designed to reduce volatility while generating 7-9% yields.  We focus on being the house and take the opposite side of the gambler. 
We are hiking our annual fees in January 2021 to $799/Year. The current discounted rate of $479.20 is your chance to lock in low rates for life.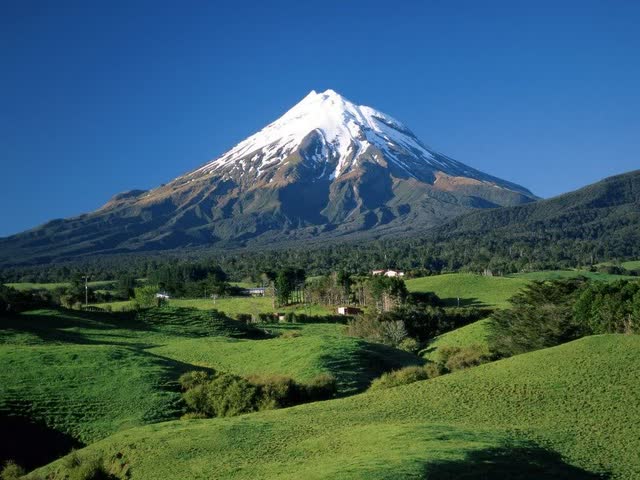 Disclosure: I/we have no positions in any stocks mentioned, and no plans to initiate any positions within the next 72 hours. I wrote this article myself, and it expresses my own opinions. I am not receiving compensation for it (other than from Seeking Alpha). I have no business relationship with any company whose stock is mentioned in this article.